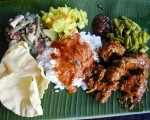 Day 2 and my 5am start led to a long sleep until 4pm and missing our inclusive breakfast at the guesthouse. Breakfast is quite important to me, I can become quite grumpy when hungry, something I'll have to work on during this trip.
Thomas wanted a banana leaf curry and a local restoran beside our guesthouse, Nagasari curry house is supposably one of the best in KL. It was 5.30pm and this dish is traditionally only served at lunch however our very nice waiter offered to prepare it. This is a Dahl and rice plate with vegetables, meat, pickle and mint. A banana followed for desert. It was really delicious and our total bill, including water was 19.70RM
Our waiter was especially nice, taking time to explain to us the different ingredients and how to best enjoy. He is from myanmar in Burma and came to KL after his business failed brining 6 more people from his village to find work. He misses his home and the Burmese people, I wonders what he thinks of people like us choosing to leave our home and families?
Another trip to Chinatown, and I now own a pair of baggy haram pants and a sarong, I vetoed Thomas's suggestion to buy tie dye. More drinks at reggae bar and a couple of games of pool. Thomas enjoyed a Malaysian red curry washed down with a potent long island iced tea for 9.50RM, our total bill including drinks and pool was 51RM. I bought some water and pot noodle in a little iranian foodstore (1.90RM) to have at the guesthouse.
We have 56RM remaining for food and travel to the airport tomorrow so must eat breakfast tomorrow morning. I will be skyping my family and friends early in the morning while breakfasting. We'll be leaving to Bali in the afternoon. Landing at 23PM, 15PM irish time.
Just on time before Christmas.