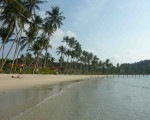 We left our accommodation on Koh Chang on Tuesday, January 31 at 8:40. A small truck waiting for us outside the entrance. Many people were already sitting in the back of the truck taxi: an Italian couple, German couple and two Ukrainians. We arrive at the small fishing village of Bang Bao and we are transferred to an old fishing boat refitted for passenger transport. This is the most economical solution, 600bahts (15EUR) as opposed to the speed boat costing 900baths.
The boat will take 1 hour to get to Koh Wai, followed by another hour to go from Koh Wai to Koh Mak. Arriving at Koh Mak we are asked to wait two more hours on the beach before the final 45 minutes journey to Koh Kood (this time by speed boat).
It stops at all resort jetties to drop off the passengers. Of course, ours was the last. Nevertheless we had the opportunity to enjoy different parts of the island, before arriving at our new "home".
Koh Kood island is much less visited by tourists, compared to classics such as Koh Tao, Koh Phiphi, Koh Samui, Koh Lipe and Phuket course. It is for this reason that after weeks of searching, we finally turned to this island.There is a totally authentic Thai atmosphere, as it must be 20 years ago on the islands listed above. It is located in the Gulf of Thailand, near Cambodia.
There is no ATM, no Western-style advertising, no electricity on most days between 8 and 17h, and the Internet is accessible only recently (but in any case very rare and extremely slow). The inhabitants live mainly in small fishing villages, along roads or in small houses on the edge of woods. Since 2011, much of the island is served by one tarmac though most access roads to the resorts are makeshift gravel paths; hence it's more comfortable and exotic to arrive by speed boat. The area of the island is 129km² for the 2000 inhabitants who live primarily from fishing, harvesting of coconut and rubber.
Due to it's remote location, the prices on Koh Kood are much higher than those to which we have become accustomed. About 120bahts (3EUR) for a curry, where we pay between 60-80 baht on Koh Chang island and Bangkok. Same for a beer or a bottle of water. Everything is more expensive which is also true for accommodation.
With January / February being the peak season, we did not want to risk spending the first night on the beach due to lack of availability. About 80% of the resorts were established within the last 2 years and are intended for wealthy clients. As an example, a hotel called the Six Senses Sonara Kiri, a first class and ultra luxurious place where the cheapest room is 1300eur per night. The hotel has even built a private airstrip for its clients to facilitate their transfer, directly by private plane from Bangkok (massage room is available in the same plane!) Brad Pitt, Angelina Jolie and their children (their son Pax was adopted in neighboring Cambodia) have vacationed there recently.
No massage or private plane for us, unfortunately. The speedboat dropped us off at the pier of Dusita Resort, located just steps from our apartment, the Nghamkho Resort, which runs opposite the sea, over an area equal to half a football field.
We are greeted by Joe, the boss who leads us to our bungalow, one of five that make up the Resort. The price was established and agreed in advance.650 baht (16EUR) for a wooden bungalow, double bed, mosquito net, fan and tiny bathroom adjacent. For 200bahts less, a small hut is available, it's just large enough to accommodate a double bed. The bathroom is shared between all the huts (four total). The resort is basic but has its charm and it's quiet. The staff are friendly, comfortable beds, excellent food and perfect location.
The first day we rent a scooter for 350 baht (9EUR). Considering the price to be very high, this will be our only motorized day. This will also save on the cost of the boat. Our first stop is Klong Chao waterfall, located on the edge of the jungle. Due to the disappearing road it's not possible to take the motorbike the whole way and after half an hour walk we arrive.
As it has not rained a lot lately, there is not much water. Just two small waterfalls and a freshwater pool at the base. Thomas went swimming and enjoyed himself on the ropes while Anne-Marie took some pictures of the surroundings.
On the way back, per the advice of a Danish couple whom we met on Koh Chang, we stop at Bang Bao beach, a beautiful beach located in a small bay. Visions of paradise: white sand, clear waters and coconut trees. The photos do not lie.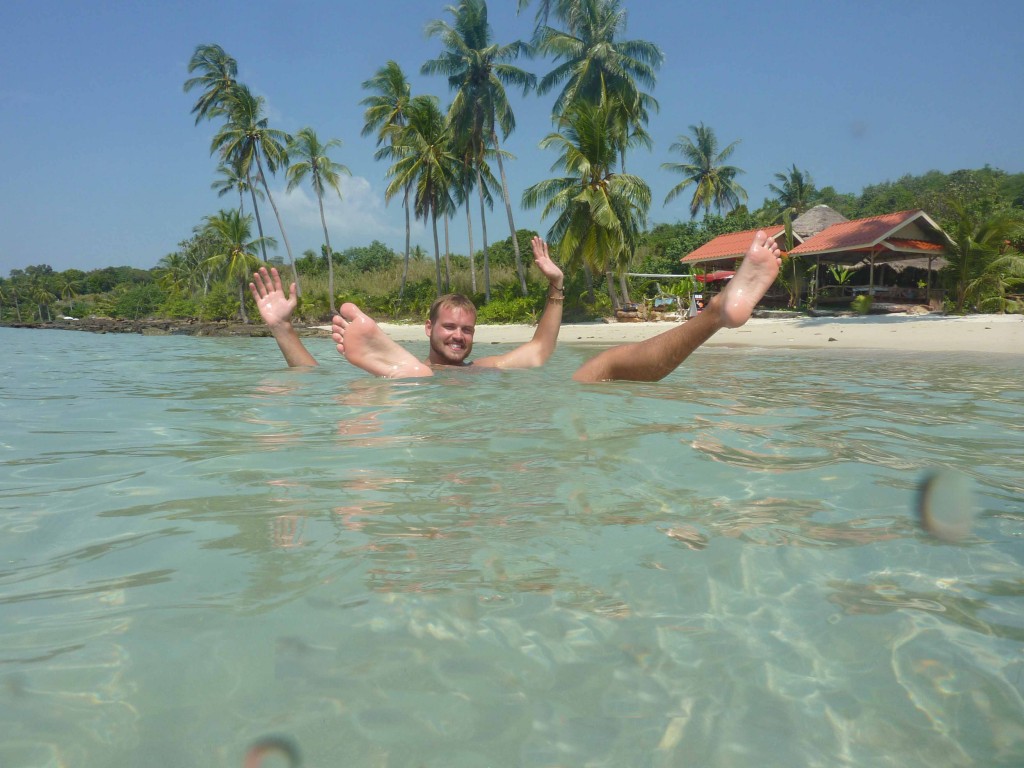 Koh Kood offers very little activity. There are one or two diving clubs but we prefer to keep our money to dive Sipadan in Borneo. The main activity, you guessed it: lazy … and incidentally take pictures for our family and friends who spend a harsh winter in Europe ☺
We met two very nice couples on the island with whom we spent quite some time, exchanged ideas and recommendations, and even made plans to meet again in the coming weeks: Marine & Julien from Lyon, who are traveling for 6 months, and Daphne and Wouter, Amsterdam, on vacation for 10 weeks. They have left the Dutch capital three days ago and it was -6 degrees, arriving in Bangkok, 33! We also met Rosine, St Remy de Provence, a woman full of life and always smiling. If you read, we hope you are all well, it was a real pleasure to cross your path!
The day before yesterday we decided to have breakfast at the beach of Bang Bao. This is where we'll meet Dalne, a Cambodian waiter at Siam Beach Resort. Dalne admired the Paul Smith t-shirt thatThomas bought at MBK Bangkok and offered him 500bahts, (12EUR) instead of 350 + that he paid 10 days + ago. Thomas finally negotiated 200 baht + 1 t-shirt from the Siam Beach resort against his t-shirt. A good deal, which means more money to buy another as soon as we return to the capital. Dalne spent his late afternoon strutting among the tables with his new t-shirt.
Our days on Koh Kood are simple: playing on the beach for Anne-Marie, diving mask / snorkel for Thomas and playing frisbee in the crystal clear waters. The evenings are spent at a beachside cabana, watching the sunset and enjoying a drink, to discuss anything and everything, and our plans for the world.
Tomorrow we leave for Bangkok, a quick stop before we travel to Chiang Mai and Northern Thailand. On our first day we will do a "Thai cooking classes" and then a road trip of five days on a motorcycle on the Mae Hong Son loop, through the mountains, along the Burmese border. Considered the most beautiful road in Thailand, it is also one of the finest and most envied in the world.
More news in a few days. In the meantime enjoy some photos of the well to warm up a bit!