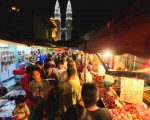 We've decided to blog about what we eat on our travels. Prior to leaving home, we enjoyed many great meals with friends and family, from traditional Christmas dinner (twice) to yummy cheese and fondue vigneronne. Food here is very different, and though Anne-Marie may crave brown bread with real Irish butter in time to come, for now it's noodles and rice which is fine with us.
Arriving yesterday after a long journey, we were too early to check in to our guesthouse, although they very kindly allowed us to shower and store our luggage. We decided to eat and explore for a couple of hours. At the first warung (family run small street side cafe) we sat and the old lady running the show said "you want fried noodle?", tired and hungry we agreed. It was cheap at 5RM (1.25€) and hit the spot, although quite bland.
That evening went to chinatown to browse. Everyone is your friend and offers you a special price. We tried a traditional Malaysian drink, which to be honest was like a cold furry sherbet with ice, not to our taste. We had a drink during happy hour at reggae bar in Chinatown, local gin and tonic is 5RM for the ladies, Bombay it's not however it didn't kill Anne-Marie. Thomas had a beer at 10RM which rises to 30RM (6€) after 9pm! We won't drink much alcohol in KL as being a Muslim country, alcohol is very expensive.
We ate quite late that evening, which probably accounts for us not being able to sleep. The guesthouse recommended Jin alor street in the area and we went to the first busy stall that we found. Our budget on this trip is eating at local warungs and street stalls. Thomas had pad Thai and I had chicken with holy basil, both very spicy and good value at 22RM (5.5€) total including 2 waters. To be honest, the chicken with basil and poached egg at koh restaurant in Dublin is nicer, shout out to Conor!
No pictures of our food for the first day though plenty will follow.