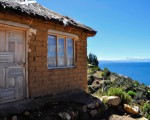 We took another comfortable Cruz del Sur bus from Arequipa to Puno, it was pretty chaotic at the bus terminal and we left a few minutes late, which meant we arrived late in Puno. The last bus to Copacabana leaves at 2.30 in order to reach the border before closing time at 5.30.
We tried in vain to find other travelers to share a taxi (140 soles) and finally resigned to the fact that we would overnight in Puno. It wasn't such a big deal, however we had little soles to tide us over.
We found a clean though pretty cold room at Gran Puno inn (50 soles including a tasteless breakfast) and set off for a little walk through the town. The tourist area, although crammed with shops selling tourist tat and restaurants with the ubiquitous tourist menu was okay, certainly nicer than the area where the bus arrives. We ate at La Hacienda on the main tourist drag, 15 soles for soup, main, desert, chicha drink plus a complimentary pisco sour. It was quite good, plus they accept credit cards and we did not need to use an ATM.
We took a bus with Huyarur (15 soles) to Copacabana at 7.30. There are several bus companies and prices range from 10 soles (without a seatbelt!) to 20 soles with Tour Peru. It started to snow at the terminal, hello winter! The bus passed through small villages where locals dressed in their finest traditional attire had their products (food, textiles, and sheep/pigs on a lead) for sale. On arrival at the border, the weather had turned for the worse, and we stood outside the border control with no shelter. All buses arrive at the same time, so plan on one hour to get the correct stamps to exit Perú and enter Bolivia.
There are two controls on the Perú side, one to stamp your immigration card, and another (queue a second time in the rain) to stamp your passport. Copacabana is 8km from the border, and when we arrived, "an official" hopped on the bus to collect a tourist entry tax.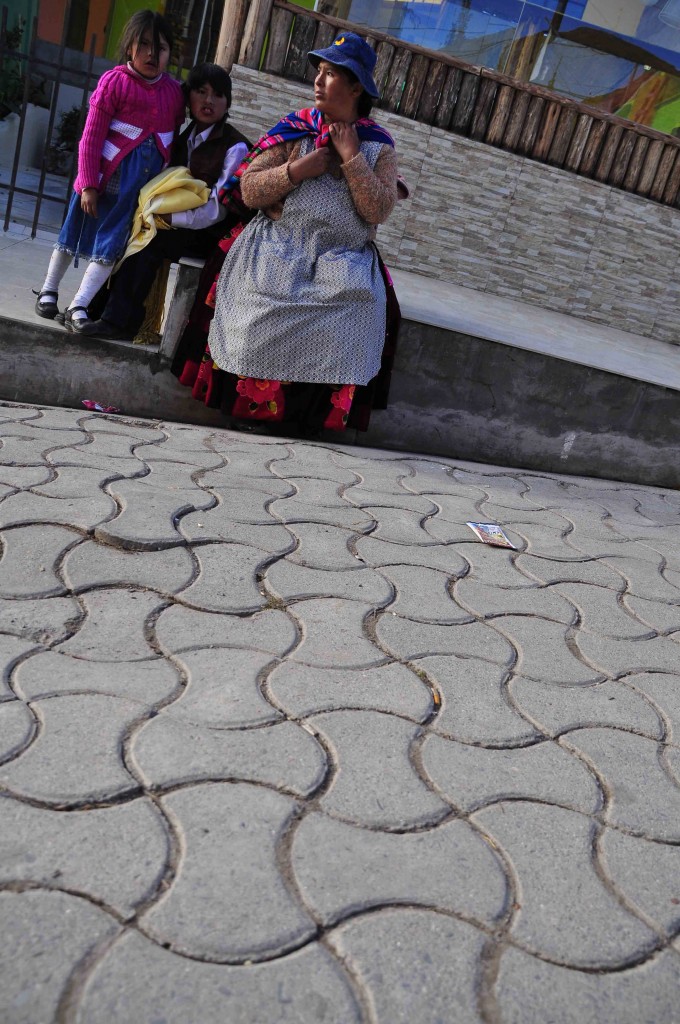 We toyed with the idea of going straight to La Paz given the awful weather, though hoping it would clear up, we accepted a taxi from Hotel Utama to stay for one night. $15 for a clean private room with cable tv and temperamental wifi. The "beach" area of Copacabana has little restaurants facing the lakeshore where you can enjoy a large beer (20 bolivianos, about €2.50) on their terrace. By the time we got there, the rain and the clouds were gone and it got all nice & sunny.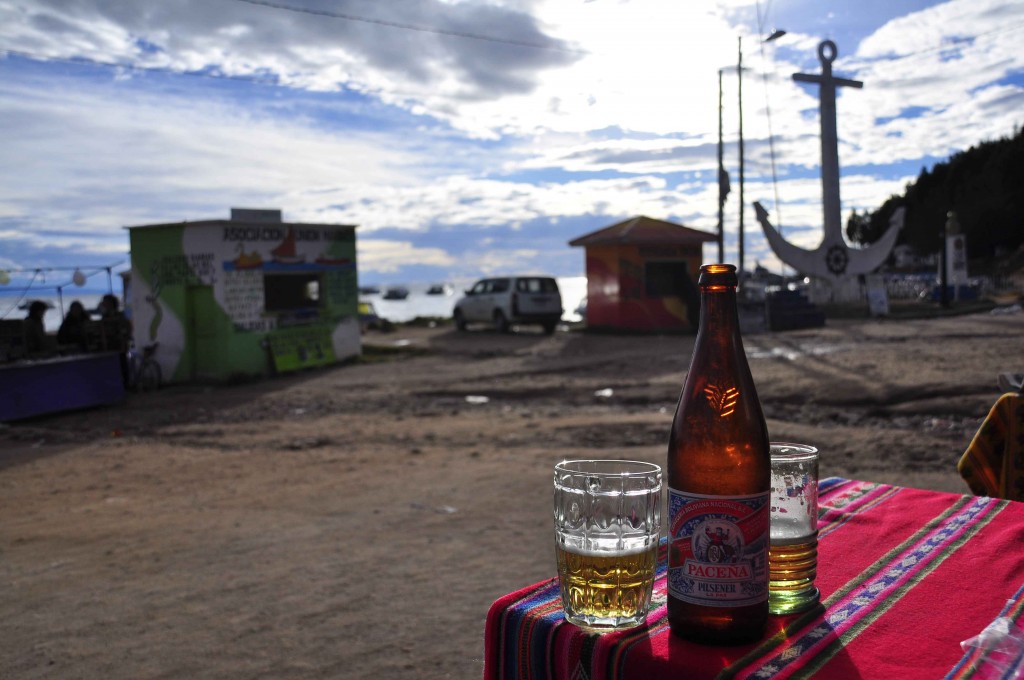 Beware though when the sun goes down it turns pretty chilly. We made a reservation for dinner at La Cupula, one of the few restaurants open on a Sunday night, and many people were turned away. Fondues are their speciality and we enjoyed a cheese fondue with a selection of sides for 100 bolivianos, it was yum save for the rancid olives.
This all sounds idyllic, where is the terror you ask?? Well, we had an early start the next morning as we were visiting "Isla del Sol" an island, 8km from the mainland where Incas believe the sun and moon (Isla del Luna) were created. We purchased our tickets from Lake Titicaca tours before checking out the boat, a huge mistake.
Our wooden boat, packed with people chugged along for almost 2 hours. There were no lifejackets, the boat took on some water and the lake temperature was freezing. Thomas was petrified on the journey which seemed to last forever. Upon reaching the island, we got off as quickly as we could foregoing our onward journey to Isla del Luna. These boats are pretty standard on the lake, you can charter a faster boat privately at 350 bolivianos per leg of journey.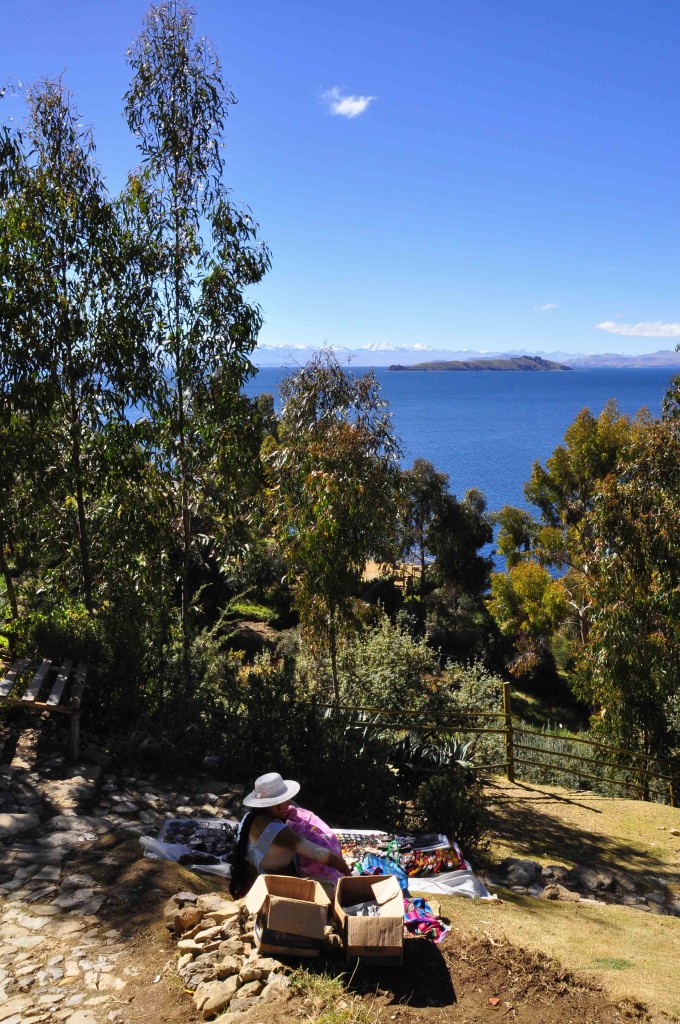 The island is beautiful, it reminded us of Crete. Azure blue sky with no clouds, shining sun and desert like mountain. We climbed to the sacred fountain and on to Yumani, a small village at the top. The view was spectacular and we wished we had planned to stay the night in one of the small hostels. We enjoyed a beer of the terrace, watching the afternoon boats, which were even more crammed with tourists arrive.
Our only way back was by slow boat, and we sat on top, which was more comfortable, however the return journey took more than two hours! Andes Amazonia boats are slightly faster and seemed to be in better shape.
We dined at La Orilla that night, a gorgeous restaurant with a cosy fire and delicious food. Real home-made nachos with a selection of sides, and a beef casserole with great potatoes, which reminded Anne Marie of her Mum's stew. Copacabana is a sleepy town, there's not much to do except visit the islands, and enjoy a beer in the hot sun.
The Eagle and Condor cafe, run by an Irish man serves excellent coffee and real irish soda bread. We enjoyed breakfast there before continuing on to La Paz.