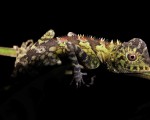 We slept soundly on our first night at Sumbiling, comforted in our cosy tent, complete with mattresses. Being so warm at night, we didn't need the extra bedding provided, and we slept with the tent cover open, the sun was shining on the river and birds singing when we awoke. The Iban ladies had prepared a substantial, carbohydrate heavy breakfast for us: rice with vegetables, eggs, and toast, perfect to get our energy levels up, we had a busy day ahead of us. As we finished, Gary arrived back from Temburong ferry with 3 day trippers whom would join us in the National park.
Gary briefed us on the activities for the day and indicated our route on a large white board. We would take a 45 minute ride upstream, register at the park and set forth for the canopy, a 250m high scaffolding deep within Temburong park, provided by Shell and an attraction for those who wished to survey the park with their heads in the clouds. Oh…..it's quite a hike to reach the canopy, 1276 steps…… followed by 25 ladders in each of the 4 scaffoldings, with 7 steps a piece, a lot of climbing therefore!
We put on our life jackets and climbed into the longboat, a motorized version and sped up the river. We distributed our weight as evenly as possible to assist with traveling over the rocks and rapids in the river, it was a fun ride. The view from the boat is pretty spectacular, trees appearing to grow out of the water and old tree trunks bobbing at the river bed, we didn't spot any crocodiles!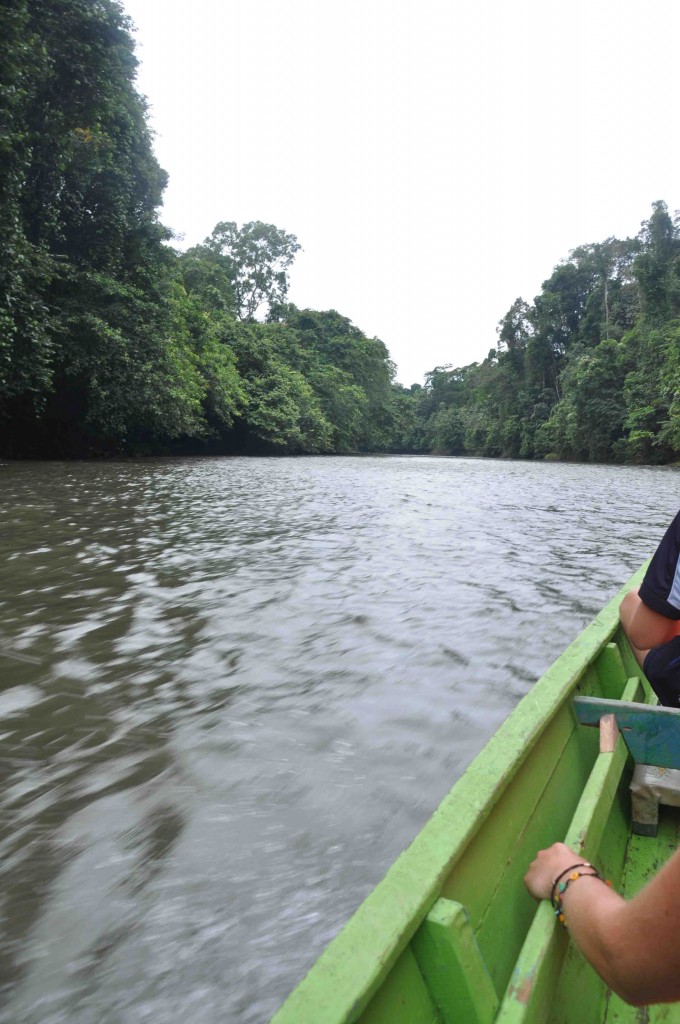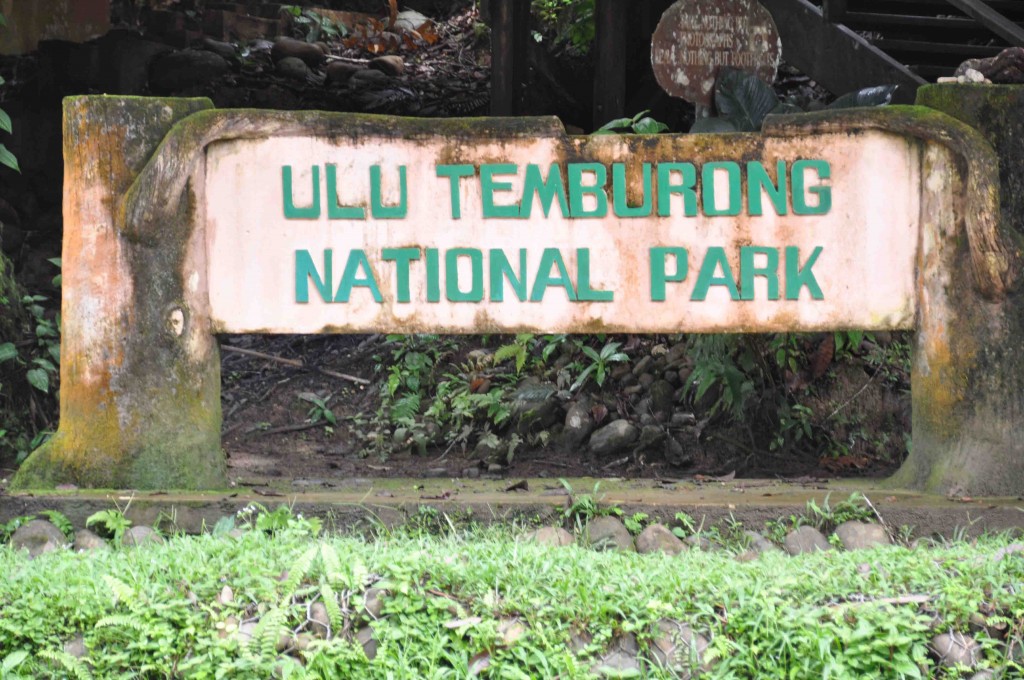 After registration, Gary brought us a little further upstream and we commenced our hike. We started on the opposite side of the river so that we could cross the huge rope bridge, it felt like entering Jurassic Park!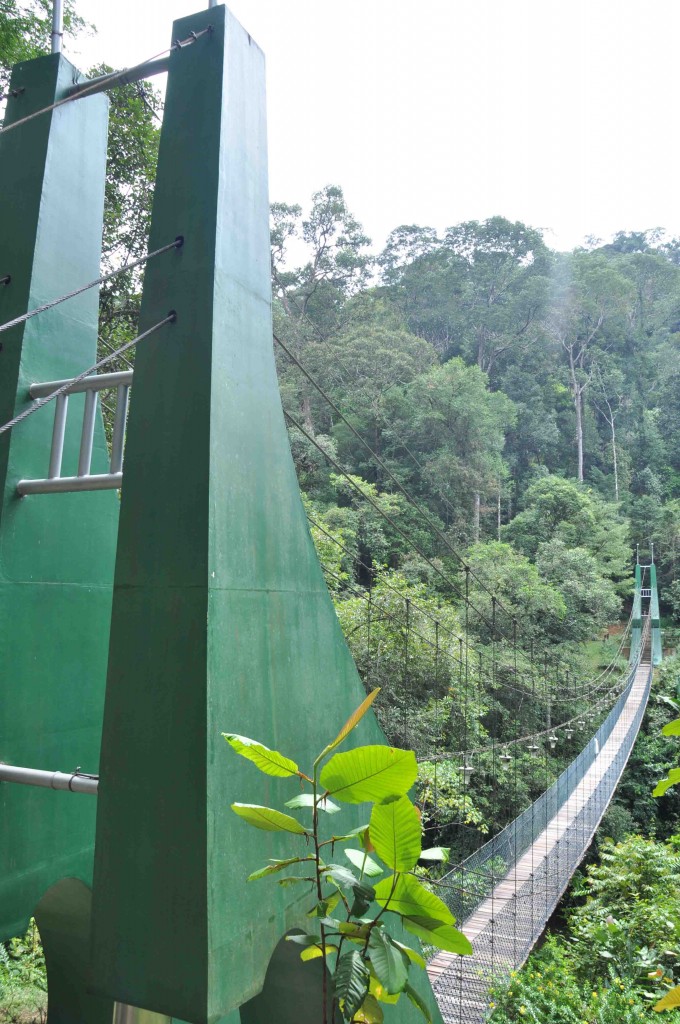 On the forest side of the bridge, we spotted a large crested lizard on a tree stump. He was so close to us and so still, Anne Marie thought it was a fake to amuse tourists until he rolled his eyes in her direction.
It was very hot in the forest despite the large canopy providing shade and we took several rest stops on our ascent. We reached the structure after an hour and took another rest while we waited for an earlier group to climb. 5 people are allowed in each canopy, and they close the canopy if there is strong wind or heavy rain. Bright blue skies blazed overhead us and we set off. Anne Marie, despite being afraid of heights was the first into the canopy, crawling cat-like higher and higher while singing to comfort herself. The structure sways slightly in the wind and when people below you start to climb. It really was worth putting fear aside for the view is magical. On a clear day you can see the tip of Mount Kinabalu, unfortunately clouds in horizon obscured our view.
Once back on terra firma, our descent was quicker despite the muddy terrain. We boarded the boat an traveled a short distance upstream and hopped out on the stony riverbank. A waterfall was the water source for a little trickle of a stream that met the river. We followed its path and arrived a hidden treasure where cool mountain water spilled over the smooth rock surface. Little fish swam below, providing fish spa pedicures for free! We swam in the shallow rock pool for a time, and tummies rumbling decided to return to the village for lunch.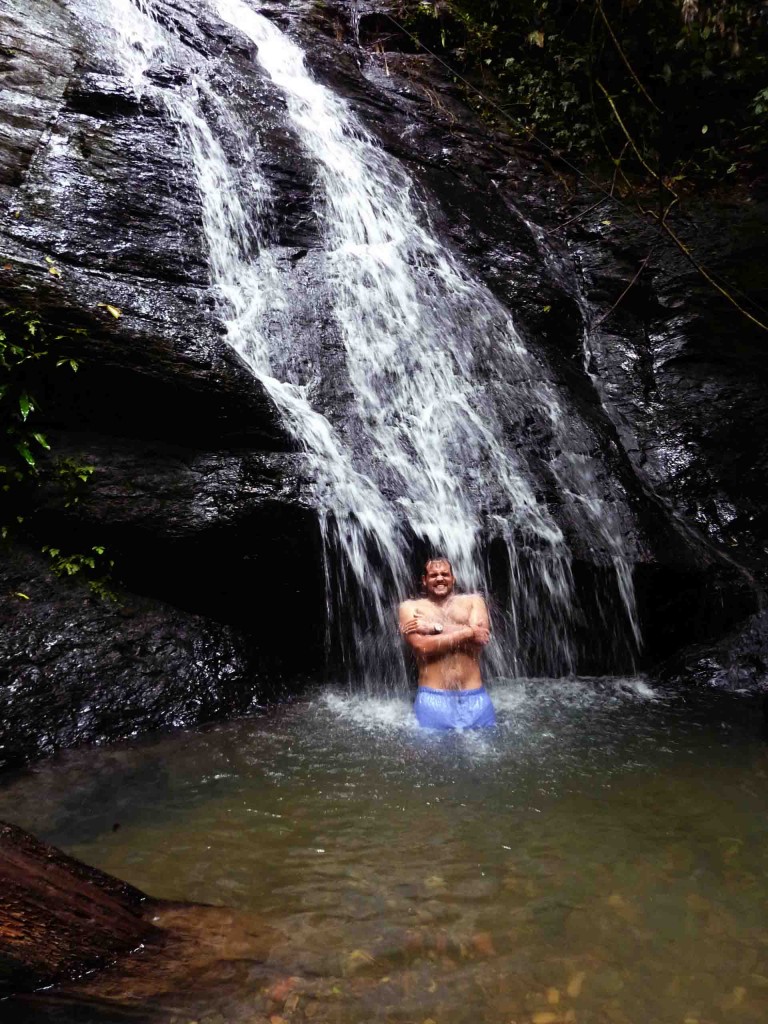 A large buffet of vegetables, fish, chicken and rice awaited us, as well as a cup of delicious chicken soup. A ripe jackfruit placed in the centre of the dining table! We ate plenty and took a snooze in our tent by the river while Gary accompanied the day trippers to the ferry in Bandar town.
The water level in the river was high from the previous days rain and at 4pm, we put large rubber tubes in the long boat and we headed a couple of miles upstream with Gary and Irwan, our boat man. The river water was cold and flowing steadily, our tubes bobbed along where they reached the rapids and we were really moving.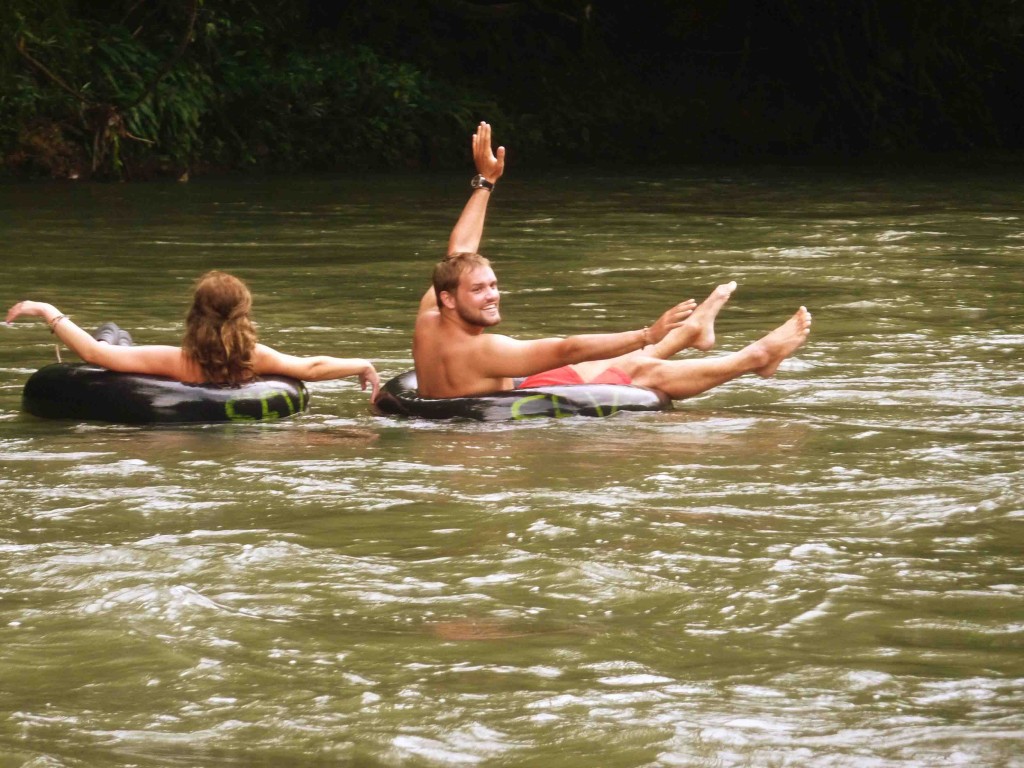 This is not the typical lazy river at water theme parks, it was lots of fun and all too soon we were back at the village.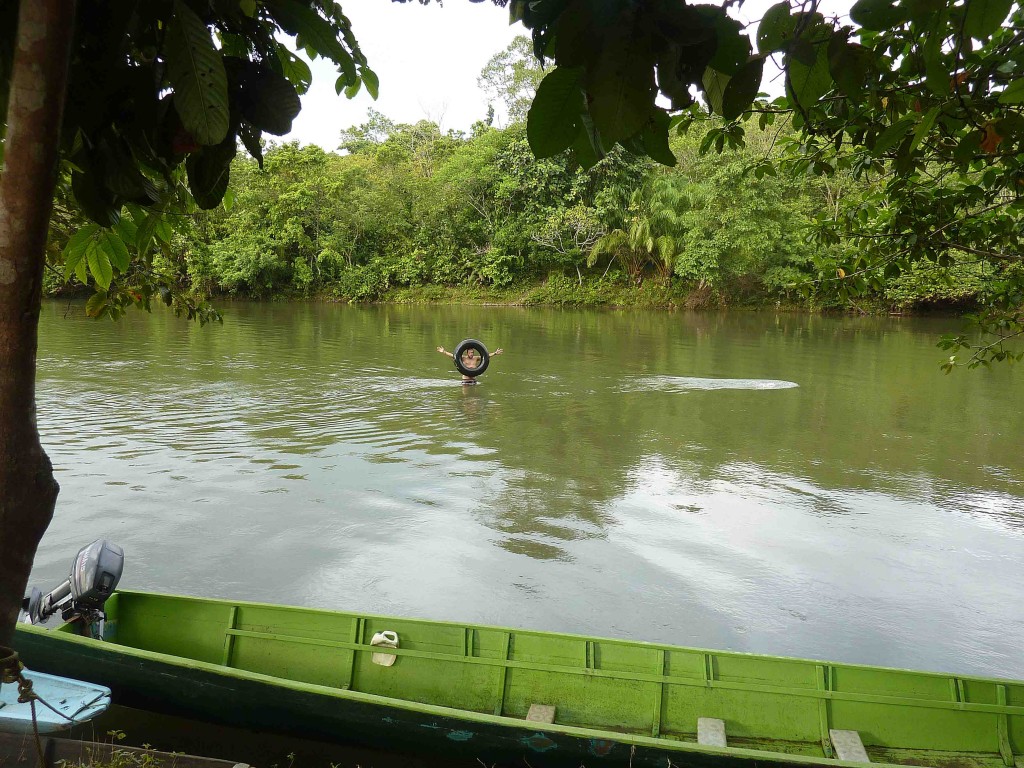 Our night walk was planned for 19.30 and after another filling meal, we Sulaiman, his young son Bujang and armed with torches we entered the pitch black jungle. Sulaiman led the way, and found lots of insects, arachnids, birds and butterflies for us.
Most did not mind their picture being taken. We came across many grasshoppers, lizards, a very rare worm and a very poisonous centipede like creature.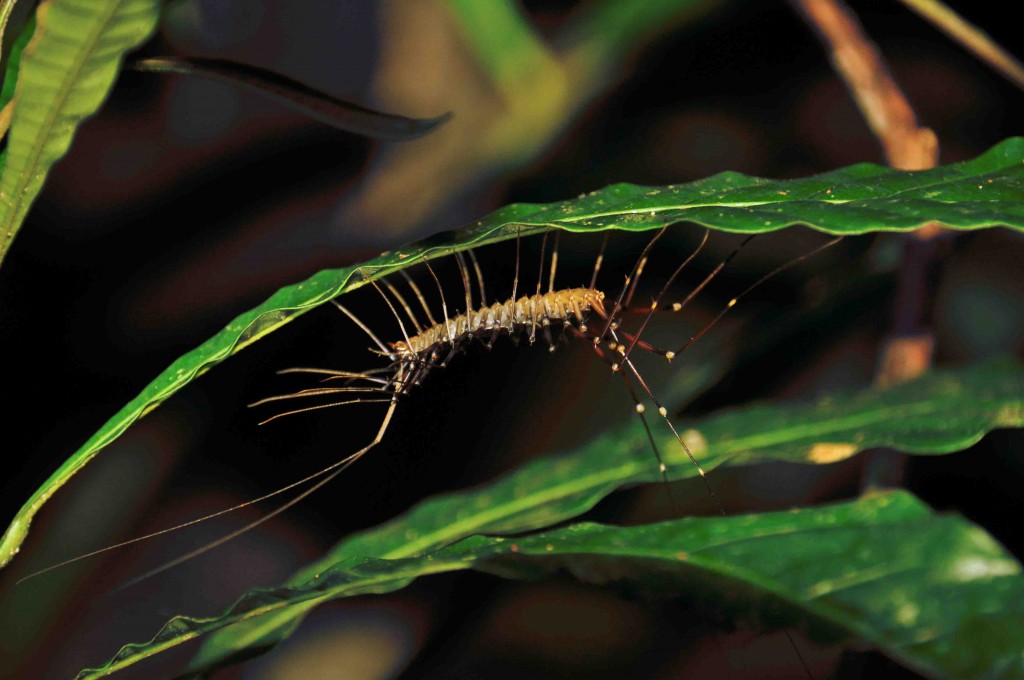 The trick is to look at a tree an think, what is different about it, what should not be there, maybe easier during the day, though at night? Several times during our walk, Sulaiman advised "run when I tell you to", large swarms of busy fire ants were in our path. We duly did as told, fire ants bite, and running through a dark forest is both scary and exhilarating.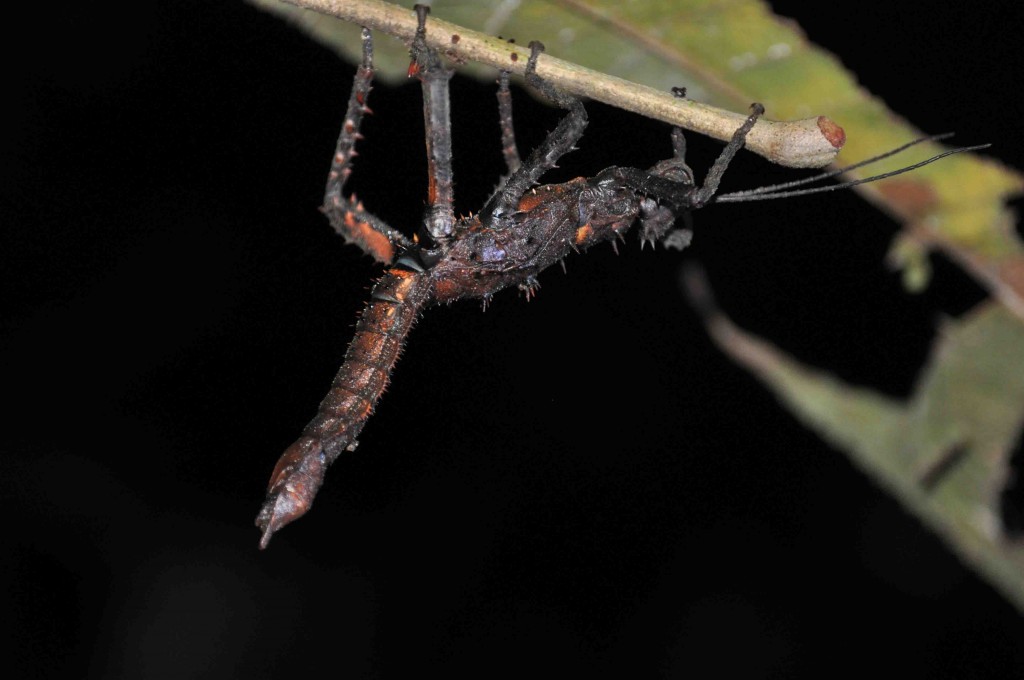 We returned to the local Iban village to view the longhouse, the traditional structure in which villagers live. It is a large house on stilts with a large common room, off which up to 20 families can live. Unfortunately, a fire in the village destroyed 6 of the 10 original houses. The families rebuilt in a different village location as it is bad luck to rebuild on a site damaged by fire. The longhouse setup suits the close knit community, doors are left open and families flit between different houses and mind each others children. The large hall/common room is used for meetings, celebrations and visitors.
Gawai is the biggest celebration occurring on 1st of June and is honor of harvest time. Custom dictates that visitors will pay their respects at the first house in the structure, sharing a bottle of tuak, a home-brewed rice wine, with the family. Upon finishing the bottle, the visitor will move to house number 2 and share a bottle of their tuak and so on….. Rice wine is pretty strong and only the most seasoned of drinkers could reach the end without collapsing!
We returned to our campsite around 11pm for a cup of tea while Thomas played with a blow pipe used by villagers to hunt wild animals.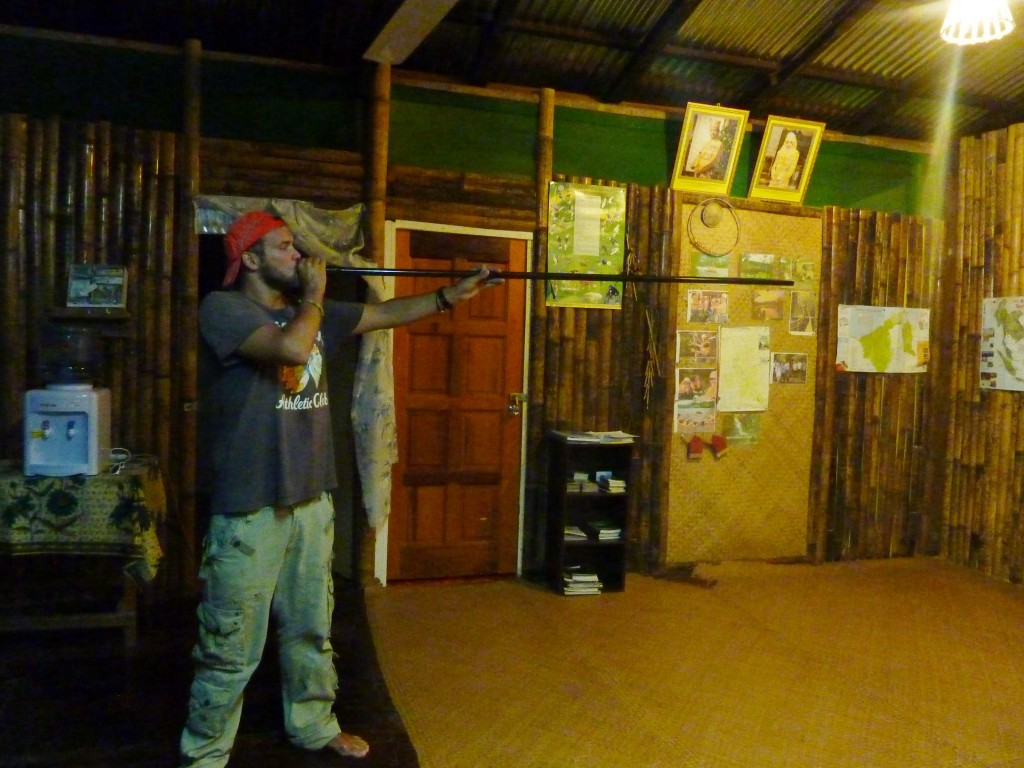 We then quickly fell into a deep, contented sleep. We needed to make the afternoon ferry from Brunei so would leave the village after breakfast. Our only regret when we awoke in the morning was that we could not stay longer.
All in all, it was a fabulous expérience that we'll truly be recommending to anyone heading towards Brunei. The villagers and our guide Gary made for an extremely enjoyable stay and we'll never forget the moments shared with them in the beautiful rainforest.