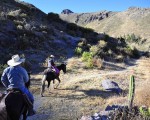 The Cruz del Sur "cruzero suite" bus is probably the most luxurious bus we will take on this trip, we traveled in style from Cusco to Arequipa. The 10 hour night journey passed in no time, we slept in comfy leather recliners, and watched a movie after a hot meal, it was well worth the $45 per person.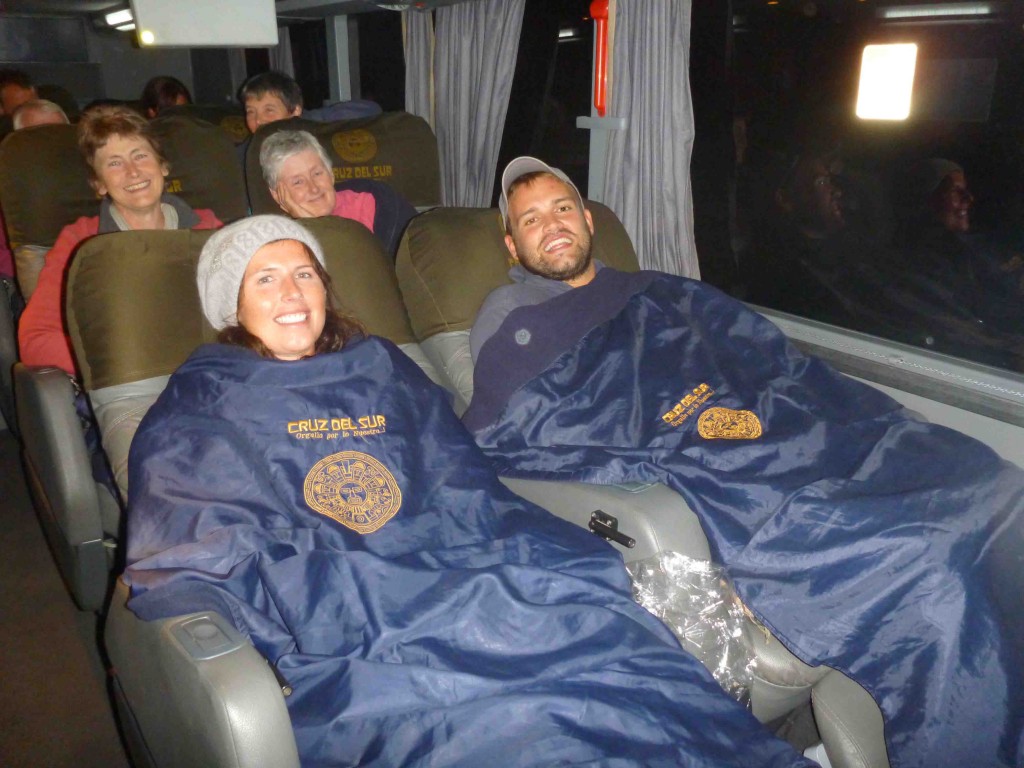 Arriving in Arequipa, our lovely guesthouse "Hospedaje Macondo" allowed us to check into our room at 7am and so we slept some more. It's funny how tired one gets when doing so little! Anne-Marie couldn't resist buying a little bag of churros.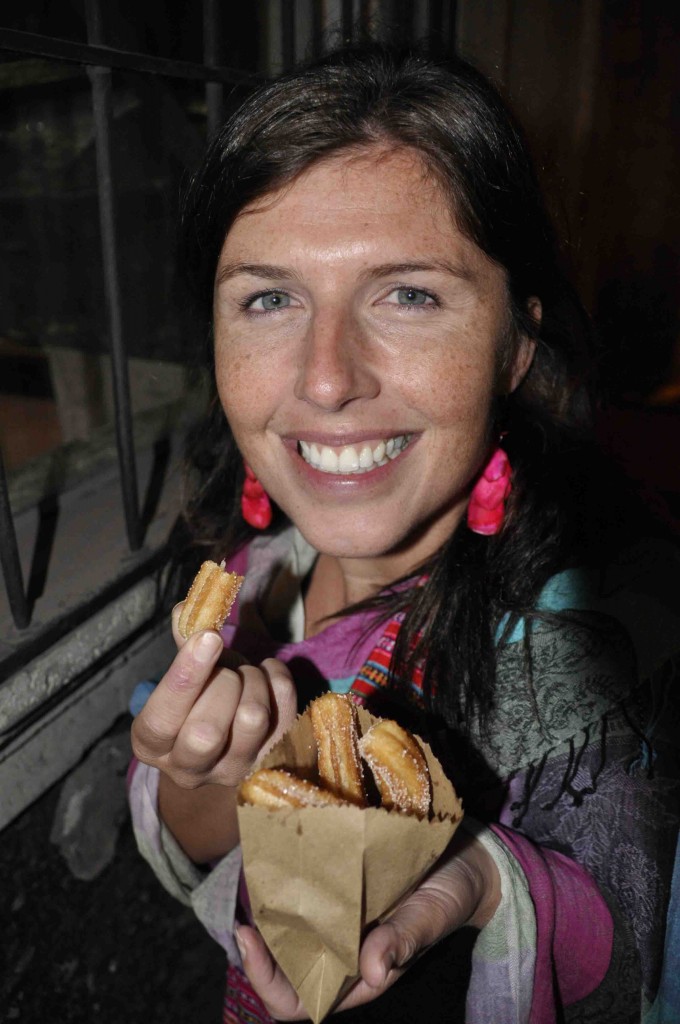 Arequipa is quite a pretty city, very clean and the locals are amongst the friendliest people that we have encountered, our attempts to converse in Spanish were well-received.
One of the main attractions for tourists based in this city is Colca Canyon, which at 3,400 meters is more than twice as deep as the Grand Canyon.
There are many tour operators offering one day tours (an early start at 3am for it is 100 miles from Arequipa) or 2/3 day treks through the valley. On the advice of a UK couple that we met at Macchu Pichhu, we contacted a French-operated company based in Areqiupa that offer horse riding tours in the valley. We met Thomas at his http://www.imagine-peru.com office and arranged our tour 2 day 1 night trek for the next day, departing at a reasonable 8am.
We were collected promptly the following morning, in a luxury Mercedes bus, joining other travelers on the standard trekking tour. En route to Colca, we stopped at several points for photographs and rest, at each point ladies in traditional clothing were selling the famous knits, we purchased a couple a wooly scarves, despite the sun it became quite chilly the higher we climbed, our highest point on the route was almost 5,000 meters above sea level. We chewed on some coca leaves (yuck) and drank coco de mate tea to assist with acclimatization.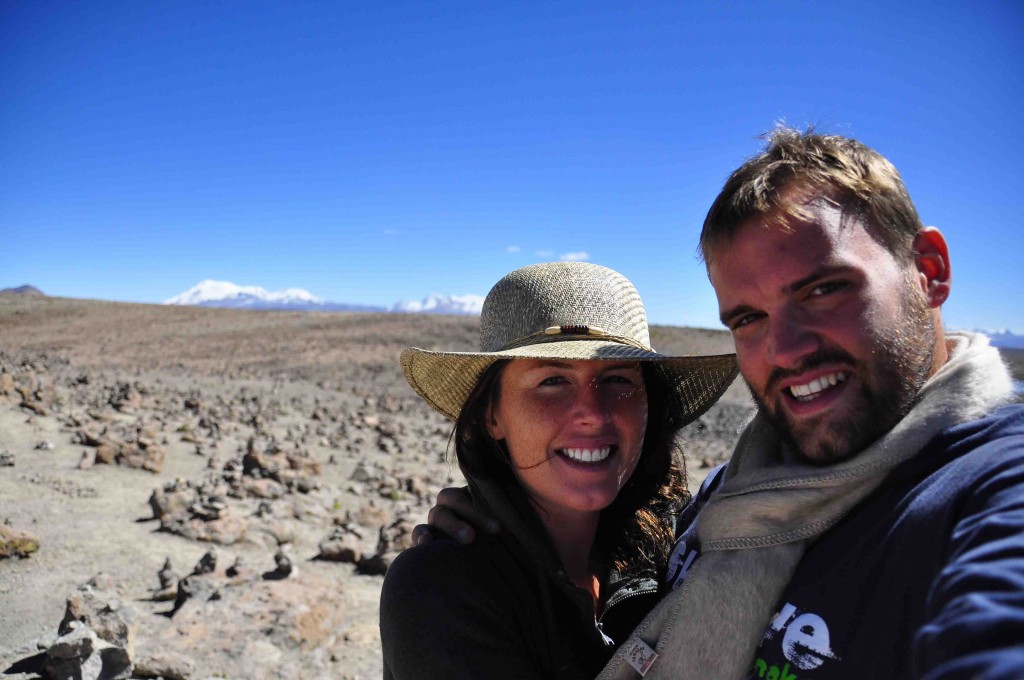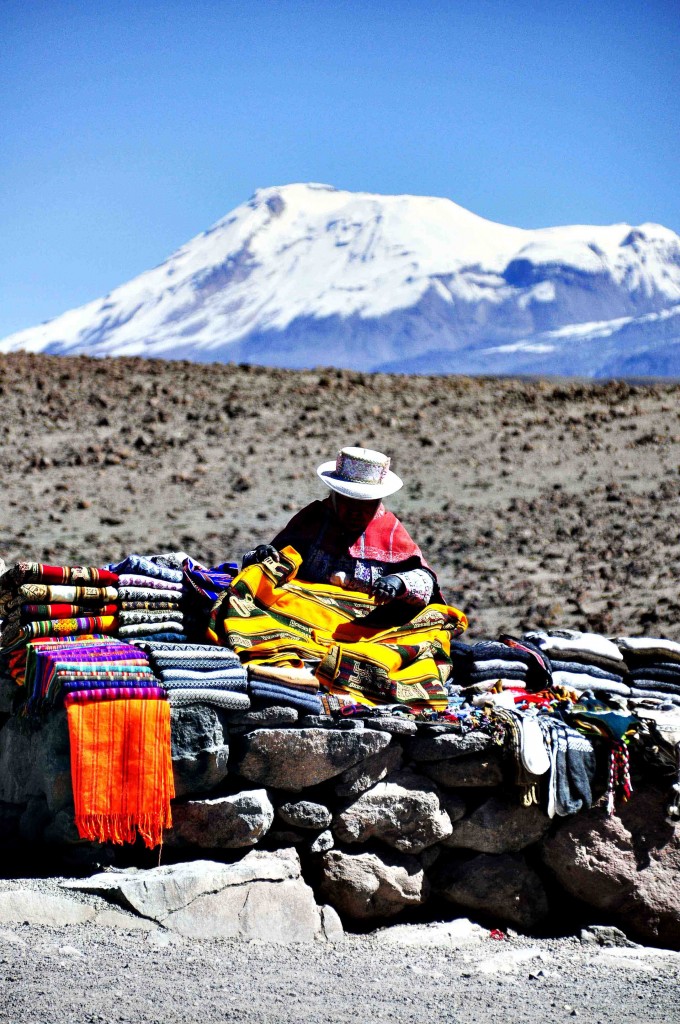 We broke off from the tour group in Chivay, the main town in the Colca valley and continued to our accommodations, Eco Inn lodge in Yanque. Our hotel, one of the nicest of our trip was a collection of bungalows located in the valley, overlooking the traditional terraces. Our huge bungalow was real luxury after a few weeks of crazy backpacker hostels.
Wilbur, our guide from El Herraje horse riding was ready for us at the hotel, with three traditional peruvian paso horses for our 4 hour trek through the valley. Wilbur breeds these horses at his ranch nearby, they are famed for being strong and sturdy, with a pleasant temperament, easy to ride and control.
We donned our cowboy hats, and set off into the valley. Thomas's horse, Frito was a lovely docile palomino coloured horse, Anne-Marie's, a smaller black pony who took an instant dislike to a friendly German Shepard dog who followed us en-route. Our trek took us through the Yanque valley, up steep stony pathways, across little rivers and along the mountain tops where we could gaze across the rio grande. It was spectacular. En-route we met some locals working in the fields and little packs of hardworking mules ferrying goods up the mountains. It was a world away from the tourist convoy that we had travelled on from Arequipa.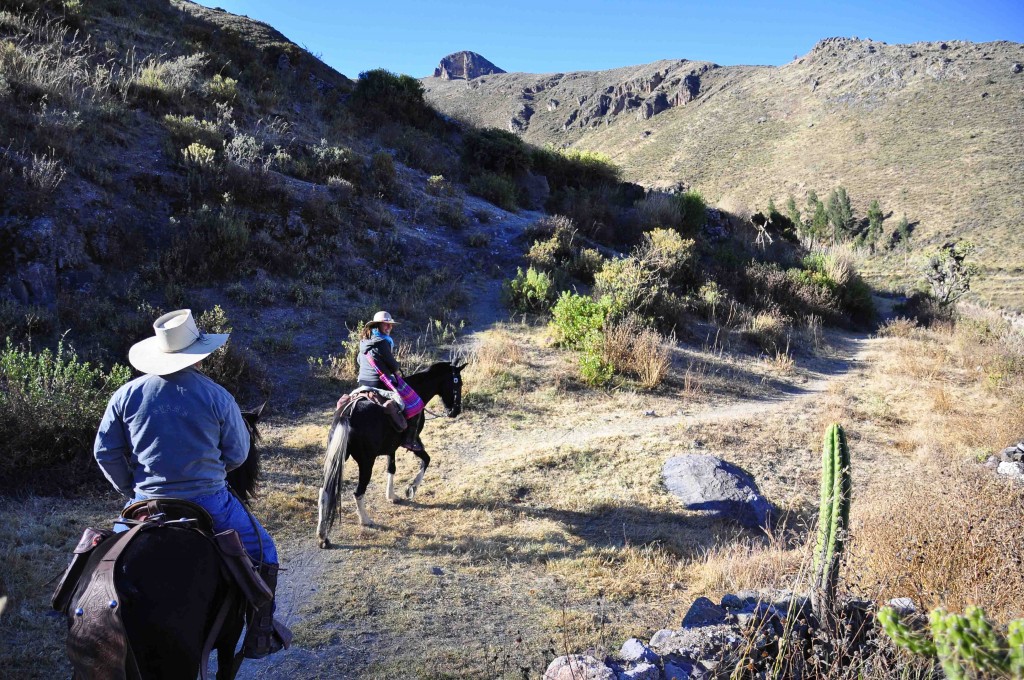 We passed Uyo-Uyo, the original town land of Yanque, whose ruins pre-date the Incas. Upon arrival at Coporaque we dismounted, stretched our legs and bought some sweets for the local children. The houses in the area are made of stone and mud with galvanized roofs, which make the dwellings cold all year round. The roads of the area are dusty, we were soon covered in a film of dust just like the locals working outside. There is little opportunity here, save for agriculture, although an Internet connection in the town hall means that students can complete online courses in education.
The sun began to fall around 5pm, and it took us one more hour to arrive home, trekking through part of the canyon which houses some old graves. The original inhabitants of the area buried their men and elders here, stripping the meat from the bones, and burying with gold, silver and clothing to assist in their next life! We arrived at our hotel at 6pm, with slightly sore knees, and looking forward to a good nights rest in our luxury bungalow. The trek though the canyon with our friendly guide Wilbur is one of the best activities that we have done on our trip, and we were sorry we couldn't stay another day to explore the area like true cowboys!
It is very cold in the Colca valley at night, -18 the night we stayed, however our little heater soon warmed up the bungalow for us to enjoy appero by candlelight with a bottle of local, Peruvian wine from the Tacama region. Dinner at the hotel was a delicious, warming asparagus soup and alpaca steak (no match for Irish beef though quite tasty) before much needed sleep after our brilliant day.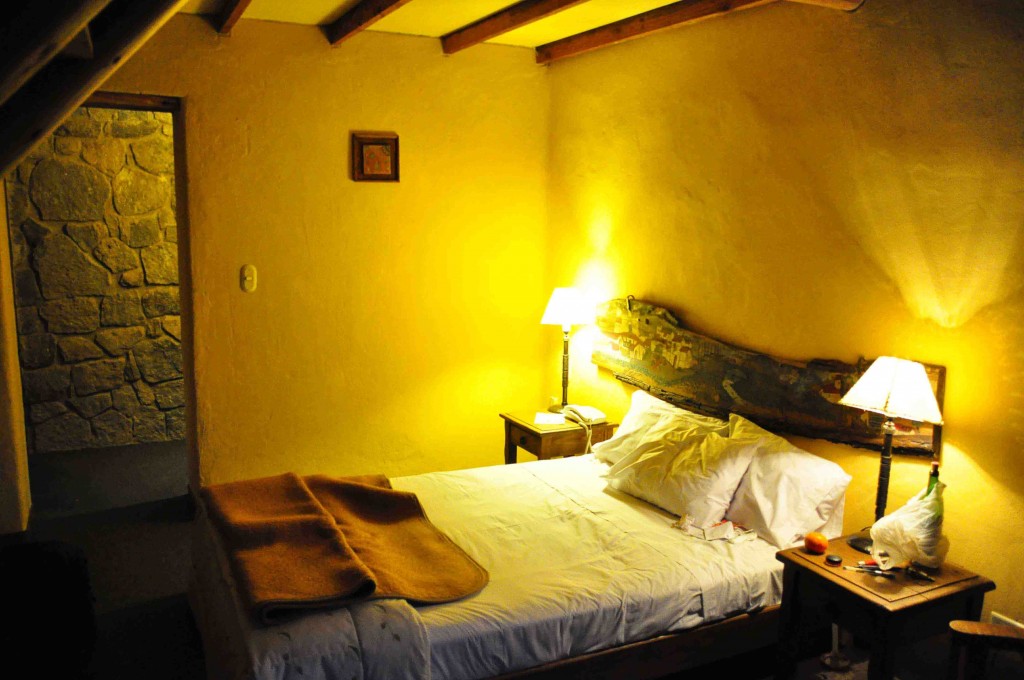 An early start the following morning in order to visit "Cruz del Condor", a mirador viewing site in the canyon where the eagle like birds, common to the area flee their nests in the canyon each morning. We joined the hundreds of other tourists at the site to witness these majestic birds in flight. Condors are carrion eaters, meaning they eat from the carcasses of dead animals, indeed their turkey like claws prevents them from killing their prey. We were lucky to spot many condors in flight, so lucky we thought there was somebody waking them from their slumber deep in the canyon so that the hordes of tourists could take great pictures!
The tourist ticket price for the Colca canyon increased by 100% in January 2012 to $25 per person, hopefully this money will go towards improving the untreated road surface, it's a very bumpy ride, and we passed a couple of tourist buses changing their tires.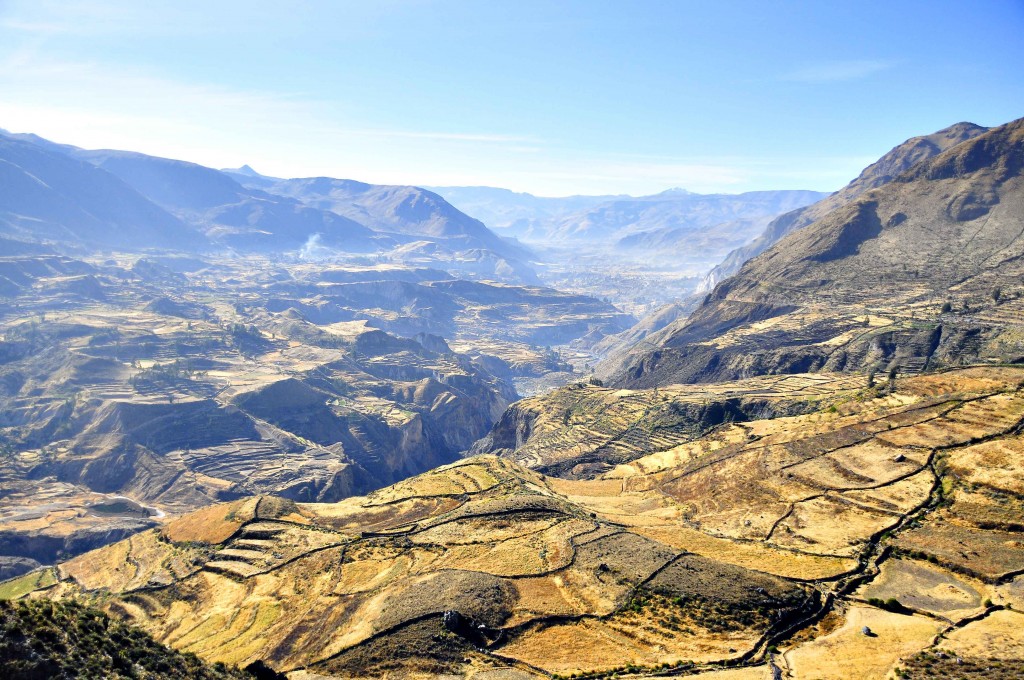 We had some more photo opportunities in Maca, a little village which thrives on tourism, locals and their animals (llama, baby lambs, captured eagles) were dressed in traditional attire.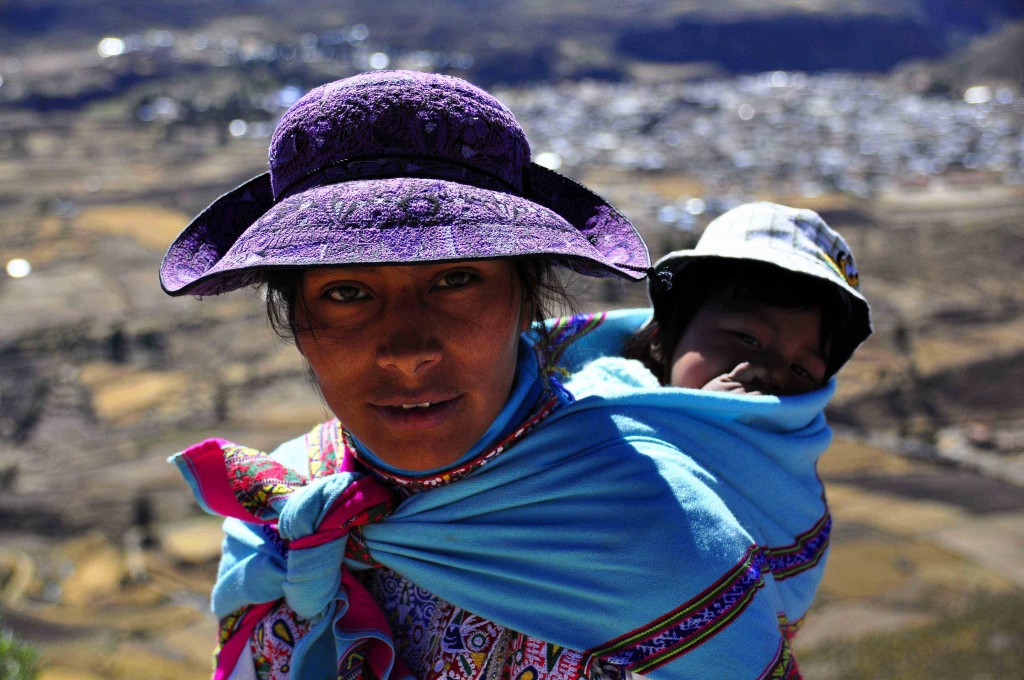 We bought some hand knitted socks and mittens in preparation for our trip to Bolivia. Our bus stopped in Chivay for lunch and a wander around the local market before heading back to Arequipa. Our tour guide turned off the microphone and everyone on the bus slept for the journey, tired from the early start, fresh air and the altitude, it's our training for Bolivia!