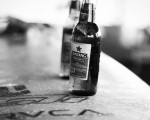 Our apologies for the lack of update in the last 10 days. It's the rainy season here, which means rain every day from 2pm and therefore reduces considerably the possibilities of exploring the area or going trekking and photo opportunities. For our final 10 days in Bali we returned to Villa Surya Abadi in Canggu, where we had spent Christmas. We decided to make the most of our mornings: Thomas would get surfing lessons and Anne-Marie take on yoga classes and/or go sunbathing. The proximity of the villa from Echo Beach, a popular surf spot in Bali, as well as a famous yoga place, Villa Serenity, made up for a perfect location. Every morning we would get up at around 7 o'clock, have our breakfast consisting of the usual choice of banana pancake/toast/omelette along with a fresh fruit shake or fruit salad and tea/coffee. We would then hop on the bike for a 20min journey down to Echo Beach (thankfully, the village of Canggu being quite remote, we never encountered the police on our way (see here)).
The bike costs us about 3eur/day and we would need a refill every couple of days. Not in petrol stations though. It's very easy and functional to get petrol in Bali. Most places, whether it's a family compound, a little village shop or restaurant, have a stall with bottles of Absolut Vodka filled with petrol. You just need to stop by, beep a few times and say "petrol, petrol". Someone would then come out of the house and refill the tank. One litre costs approximately 40 cents.
On the way to the beach, I would drop Anne-Marie at her Yoga class, which lasts for about 1,5hour, which is perfect considering a surf session is about 2 hours. On the first few days, Joel (the US Army sergeant whom we met in Amed) and I booked a surf instructor named Ketut. Ketut had been working for years with famous surf schools in Bali before opening his own business, Silversurf Bali. He's very reputable and I would definitely recommend him, whether you're a beginner or would like to improve your skills. He brought us to different locations, from Tugu Beach to Seminyak and also Turtle Island, on the east side of Bali. Even though I like to think I am quite fit, surfing is definitely one of the toughest sports on earth and a two hours session is A LOT, I was absolutely wrecked after each one of them.
On the way back from the beach, we would sometimes stop in Canggu Deli. This little gem of a shop was opened a few years back by a French man. It offers all sorts of nice and fancy food products you could get in Western Europe like camembert, yummy breads, French mustard, Italian or Spanish ham and even German sausages All these goodies are obviously very expensive and definitely over our budget but we managed to get our hands on a French baguette for less than a euro, as well as 100grams of nice black forest pepper ham. Anne-Marie would also buy a few Tomatoes and we even got a small pot of mayonnaise, which lasted a week. This would make for a perfect lunch under 4eur every day! To give you an example, a camembert President sells for about 10eur, a jar of Vegemite 9eur and a packet of Kettle Crisps (Sweet Onion or New York Cheddar, yum!) would go cost about 5eur! The easiest way to ensure we were not distracted by all the delicacies on offer for the wealthy expat community was to only bring the minimum cash for the day.
Ketut provided a surf forecast for different beaches depending on the wind direction, wave height and swells, and unfortunately some days it was not possible for beginners to surf. On one such day, we decided to go to Waterbom, a large waterpark in Kuta, Bali. Joel, and Trista (a very Irish Canadian staying at our guesthouse), accompanied. It was a fun day out, and because it wasn't too busy, we weren't queuing too long. Here's a video of one of the best rides, the Climax, where a trap door below you opens up and exposes you to a 2.5 G-force speed! After the water park, we went shopping around Kuta and ended up having a few cheap beers with the others as well as a BigMac! Yes, our first one, and it was delicious!
Two days ago, we met Sarah & Robbie (Sarah is the daughter of Thomas' godmother) who are also on a round-the-world backpacking trip. They just arrived from Bangkok and will be staying for 10 days in a super nice villa with Rob's family. We all went to Seminyak beach but the waves were so strong that we couldn't surf. We ended up renting bodyboards and splashed around in the waves like children. In the evening, we joined Rob & Sarah for a swift game of Monopoly where Thomas won the game by bankrupting Anne-Marie. It was a lovely evening around a few beers and we're now hoping to meet them again in South America.
After another full day of rain, the sun finally shone on our last evening in Bali. We took the opportunity to watch the sunset at Echo Beach and enjoyed good Italian food at Sticky Fingers, an Italian restaurant on the beach.
Tomorrow we're off to Thailand. First stop in Bangkok for Chinese New Year on Monday. Then we'll be heading South towards Koh Chang & Koh Kood, before making our way to the North of the country. Total days: 22.
Talk to you soon.