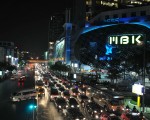 We arrived in Bangkok on Sunday the 22nd. We had left Bali early that morning, at about 7am. We were told that the journey to the airport would last two hours. In fact, we arrived after 35min. Of course the price had been fixed in advance but Thomas refused to pay the whole amount, arguing that it was too much for such a short trip. We got away with it. Due to our early arrival at the airport, we ended up waiting there for almost four hours. And Denpasar isnt the greatest airport to spend time in. We bought a bottle of Barcardi Rhum 1L for about 13eur at the Duty Free, then spent the rest of the time doing crosswords.
Our flight was late but it was a smooth 4hour journey to Bangkok Suvarnabhumi (pronounce su-wanna-poon) Airport. Immigration was slow but we were granted our free 30 days visa. Two years ago, went Thomas first travelled to Bangkok, the government was building an airport link to the City Centre so people had to take a taxi in order to get to their final destination. Nowadays, you can get an express train for 90baht (about 2,25eur) that brings you into downtown Bangkok in less than 30min! Bad business for the many taxi drivers but great for us!
We are staying in a nice little guesthouse in a very convenient location, 2min walk from the BTS Sky Train and 5min away from Central Pier and its taxi boats network. The guesthouse is owned by Mac & Noi, a lovely Americano-Thai couple. The bedroom was big, with a TV (though we never turned it on), fan, and a big fridge, very convenient to store beers. All this for 550baht/night (13eur), which is a real steal. They also own a charming little pub, called Enjoy, serving amazing Thai food (the curries are out of this world) and top-notch cocktails (though a bit pricey).
On our first day, we went shopping in MBK. Its one of Bangkok's biggest shopping centres. Six floors of food, clothes, cameras, mobile phones, beauty salons & products, libraries, gadgets, DVDs, jewellery, complemented by all sorts of counterfeits. A shopper's paradise where bargaining is the norm.
The best deals for clothing are to be made on the 2nd floor, where Thomas bought himself 4-5 T-shirts as well as one pair of shorts. All this for 18eur. We both then went for a cheap 5eur haircut.
One hour later, we were back at the guesthouse getting ready for Chinese New Year 2012. Thomas decided it would be a good idea to get to Chinatown by boat. The sun was setting on Bangkok's skyline so this would make for good photos opportunities. Our destination was two stops up the river and cost 20THB each. There are many luxury hotels lining the river, it's very scenic and a charming way to travel in Bangkok.
Our boat bumped the jetty when it reached our stop, all other passengers were waiting at the rear of the boat to exit. Anne Marie hopped off the boat as the security men peeped their whistle for the boat to pull away. As the queue of passengers made their way off the jetty towards Chinatown, Anne Marie realized Thomas was still on the boat taking photos. The Thai boat security attempted to evacuate Anne Marie from the jetty until a helpful Thai girl translated the situation. The guys got on their walkie talkies and tried to locate "Mr. Thomas", whose boat continued to sail up river to the final destination. Anne Marie remained on the jetty quickly looking over each boat for her missing beau. 20 mins later, Thomas's boat returned, the the Thai boat security ensured we were quickly reunited and on our way to ring in the Chinese New Year.
The celebrations were a bit disappointing as we were expecting a big parade, dragons everywhere, firecrackers, etc… Instead we got to see the Queen of Thailand at the back of her HUGE Rolls Royce (I think). We were warned by the police not to take pictures of the Queen, nor even smoke or drink during the moment where her large envoy of cars passed where we were seated. After a couple of hours waiting around, we were unsure whether a parade would start at all, despite the thousands of people on the streets and the police constantly clearing sections of the road for a potential parade procession to start.
We took photos with one solitary dragon then hopped in a taxi to Café Lamphu, where Thomas used to hang out a lot with his friends two years ago. It's a relaxed bar with a pool table and couches, that serves budget thai food and the famous Sangsom buckets (local rhum with coke). There we met Frank, a German guy who's lived in Thailand for twenty two years working for the Federal Police. Frank noticed Thomas' camera and offered to escort him to areas where most tourists don't get to visit for some great photos opportunities. They set off on his little motorbike, the destination was behind the closed doors of the indoor fish markets where traders were setting up for the following day's sales which commence at 2AM. On his return, we played a game of pool, finished our drinks and returned to the guesthouse.
The next day we got up quite late after changing our plan of going to the floating market and instead made plans for the next part of our journey (bookings, etc). We then went to Siam Paragon, the pride of Bangkok, part of (another) big complex of three shopping centers where Anne-Marie bought herself new shoes that Thomas chose after perusing four different shops. We then decided to make the most of our Bangkok experience by going to the IMAX, which is Asia's biggest screen, to see Mission Impossible 4. It was a great experience for about 7eur each. A few seconds before the movie starts, the audience stands up for the National Anthem and salute Bhumibol, the King of Thailand.
After the IMAX, we paid a visit to Ronald and got settled with two BigMac meals at 2,75eur each, oh yeah! We got back home early that day, sat and had a beer on the porch.
Last day in Bangkok and guess what, we went shopping again. Thomas traded two of his camera lenses for a more high-spec one while Anne-Marie had a pedicure (see her post) and bought herself a few t-shirts. We were supposed to go see a free muay thai fight in front of the MBK Center but was cancelled for some thai dancing thing. Big disappointment. Instead we crossed the road to Siam Square where Guitar Magasine where having their first decade celebration with live thai bands performing on stage. We also indulged on patisseries and good coffee in Le Nôtre, the world famous upscale French bakery from Paris, at very reasonable prices compared to the outrageous prices in France (up to 100eur for a cake of four servings!)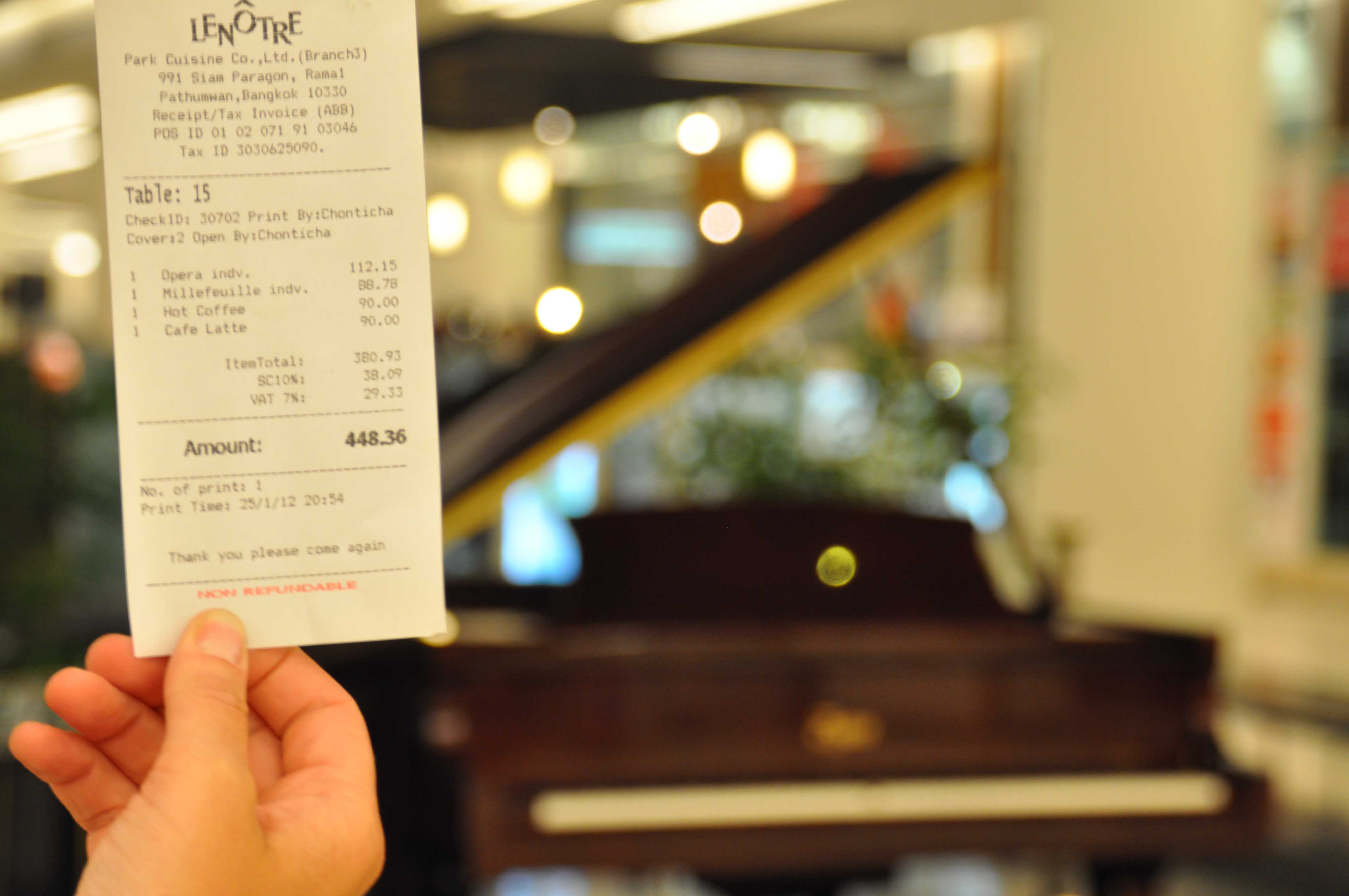 Tomorrow we return to backpacking life. We're heading to Koh Chang, one of Thailand's most beautiful islands, with long white sandy beaches, most of which are deserted and home to a wide range of wildlife, including a good selection of birds, snakes, deers and a number of elephants. Far quieter than Phuket, Koh Samui or Koh PhiPhi. We'll be staying there for a couple of nights, before going to Koh Kood for a romantic, authentically Thai and, above all, secluded Thailand getaway.