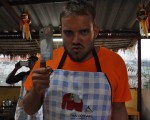 We arrived in Chiang Mai by over night train from Bangkok at 8am and took a taxi straight to CM Blue House, our cookery school would pick us up between 8.30 and 9.00. We hadn't eaten on the train, and skipped breakfast as we had a big day of food ahead of us. The train ride was pretty smooth, though really cold during the night due to the aircon. The beds were comfy and the view at sunrise delightful.
Kat, from Thai Cottage collected us and we met our fellow would be chefs: George from Czech Republic, and Will and Lorraine from the USA. We went straight to a local market on Moong Moan Soi 6, about 100m from our guesthouse and were give a small hamper!
Kat explained the different spices and vegetables that make up various Thai foods, some like turmeric and kaffir limes are only available in dried form at home. The smells were intoxicating, and made us quite hungry. We were lucky to be such a small, intimate group; some other cookery schools also used this market and the groups were up to 14 people per instructor.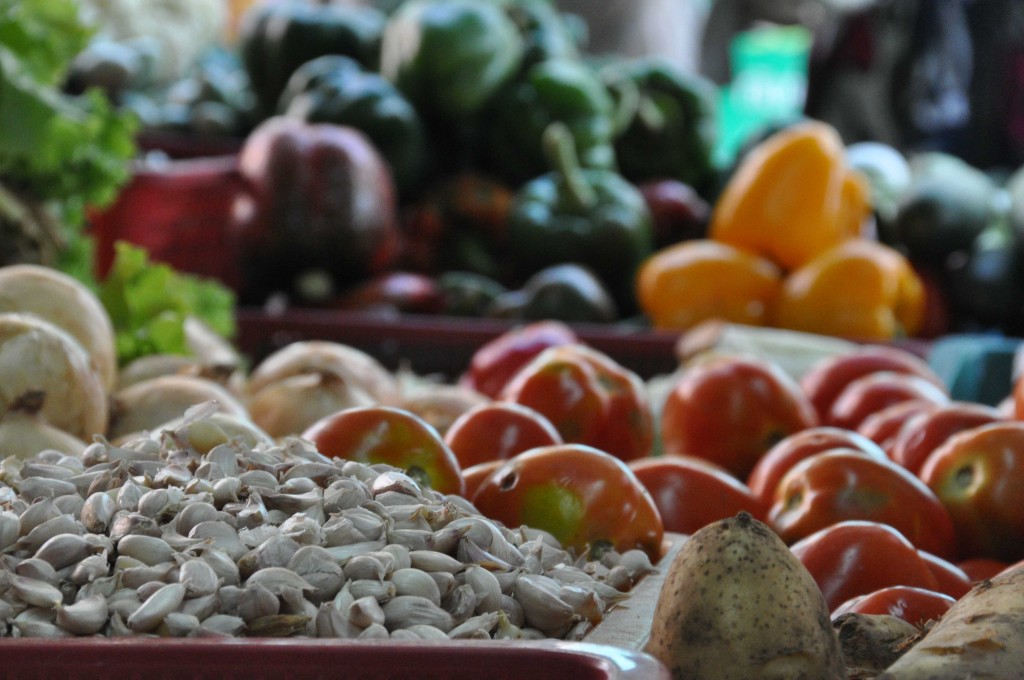 Kat gave us some time to walk around the market, and take photographs, and purchase food if we wished. The cookery school was a short walk from the market. It's in a local house, shaded from the hot sun with fans, individual cooking stations, a communal preparation table and a dining room. We had chosen the full day course and would prepare 6 dishes each: one each of soup, stir fry, appetizer, curry (including making the paste) and dessert.
We were given pretty aprons, a chopping board and sharp hachet style knife. We first prepared our soup course: hot and sour prawn soup for Anne Marie and chicken and coconut for Thomas. Kat explained how to prepare the spice group, the vegetables, meat/fish and in what order we should add the ingredients. Both soups were quick and easy to prepare and after 20 mins we could enjoy our soup in the dining room.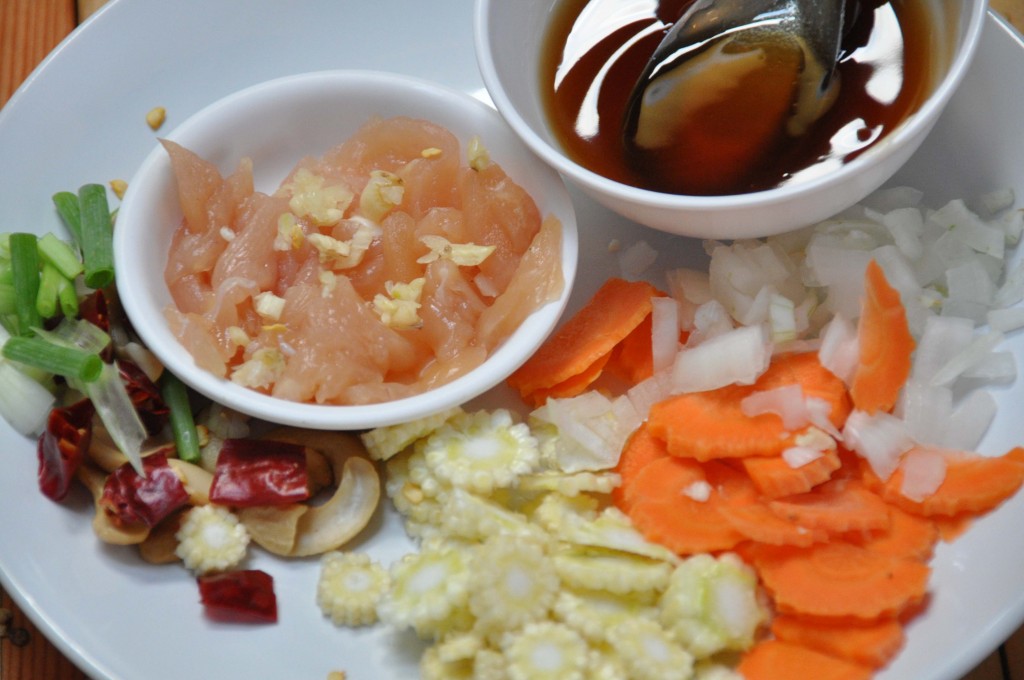 Our second dish was stir-fry: phad Thai for Anne Marie and stir fry chicken with cashew nuts for Thomas. The technique is to prepare all ingredients and arrange on a plate in the order that you add to the wok as the cooking time is quite short. Indeed we were eating our stir fry within 20 mins. Sadly my phad Thai was the worst that I have tasted in Thailand, next time I'll add less water. Thomas's dish was very good. While we prepared our stir frys, Kat showed us how to prepare and cook the ingredients for the spring rolls filling, our appetizer. Her knife skills were very impressive, everything was uniformly slim like matchsticks.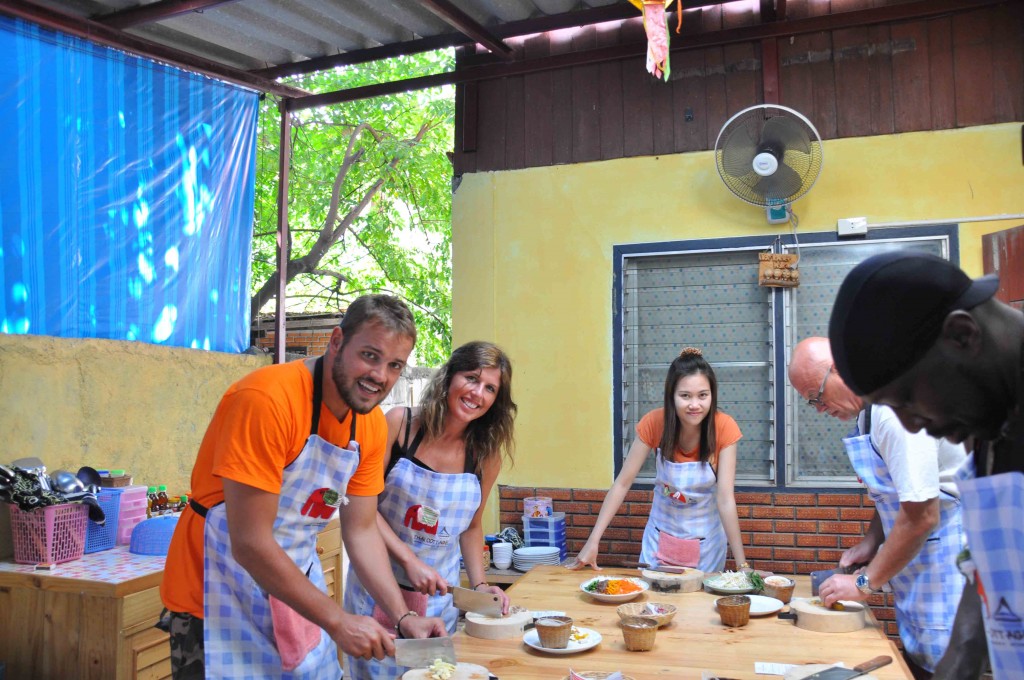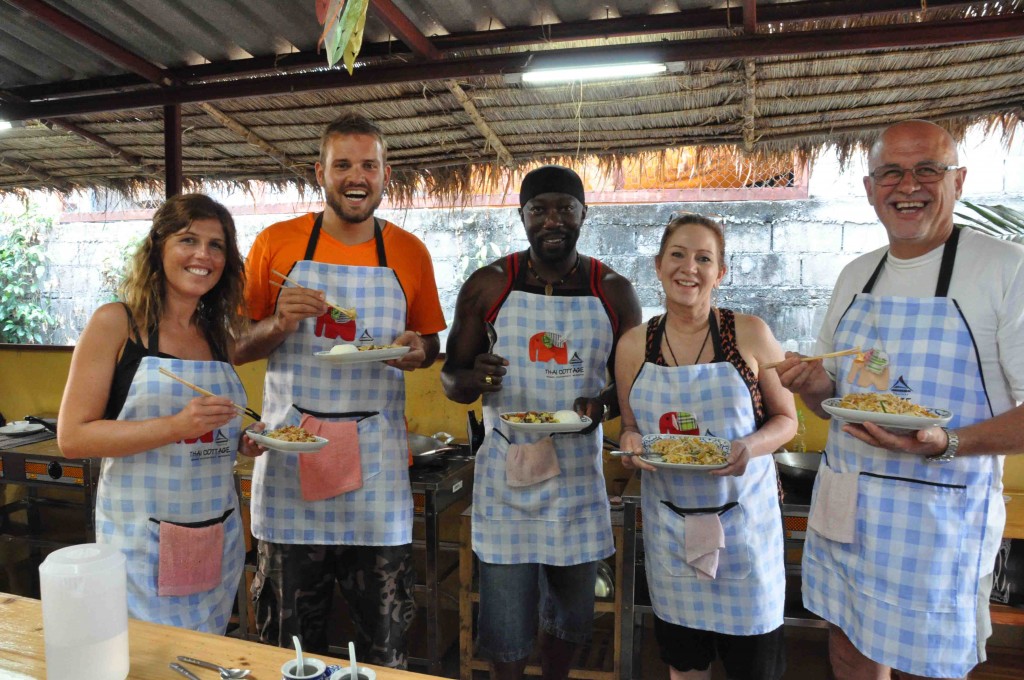 We were split into 2 groups when preparing the appetizer, spring roll "rolling" and papaya salad. I'm not a fan of papaya, it's not very sweet tasting and is included in fresh fruit salads. The spring rolls will be very easy to prepare at home, you just need ready rolled frozen pastry sheets. We mastered the technique pretty quickly, in the photo it's difficult to tell whose looks more professional! We enjoyed the spring rolls with homemade chilli sauce.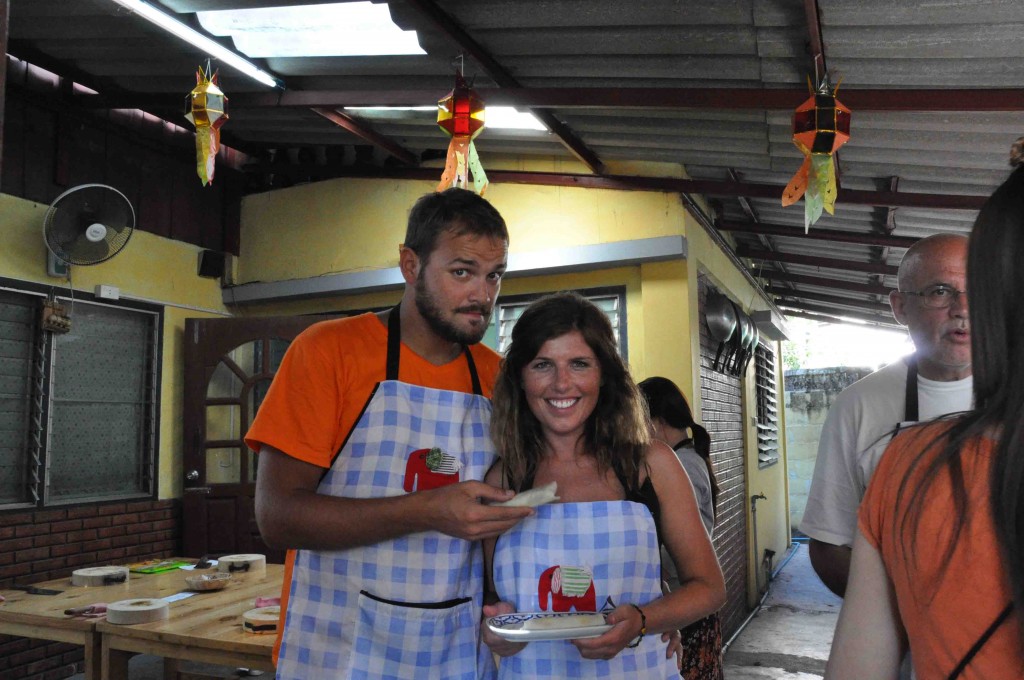 At this stage we were feeling pretty full and glad of a break before we started to prepare our curry paste. We researched many schools before choosing Thai Cottage, not all of them offer "Massaman curry" which is Thomas's favorite. There is a lot more to preparing this curry, you must prepare your ingredients, roast them separately and then make your paste. The paste is pounded with a pestle and mortar. This is quite strenuous and requires a lot of energy. At home it is easier to prepare with a food processor. Will and Thomas had a competition when making the paste, guess who won ??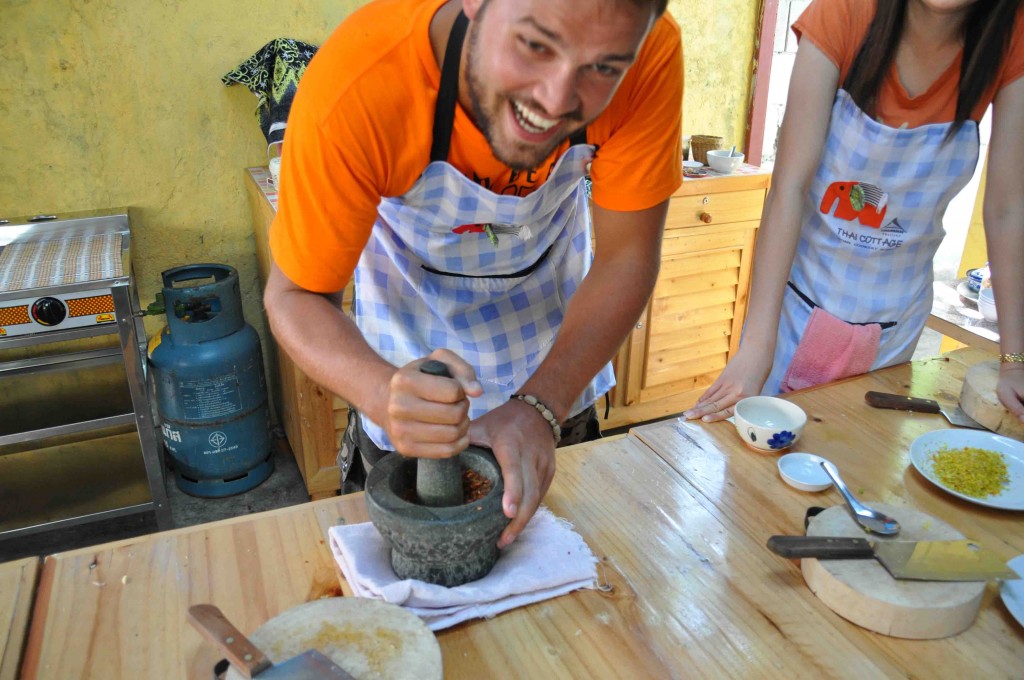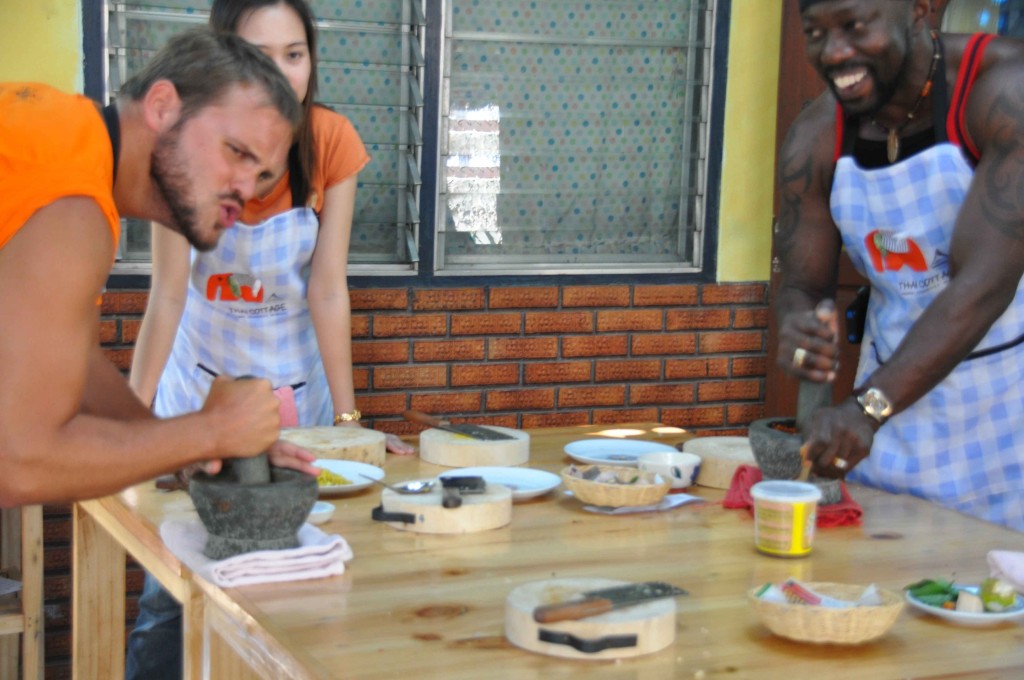 Like the previous dishes, the cooking time is very short. The smells of the curry paste as we cooked was wonderful. Lorraine suggested a beer to accompany our curry and set off for the 7-11 shop. Once our curry was ready, we left it to sit for a while and prepared our dessert dishes: sticky rice with mango for Anne Marie and banana in coconut milk for Thomas.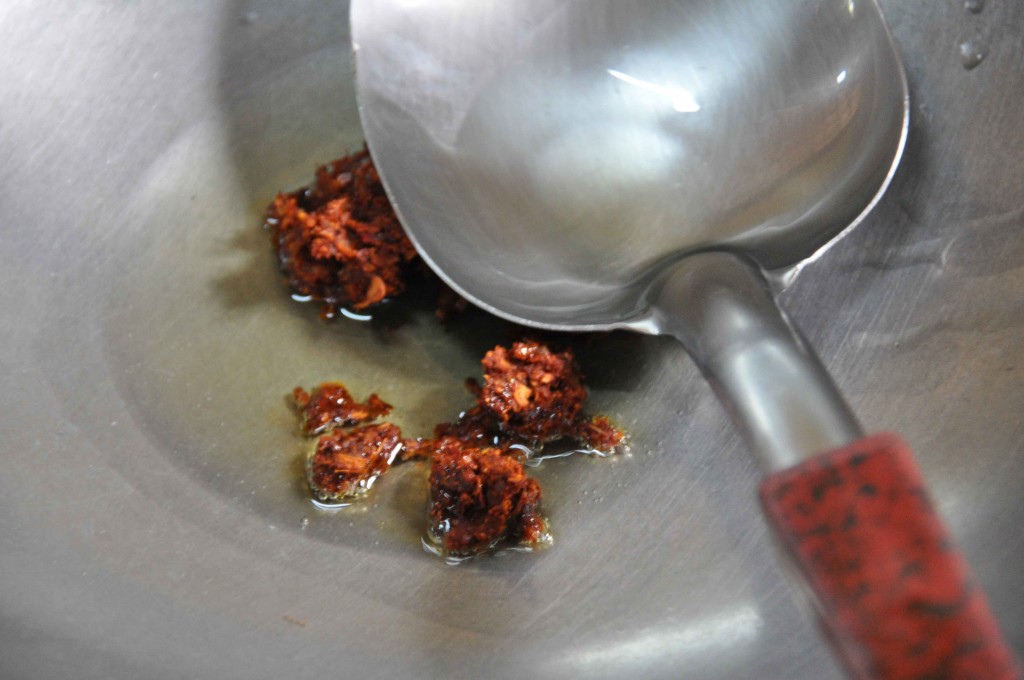 We sat in the dining room to enjoy our curry, now renamed "Massinman curry"!! It was delicious, as we prepared our own dishes we could add extra spice. This was all washed down with cold, Singha beer, perfect. The sticky rice with fresh mango was pretty good, although sweet, similar to rice pudding at home.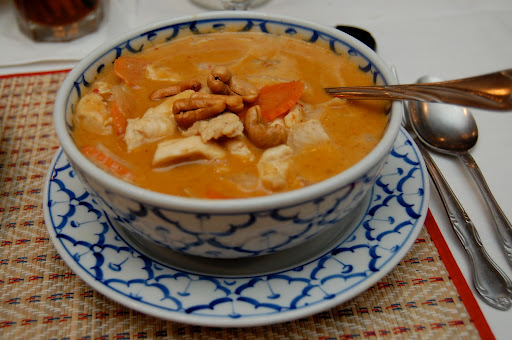 We had a great day, learned new cooking techniques and made new friends.
Thai Cottage is in a great location and the small class sizes ensure personal attention from Kat, who is patient and speaks excellent English. Kat presented us with our certificate of course completion and we have a beautiful recipe book containing lots of Thai dishes for us to try out when we get home.