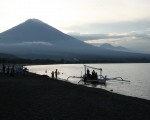 From Ubud we traveled to Amed. It was raining when we left (well, it's rainy season at the moment), and we got more rain at our destination which is 3 hours away on the East coast. There was nothing for it except to eat, relax and enjoy the beautiful sea view from our little guesthouse, Titi Sedana. Ketut, our host made delicious food when we arrived, warming chicken noodle soup (with sweetcorn) for Anne Marie and spring rolls for Thomas. Home-made food and cooked on the spot, yum.
Amed is very quiet, well except for Tulamben, a dive site 10 mins drive away and the reason that we came here. USAT Liberty, a US Navy cargo torpedoed by a Japanese submarine in WW2. It sat on the beach until 1963 when the nearby Agung volcano erupted, split the ship in two and it sank close to the shore. It is now a famous diving attraction and day trippers come from the south to dive the site.
We met Joel, a friendly and well traveled US army sergeant at our guesthouse and had a beer by candlelight due to the powercut. Joel started his diving certificate at a nearby dive shop, Bali Reef Divers run by 2 Belgian guys, Tom and Birger from Nieuwpoort just down the road from Coxyde where we holiday in Belgium! Small world. Joel was diving Tulamben early the next morning and we decided to tag along, the weather wasn't improving and there was little else to do in Amed.
Bali Reef Divers is a 5 star PADI dive school located at Puri Wirata hotel. Happily they accepted credit cards for there is no ATM within 30 km. Anne Marie was delighted to flash her new Advanced certified diver card. We signed up for 2 dives at the wreck site, got kitted out and were on our way at 8.30am. This is a shore dive where you walk across a rocky beach and into the water wearing your equipment. Visibility was pretty good despite the overcast weather, perhaps 15-20 meters. Accompanied by our DM Gede we swam to the nearby wreck and commenced our descent. Wow, it's amazing to see the underwater world that has attached itself to the the sunken steel. Schools of fish swam over us in shallower waters, at our 25 meter depth there were shy little angelfish peeping out from little crevices in the steel, and hungrier groupers nuzzling the sand below us to displace the food with numerous multi-coloured fish huddled nearby in the hope of some leftovers.
A large moray eel, perhaps 2.5 -3 meters long did not appreciate his photograph being taken.
After 50 mins, we went ashore to rest for 1 hour prior to our second dive upon which we would go into the wreck! The small carpark had filled with shuttle buses during our dive. When we returned to the shoreline, divers in black wetsuits filled the shoreline like ants. We swam out and into the wreck, this time we dived in more shallow waters. On the second dive, Anne Marie thought it was like Disneyland…… Everything in one place and hordes of tourists. We enjoyed it none the less, our last dive in Bali.
We ate dinner at Puri Wirata that evening with the dive crew. Great burgers with home-made bread buns. Tom, from the dive shop, a fellow Belgian football supporter and Thomas talked football. We made plans to return to Villa Surya Abadi in Canggu. The weather won't be much better, however Tom and Joel can surf and, well we just love the guesthouse and can't think of a better place to be holed up for our last 12 days in Bali during rainy season.