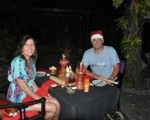 It's been three days since we arrived in Bali and we're absolutely loving it. Even though we're in the middle of the rainy season, it's been sunny mostly sunny. In fact, my nose and my neck are as red as Santa's hat! At first we thought Anne-Marie and her irish skin were going to be the victims from the sun but she's doing pretty well actually and I am the one who can't sleep at night. Last night was a nightmare by the way, I woke up to write this article at 4.20am and believe it or not, I am actually hoping for tomorrow to be a rainy day as we have to spend most of our day traveling to Gili Air (in sesak dialect: Water Island) by bus & by boat but it will also involve a fair bit of walking in the sun.
So we've arrived on Thursday night at around 11pm. Someone was waiting for us at the airport. I love it when it happens, as they have a little sign with your name on it! I asked the driver to stop at an ATM on the way to the guesthouse in order to withdraw some cash to pay him. I inserted my bank card, typed down my code and wait. One minute, two minutes… The screen seems to have frozen and the cards swallowed. I am starting to stress as it's now midnight and the bank is closed. I go back to the car to ask the taxi driver what he suggests to do and as we get back to the ATM, my card had popped out . Thank god. I probably had requested a very large amount and it didn't have enough notes. Anyway, I tried again with a smaller amount and it worked perfectly. That wouldn't have been a good start. We arrive at the guesthouse half an hour later. To picture it, it's located in Canggu, on the west coast of Bali. Canggu is a famous surfing spot and the villa is right in the middle of the rice fields, about 20min drive from the beach. We're welcomed by the lovely staff, who brought our bags to our room while we're contemplating the pool area. The room is very nice too and has got a super king bed. Breakie is included too, all this for about 27Eur a night. This is a bit over our budget but we thought we'd treat ourselves for Christmas.
I had booked a little scooter so the next morning we went for a little ride inland along the rice fields. It was now the 24th of December and we had yet to find somewhere to have our Christmas dinner. Finally, we stopped at Hotel Tugu, which had been recommended that morning by Morgan, our host, from Val d'Isere in France. She moved to Bali four years ago, married an Australian guy and opened a business in Canggu. He's a surfing photographer and she manages the Villa Surya Abadi where we're staying. They had celebrated their wedding anniversary in Hotel Tugu earlier this year and absolutely loved the place. The Christmas menu was a bit expensive but since it was included in our budget, we went for it. Anne-Marie will be writing a little review of it, in our food section, in the coming days…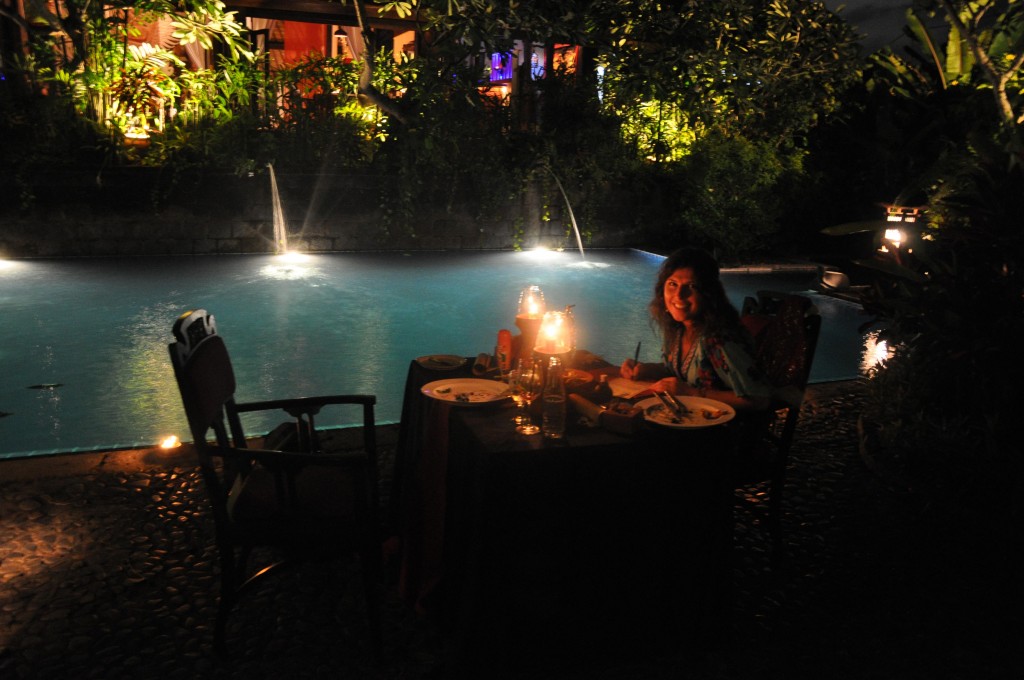 The next day we left the guesthouse quite early on the way to the beach, after having had our traditional breakfast, consisting of a pancake, fruit salad, fruit juice and Balinese coffee. The juice is homemade and different each day: mango, banana, pineapple, and watermelon.
The sun was shining so I decided it would be a good time to try surfing again, even though this beach was supposed to be for advanced surfers than beginners like me. I got myself a longboard and a swimsuit for about 4eur a session (2hours), while Anne-Marie went sunbathing on the sand. It took me about 10 waves to finally manage to stand on the board. Obviously Anne-Marie was lying down when I did it, and couldn't get a shot. The waves were not pretty big, nor very regular, and I had to paddle a lot to get a good one, resulting in me being completely exhausted after an hour. Still, I hadn't had enough and I gave it another few unsuccessful tries.
My neck and my calves were very sunburnt from lying on the board. We head straight back to the Villa so that I could apply some aloe-vera lotion. It didn't really relieve the pain.
We spent the rest of the day hanging out with an American couple from Chicago we had met the day before. They were both really lovely. If you read us, James and Marlin (I am sorry I still can't spell your name properly ☺ ) I hope you guys enjoyed your last days in Bali (despite the early morning wake up calls) and managed to find a tablet in Singapore. It's been a real pleasure to meet you both.
We'll be heading to Gili Air tomorrow. When you will be reading this, we should have reached the island and maybe even started our diving classes.