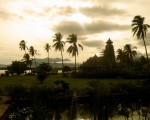 We enjoyed many wonderful meals with our families prior to leaving home, including two Christmas meals, however we wanted to celebrate together and Morgan, our host at Villa Surya Abadi recommended Hotel Tugu in Canggu. Morgan celebrated her wedding anniversary and thought they might offer a special Christmas eve dinner. We hopped on our scooter and went to investigate…..wow, what a place. It's a small hotel on the beach, built in a very traditional Balinese style like a temple, rooms at the hotel are $500 per night, and really not for backpackers like us. Upon entering, we were greeted by huge smiles and welcomes, they offered a special menu for €40 per person, 5 courses and a special Christmas cocktail. We made a reservation for that evening and returned home to dress up.
The hotel is about 15 minutes from our villa and we passed a big religious ceremony on route. Arriving at the hotel, we were led amongst twinkling candles to a romantic table set for two beside the beautiful pool! Handmade decorations, personal name settings and our own butler. Amazing. Where were all the other guests? It turns out there were 10 more tables occupied in the hotel, they gave us this beautiful, private table because they liked us! Welcome to Bali, such generous kind hearted people.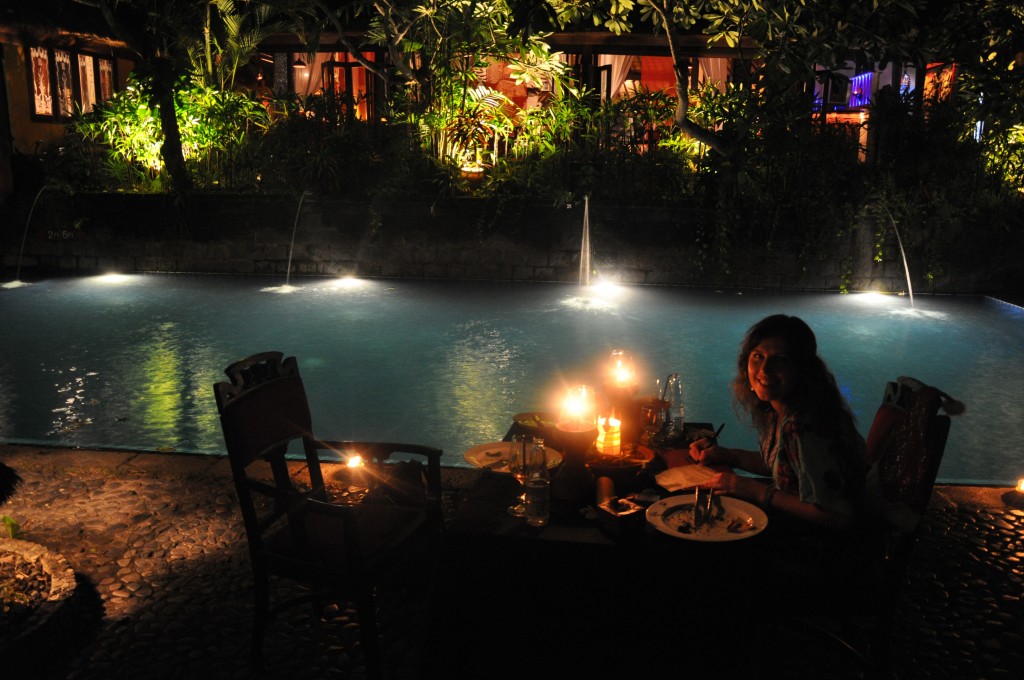 And so to eat, we started with a delicious Christmas sangria and little crackers. All the while, we took in our surroundings, and pinched ourselves, yes this really is all for us! First course was a slow roasted tomato, paprika and garlic soup with a parmesan crisp, delicious. Wayan, our butler waited discreetly nearby while we ate. Second course was a seared tuna loin with quail egg, avocado, lemon confit and anchovy mayonnaise; Thomas wasn't sure about this when ordering, however it was his favorite plate of the evening! The hotel make their own bread, the general manager is Swiss and the butter was almost as tasty as my favorite, "beurre salé" from Belgium!
We followed with a tamarillo sorbet, not exactly sweet; it looks like a plum and comes from the Netherlands, very refreshing.
A choice of mains meant roast turkey for Thomas, and seafood for me. I was lucky enough to enjoy two traditional Christmas dinners prior to leaving Ireland. The roast turkey fillet was stuffed with pesto and ricotta cheese, vegetable couscous and ratatouille was served on the side. I didn't get to taste, Thomas cleared the plate, it certainly looked great.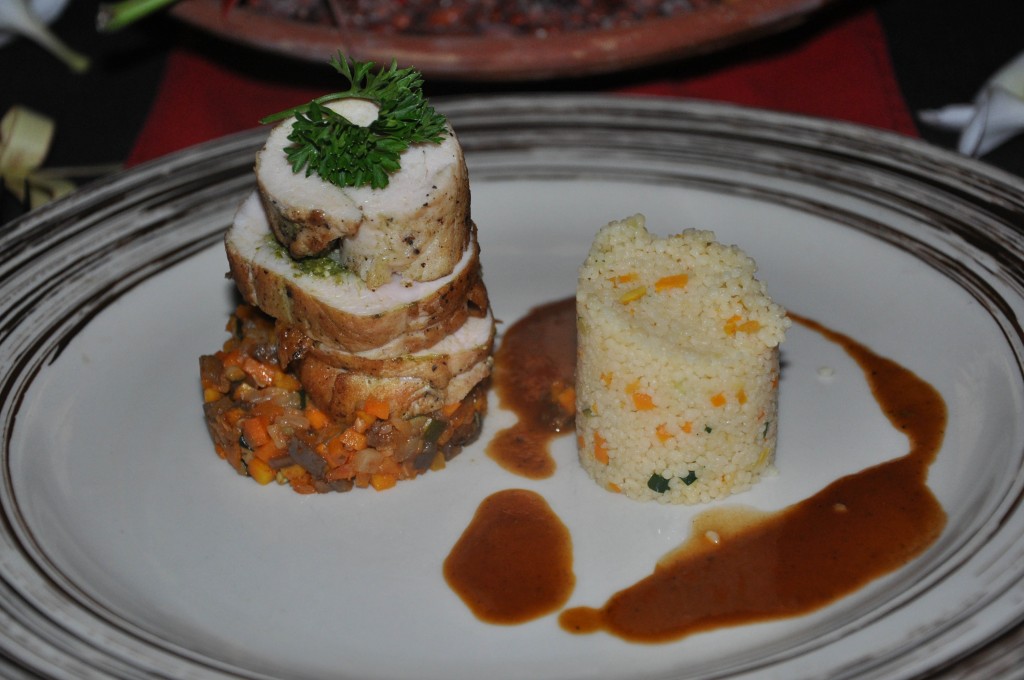 Oh my! The seafood plate: half a local lobster, scallops, prawns and snapper in a light white wine sauce, it looked and tasted fantastic. Half a lobster at home would cost more than my entire meal! I struggled to finish my main; there was simply too much delicious, fresh seafood.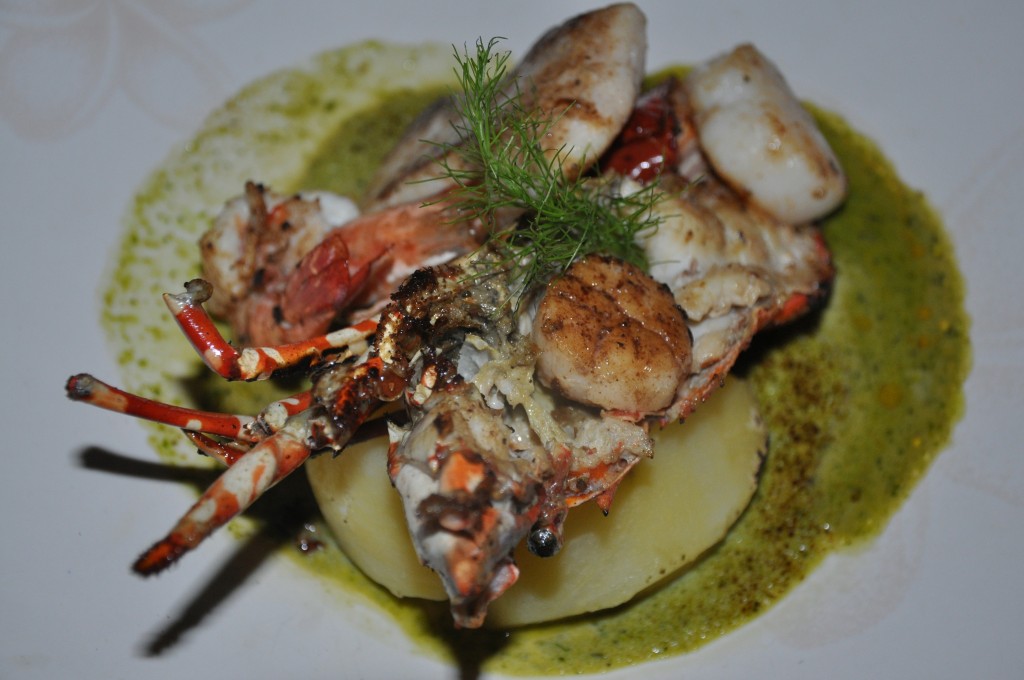 I really didn't think we could manage desert, and Wayan said that we must try the rum and rasin chocolate cake, just like Buche de Noel, it was yum, served with glazed pineapple, mascarpone parfait, crème anglaise and a zingy coulis. My beach body, if it ever existed was a distant memory.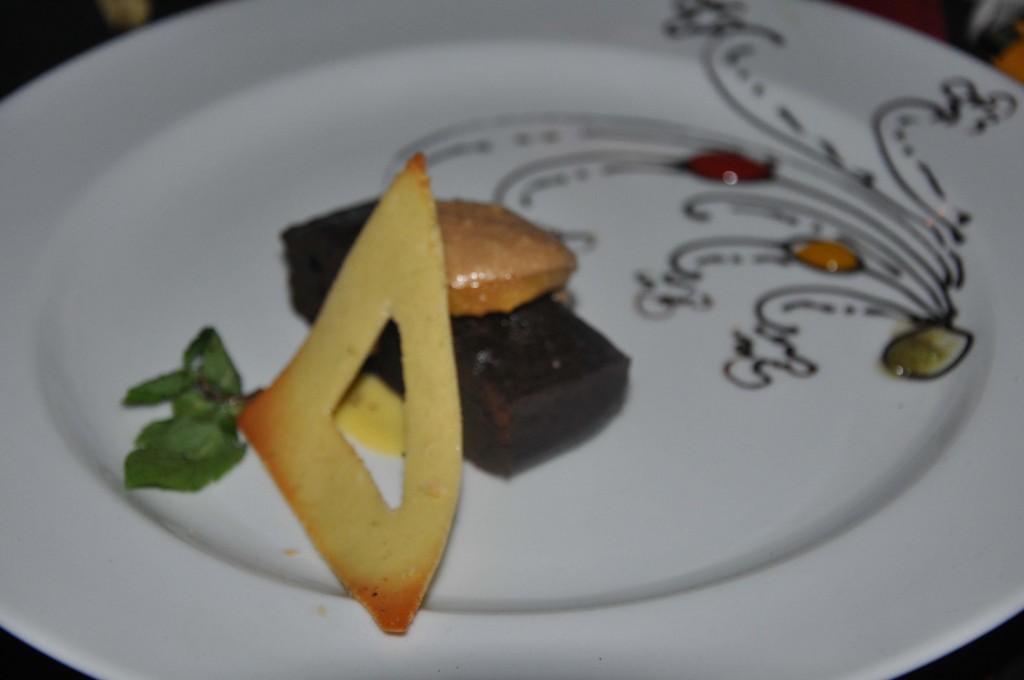 We didn't drink alcohol with our meal, except for the welcome drink as alcohol is very expensive in Bali, and even more so in such a top class hotel. Christmas dinner 2011, so far away from our families was memorable for us. And good thing it was, because tomorrow it's back to noodles and nasi goreng.
Website Hotel Tugu Bali