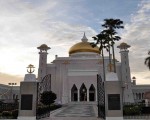 It's 6 am when the alarm rings. It's been two days since we arrived in Borneo and specifically Kota Kinabalu (KK), the capital of the state of Sabah, east Malaysia. You should know that Borneo, the third largest island in the world by its size, is divided into three parts: the largest, Kalimantan, is part of the Republic of Indonesia. Followed Sarawak and Sabah, two Malaysians states, and finally Brunei. It is precisely in this tiny country that we have decided to go this morning in order to partake in a three-day trek in the rainforest, famous for being the most beautiful and best preserved of all Borneo.
At the port of Jesselton, we board a ferry to Labuan, an island off Borneo, a stopover necessary to reach Brueni. Pulau Labuan (Pulau meaning "island" in Malay) is a federal territory of Malaysia and a duty free zone. Many Malays, Filipinos and other nationalities visit this island to stock up on alcohol & cigarettes. To give you an example, a liter bottle of Bacardi sells for less than 6EUR, a Grey Goose vodka for 11EUR. You prefer whiskey? A bottle of Laphroaig will set you back for 13eur, a "Fine Oak" 15years of age Macallan for 29.
I am not even gonna mention the price of beer.
We stopped there an hour and a half, during our time waiting for the ferry to Brunei we stocked up on biscuits & chocolates in anticipation of the trek. No alcohol for us, instead saving it for our return to KK.
On arrival at Muara, Brunei's main port, we missed the bus to the capital, 25 km away. No taxi in sight, so we were forced to hitchhike. After writing our destination (Bandar Seri Begawan) on a piece of cardboard, we take turns on the roadside in the hope that a vehicle stops.
Ten minutes later, a woman driving a minivan, accompanied by two others, offered to take us to the capital. Along the way we discuss our stay in Brunei, as well as our trip. Upon arrival in Bandar Seri Begawan, to our surprise, the lady turns to us and said, "that will be 25dollars each!" Approximately 30eur for both. We were totally surprised. Thomas begins to explain the principle of hitch-hiking and that anyway we did not Brunei Dollars on us (which was false, but we needed the money for our expenses). After several minutes of negotiation, she agreed to lower its price to 15 Brunei dollars each, which is still yet 18eur. As we try to reason with the lady, the tension begins to rise slightly. Thomas then said that if this woman put him out of the car and started screaming, into the city center, that he tried to touch her, he could be hanged the next day in the public square, opposite the mosque. We had to come to an arrangement. The lady stopped the car at a currency exchange, where we changed Malaysian ringgit 30, the equivalent of 12 Brunei dollars, or 7EUR. It annoyed us having to pay and we told her to "take it or leave it, for its all the money we have" and she finally agreed.
Talk about a nice reception.
We went straight to Pusat Belia, one of the few hostels downtown. Unfortunately, the national holiday is scheduled this Thursday, February 23, and all beds are already taken by local youth, to rehearsals for the big parade.
A quick glance at our Travel Guide. The Guesthouse KH Soon is not far. It will be a bit more expensive, $ 38 per night, about 22eur, but we have no choice. The place is dirty and dilapidated, however it will suffice for one night. The showers are common but at least the bedding is clean.
A little lesson in culture. Brunei is considered one of the richest countries in the world. This sovereign state covers 5765km² and is divided into two sections by Limbang, which is part of the state of Malaysian Serawak. The contemporary history of this micro-state is singular. While Great Malaysia, incorporating Peninsular Malaysia, Singapore and half of the island of Borneo was created by the British who want to slowly leave the area, the Sultan of the time, Omar Ali Saifuddin realised that he must at all costs avoid the incorporation of Brunei in this new entity in order to keep the control on oil resources. With the support of the Dutch-British oil company Shell, which holds at the time (still holds today, go figure …) the monopoly of the exploitation of huge hydrocarbon reserves of the country, the independence of Brunei was retained. Brunei maintains very close links with the United Kingdom, the former colonial power, so much so that Brunei remained a British protectorate until 1984.
Its population of approximately 395,000 inhabitants enjoys a quality of life considered to be the second highest in Asia and the best in the Islamic world as measured by the Human Development Index. According to that same index, in Asia it has been 'out-developed' only by Singapore; its literacy rate stands at 94.9% (one of the highest in the world) and Bruneians enjoy an average life expectancy of more than 75 years. This is due in no small part to the free medical and health care system provided by the government of Brunei under its head of state, absolute monarch and Prime minister, the 29th Sultan; (deep breath) Sultan Kebawah Duli Yang Maha Mulia Paduka Seri Beginda Muda Haji Hassanal Bolkiah Mu'izzaddin Waddaulah.
The Sultan has quite a penchant for cars, but saying that he is 'a bit of a car buff', would be comparable to saying that Imelda Marcos 'quite liked shoes'. It has been reported that he has at least 7,000 cars and has spent over U.S $789 million on his lavish and extravagant purchases. His personal collection is believed to include; 130 Rolls Royces; 531 Mercedes Benzes; 367 Ferraris; 362 Bentleys; 185 Beemers; 177 Jags; 160 Porsches; 20 Lamborghinis and 134 Koenigseggs (the largest collection of that particular brand in the world). During the 1990's his family accounted for more than half of worldwide Rolls sales. He owns the only right hand drive Mercedes Benz CLK GTR in the world (whatever that is) and has F-1 cars driven by every Driver's Champion since 1980. I'm willing to bet that his security system comprises more than a couple of pissed off Rottweilers on long lengths of chain and a baseball bat beside the door. Imagine the size of its garage…
During our stay, we learned that Mika Hakkinen himself was hired for a few days to give driving lessons to one of the princes, on their private circuit located within the grounds of the Istana Nurul Iman, the Royal Palace. The latter also is impressive: three times larger than the Palace of Versailles, and 2 times larger than Buckingham Palace. Comprising 1788 rooms and 257 bathrooms, It is open to the public three days a year, at the end of Ramadan.
Brueni is a highly developed country in terms of its infrastructure, but the Sultan seems to keep his money for himself. Okay, there is the Empire Hotel, upon which Prince Jefri splurged $ 1.1 billion (in comparison, the Petronas Towers in Kuala Lumpur cost $ 1.2 billion. Only $ 100,000,000 more… Hold on, that's quite a lot), two grand mosques, a museum dedicated to the Sultan and his family, a primary untouched rainforest etc… but ordinary people still live in villages on stilts over the bay located in Bandar Seri Begawan, or in longhouses in the jungle. The unemployment rate is close to 0%, but people do not live in opulence. Many large houses can be seen on the way to the capital. They belong largely to government officials or managers and owners of oil companies.
After a short walk around, we want to pay a visit to the Grand Mosque. No luck, it is forbidden to non Muslims on Thursday, so we take pictures of the outside before and after sunset.
We also visit the Borneo Guide offices to pay for our trek and get to know Leslie, Rudy, Gary and Deedee. A great team in charge of the project Sumbiling Eco Village, where we will be staying for the next 3 days and 2 nights, starting tomorrow. After having confirmed all the details, received a briefing on the conduct of the trek and asked some questions to Gary (our personal guide) we spent the early evening in a small local establishment, the Royal Café. We didn't say up long as bedtime calls, the alarm clock is set for 6:30. Off to the jungle…