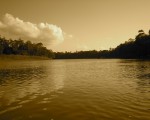 We said good bye to sunny Mabul Island and took the boat at 16.00 to the mainland. It was a longer, more bumpy and wet ride back and we made a couple of stops for emergency boat repair! Upon arrival in Semporna we checked into Sipidan Inn, an oasis in an otherwise dirty town. A hot shower, air con and wifi was a real luxury after a few days on Mabul island. Our bus to Sepilok would leave at 7.30 therefore an early night. We enjoyed a bottle of red wine with our food at Mabul cafe (thank you François and Valentine).
The Dyana bus was quite full the next morning, a mix of locals and backpackers like us. Our dive company did not purchase adjoining bus seats though thankfully we could shuffle around. The bus stopped for a short break at Lahad Datu and many food sellers got on the already full bus before passengers could get off! As well as fruit and bread snacks you could purchase corn on the cob and snacks wrapped in banana leaf.
The bus stopped at Sepilok junction at 12.30 and we scrambled to gather our belongings quickly and exit the bus, Uncle Tan's base operations camp was 250m down the road. After a tasty lunch, we were briefed on the route to the jungle camp: 1.5 hour on a bumpy road, followed by a 1 hour speedboat ride up Kinabangtan river. Our guide warned us that the boat had no roof, and with imminent rain we would get very wet!
11 tourists in the mini-van and 2 in the pick up truck carrying the luggage left the base at 14.30. Our luggage was already on one of three speedboats when we arrived at the jetty, along with several trays of eggs. The macaque monkies had pilfered the kitchen and the eggs for the guests! Loud thunder rumbled in the sky and the clouds darkened as we left the jetty at 16.00.
Our group included 4 avid American bird watchers who were quite adept at spotting birds hiding in branches on the riverside. Within 20 mins of departure we spotted a couple of hornbills and kingfishers. Further upstream, camouflaged in the tall trees, a lone orangutan swung from branch to branch. Bingo!! Some visitors to the camp complain about the lack of wildlife on the river and we were lucky to see a real, wild organutan, albeit from a distance.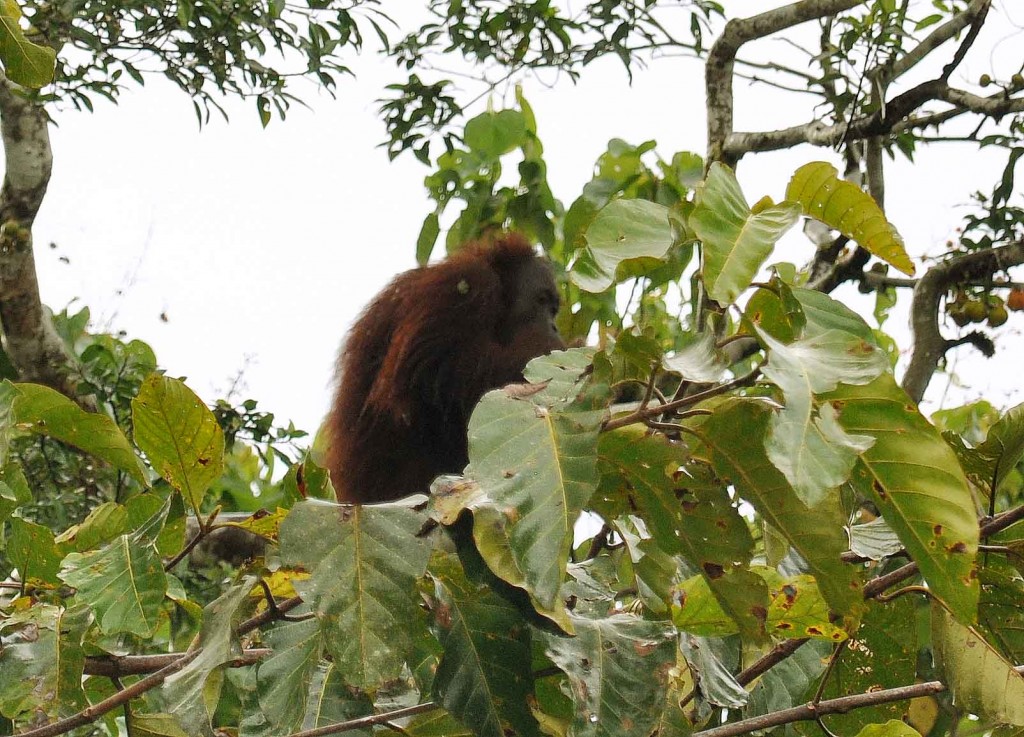 We spotted gibbons, macaques and probiscus monkies before heavy rain began to fall, we were still 30 mins from the camp!!
The guides had hot tea, coffee and biscuits waiting for us when we arrived. After warming up, we were shown to our shared hut which contained 3 mattresses with mosquito nets and a single lightbulb. Electricity is only available from 18-24 hours, and just to power camera batteries. There is no running water or showers, water is pumped from the river and you wash mandi style at the communal bathing area, it was really quite basic though needs are few in the damp forest. We were advised to store snacks and medicines in large, sealed plastic buckets for night time visitors were likely to eat through our rucksacks in search of food!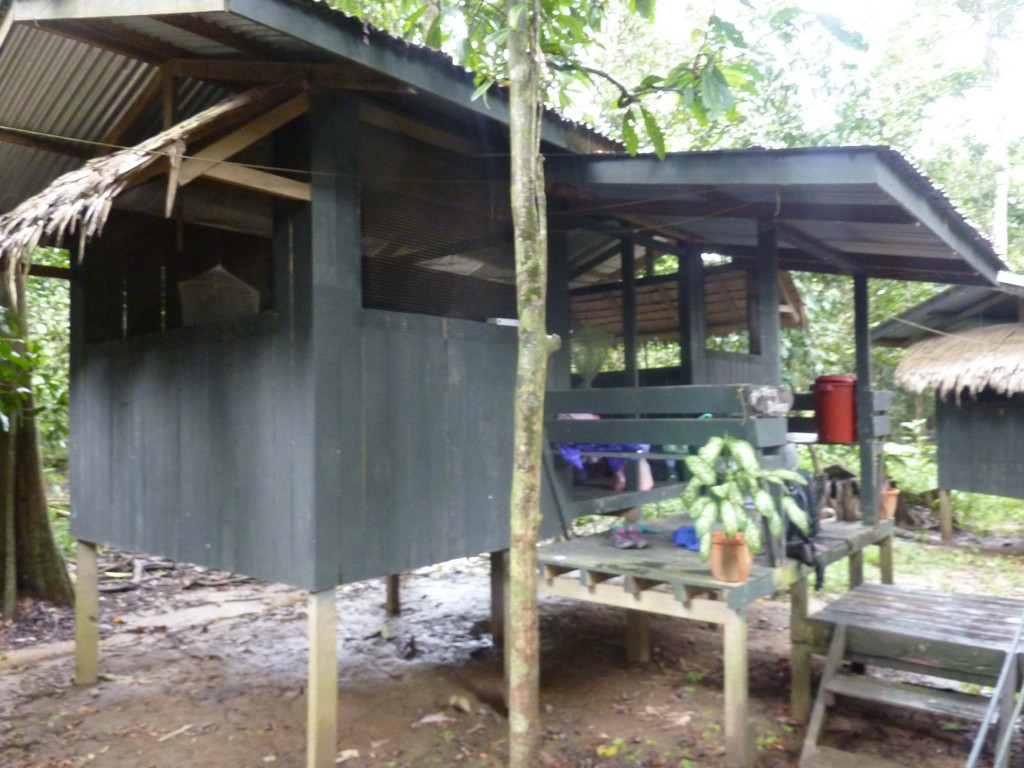 We returned to the dining hall for our briefing before dinner, we would do 5 activities during our 3D/2N package: 3 river safari and 2 treks, our night river cruise was scheduled for after dinner. There are 13 male staff at the camp, they are young, friendly and enthusiastic. Our dinner that evening was varied and plentiful, a real feast after the poor food at Mabul backpackers. On our night time river safari, we saw birds sleeping in the trees by the river beds, as well frogs who could end up as dinner for an owl watching close by. A pair of eyes reflected in the flashlight, a crocodile lurking in the water! We arrived back at the camp at 22.30 and went straight to sleep, mindful of our 6am wakeup call and our morning river safari.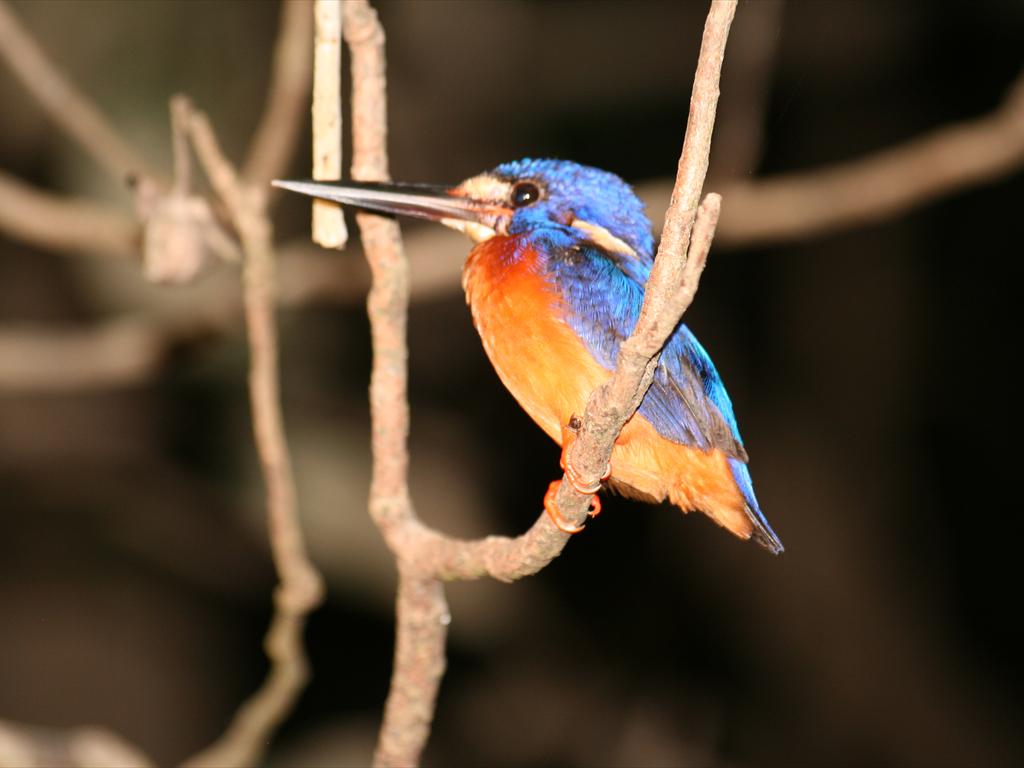 Unfortunately we did not sleep much during the night, a third couple snored loudly and the mattresses were quite thin, thus we were pretty groggy on our boat ride. We spotted eagles and kingfishers, and hornbills, though no primates. As the morning mist cleared, it was devastating to see the rainforest stripped away to make room for palm oil plantations. A corridor of light is planted 600 meters from the river bed to the palm trees so that wildlife can move between the pockets of remaining rainforest. However much of that corridor has fallen into the river (landslides due to chemical run off from the palm tree farms perhaps?) rendering it almost impossible for wildlife to move under shelter.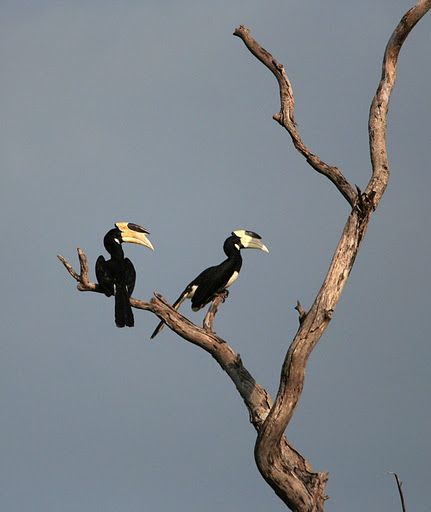 After a substantial breakfast at the camp, the morning ritual football game commenced. Malaysians are football crazy and follow English teams with pride. Guests against the locals in quick fire games.
At 10.30 we departed for our morning trek in the rainforest. Temperatures rise steeply mid morning so animals shelter from the sun and sleep. This trek was to point out the different trees and shrubs that make up the rainforest, identify fruit to eat and hopefully spot some insects. Valentine and Anne Marie hired rubber boots from the guides, and good thing too, it was very muddy underfoot, a mini flood 3 weeks previous had swamped the forest. We identified a cotton bug, a pretty and colorful lantern insect and a centipede that secretes an almond smelling vapor to ward off predators.
Thomas and François amused themselves by slinging mud at each other and by the end of the trek were completely covered in brown/grey, gunk. Attractive….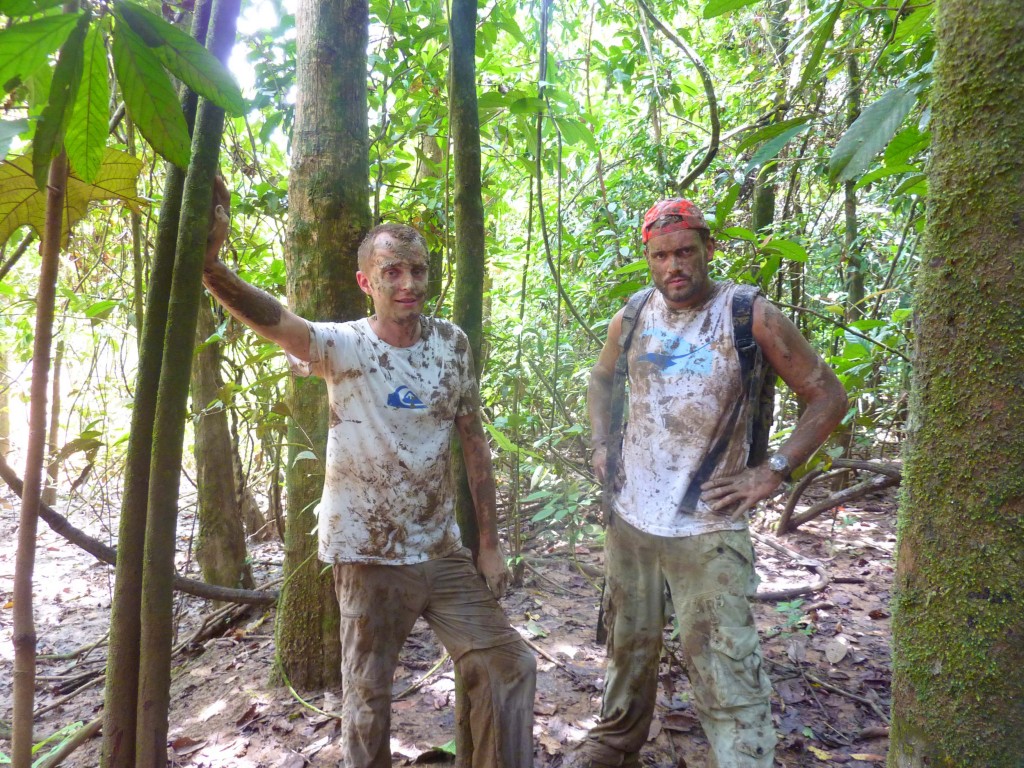 A thunderous rain shower errupted during lunch however had cleared up by 14.00. The guys went fishing in the river while the girls escaped the heat and flies under the mosquito nets. Catfish is the usual catch in the river, though prawns lurk in the muddy river floor.
Our final river cruise was scheduled for 17.00, titled the probiscus monkey tour! Ther monkies are not as curious as the macaques and kept their distance high in the trees. We did spot another lone orangutan, and also a flying lemur….. Quite rare and we are very lucky to have seen it.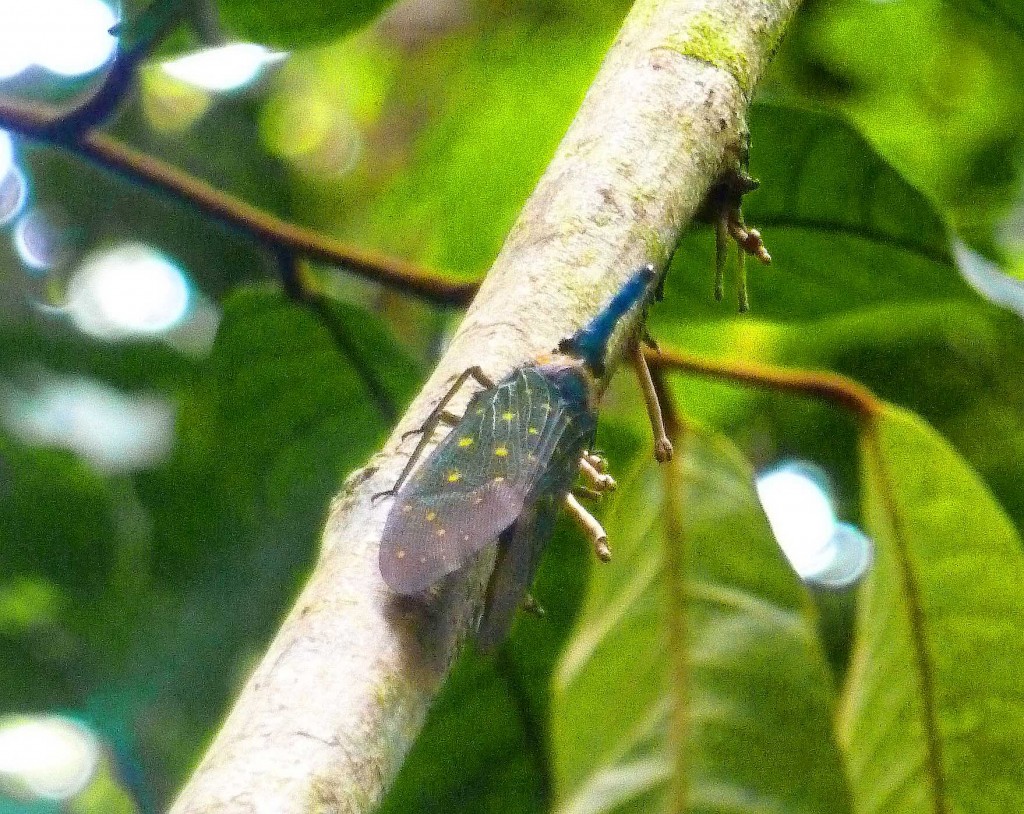 Back at the camp, the chef cooked dinner on a gas cooker in front of us so that we could see some local recipes in action. A night time trek was scheduled for 21.00, however given the swampy conditions, we declined and stayed at the bar with Lan, the camp manager drinking rice wine and singing along to the guitar. Our group spotted a large python on the trek, I have no interest in seeing the second longest snake in the world in a dark, swampy rain forest at night time….
A bonus morning river cruise was offered on our second and final morning, we declined and a good thing too, the heavens opened 15 mins after the group left the jetty and they returned wet and miserable within the hour, the wildlife had taken shelter from the rain so no photo opportunities.
The rain rendered the morning football impossible too so we departed after breakfast arriving back at the base camp just after 12.00. On the way back, we were lucky to spot another crocodile, this time lying on the river bank.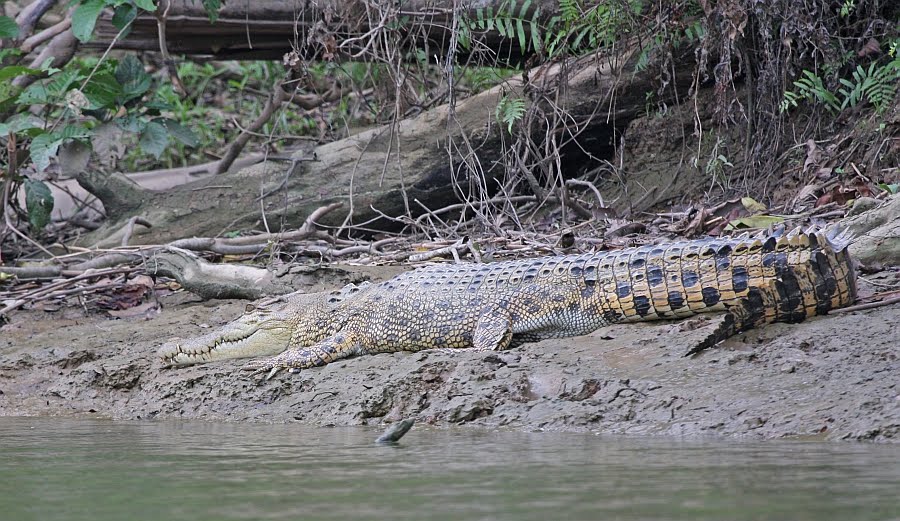 We had booked a flight from Sandakan airport to Kota Kinabalu for 35€ each, favoring a 40 min plane journey over a 6-7 hour bus ride! This was a good decision, by 15.30, we had arrived at our much loved Masada backpackers where hot showers and comfortable beds awaited us.
We had aperos on the terrace before a delicious meal at one of Kota Kinabalus most authentic Italian restaurants, Grazie. There we enjoyed beef carpaccio, spaghetti marinara and real, thin crust pizza, accompanied by wonderful Barolo in real wine glasses! A great meal to celebrate how much we enjoyed our holiday with François and Valentine. We rounded off the evening in an Irish pub on the waterfront, where we hoped to watch the Ireland v France rugby game, alas we were disappointed and instead drank expensive soft drinks while playing complimentary pool.
François and Valentine departed the next morning and we enjoyed our final day in the Sabah capital, stocking up on supplies for our trip to India and the famous Holi festival, watch this space!