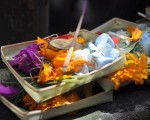 Here's a little recap of the last few days. When we first arrived on Gili Air, I honestly I wondered what I would do for 8 more days on this tiny island, I suppose after 10 years in a corporate job, it can be hard to relax.
Well as you already know it, diving took a big part of our stay. It's a whole other world down there, I completed 9 dives with Manta (our dive shop) and saw angel fish, bat fish, many turtles, pipe and seahorses, various moray eels, stingrays, etc. My dive book is full with the many fish that I saw, unfortunately no mantas though I did spot a shark! Black tip reef shark, jaws does not exist is these waters 😉
Accompanied by Rob, my personal instructor, on each dive, I felt truly lucky to have had such a knowledgeable and fun instructor for my diving baptism. Thomas and I are both at the same level now so we can dive together at beautiful dive sites around the world.
Evenings on Gili Air were spent sipping beers at the dive shop with the Manta crew, tired from diving all day, I wondered how I thought I would be bored on the island! We met wonderful people who were on holidays or traveling like ourselves, and we would meet in the evenings and eat together, everyone happy, smiling and enjoying life on the little island. Food is a little more expensive than on the mainland, though Warung Muslim in the village serves excellent Nasi Campur for 10000 IDR (less than 1€). We also enjoyed the food at Chill Out Bar, they serve great chicken burgers with home-made chips and mayonnaise.
I also thought Gili Air would be quiet… Not so as I made my way home from a beach party as the sun shone on New Years Day. We partied with fellow travelers, our dive shop friends and the locals, bar hopped along the beach gathering new followers and helped clean up the beach the following day. What a great start to the year, we were sad to leave Gili Air and who knows, maybe we'll win the lottery and return to do our divemaster qualifications with Anna, Pia, Thomas & Rob!
We left Gili Air on the 3rd of January, our "fast boat" was scheduled to depart at 10am so we took a cidomo to the harbor. This is a pony and trap, a blessing during the hottest day of our stay. There are no cars on Gili Air, which makes for a big change compared to the mainland. John, a newly qualified dive master (we witnessed his snorkel test induction!) arrived to take the same fast boat, he was told a departure time of 11am! Island time… We eventually set sail at 12pm, and included stops at Gili Trawangen (the infamous party island) and Lombok before reaching Padang Bai at 3pm. The regular slow boat can take up to 20 hours between boat and bus, so our travel time was pretty good. John decided to tag along to Ubud rather than wait at Denpasar airport for his flight to KL that evening, and we all crammed into a shuttle bus for the 1.5-hour transfer.
We were dropped off in the centre of Ubud, the cultural capital of Bali, at the bottom of Monkey forest road (yes there are wild monkeys walking around the street, somewhat tamed by the generous tourists feeding them bananas and sweets). We had an hour to eat before John needed his taxi to the airport and set off, up a steep hill with 3 large rucksacks, 3 backpacks and a large bag of diving gear. At the first Warung we ordered beer, indonesian rijkstaffel for the boys and I set off to bargain the taxi fare for John. 25% discount on the quoted price, I haggle well!
Saying goodbye to John, we found accommodation for 150,000 IDR per night, inc breakfast, hot water, fan and a pool. You don't need air con in the hills, plus it is rainy season. We found a bar with comfy seats, free wi-fi and happy hour for the evening.
The following morning we moved to a new guesthouse across the street, inc wi-fi for 200,000 IDR and a beautiful pool, we have an upstairs fan room, unfortunately too close to the street as we realize on our first night, Everywhere is noisier after the island. Ibunda Bungalows is a nice place, within our budget, really friendly and helpful staff, fantastic banana pancakes for breakfast, plus a spa where I had a Balinese Boreh massage which includes special herbs & spices that are massaged in the body to help combat fever, followed by a warm water bath of flowers. Since I picked up a head cold leaving the island, the massage was a real relief.
We relaxed at the bungalows for a couple of days until I felt better. Thomas took the opportunity to arrange and edit our pictures & videos as well as working on the website's database. Dewa Warung was recommended for food, so we ate there, and bumped into French people we had met on the island on NYE. The backpacking route is well traveled. Following Dewa, we went to a small bar, Napi Opti where we heard great live classic rock songs. These guys were fantastic on guitar, and if you close your eyes, can you imagine that it's Eric Clapton? No, though we had great fun with more friends.
Ibunda hired us a moped and on Friday we set off for Mount Batur after a stop at the Ubud Market. Unfortunately we left too late, and about 4km south of our destination it started to rain, and rain, and pour. We took shelter under a tin roof by the side of the road. An hour passed, we started to write some postcards. There was nothing for it but to go home, and we only had one flimsy poncho between us (Tom forgot his… Er, rainy season?? Boy scouts always prepared??) We set off down the hill, the two of us, on a pink scooter, Tom wearing the poncho, me hidden at the back. It rained all the way home.
Mount Batur, take 2 and we set off early. Sunny morning, perfect to view the lakes before suspected rain around lunch. It turned out to be an expensive trip, the police awaited our arrival at the mountain. Not having an international driving license meant a possible trip to Denpasar and 5 days jail, or you could pay a fine… ahem… to the policeman. We had been advised to keep 50,000 IDR (4€) handy in case we were unlucky enough to be stopped. The policeman berated us for not having the correct license, mentioned Denpasar, some incomprehensible English and summed up with… "Justice"! He laughed at our 50,000 offer and insisted on 100,000 for both and promised not to stop us on our way back down!
Arriving at the mountain view, we took in the sights from the road, unwilling to spend more money on expensive drinks at the many picturesque cafes. We met Alex from Holland, whom we had taken shelter with the previous day. The police extracted 300,000 IDR from him! After taking photos, we headed back to Ubud, 2 hours on a motorbike is quite painful on your rear end. True to their word, the policemen saluted us as we whizzed by.
W're leaving to Amed today, a 3 hour taxi. I have successfully bargained the fare from 500,000 IDR to 290,000 IDR (25€). Which means it will only cost us 50.000 IDR more than going by local bus. We are looking forward to going back to the sea, for diving, snorkelling and sun!