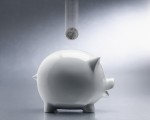 Saving money towards travelling was no easy job. From the very beginning we've had a rough idea of how much money we would need to have put aside in order to have both our travel but also our come back covered.  We would travel until the money runs out and  then have enough money to get our main expenses covered once we've came back home (a deposit for an apartment, three months rent and in case we struggle finding a job).
The first thing we've done was to move in together. Instead of paying 450eur each in two different places we would find one cheaper place to live in. This was made possible thanks to Anne-Marie's best friend,  Darcy, who was renting a big old Georgian house in Harold's Cross, south of Dublin, and allowed us to stay in a big double bedroom for 500eur a month!
The second step was trying to put as much as 50% of our monthly salary in our savings account, as soon as we would get paid on the 25th of each month. Then we would have to try living on 'the rest', including paying rent, bills, leisures, car loan (for Anne-Marie), beauty & hair treatments, holidays & city breaks (save for trip home to Belgium),a etc…
One of the great treats we allowed ourselves was a monthly Groupons©  purchase for Dublin restaurants to keep us focused. For example, we would buy this 40Eur deal for a nice french restaurant that would then allow us credit of 80Eur to spend on the menu. Another great way of saving money was trying to cook as many meals as possible, bring food to work for lunches, and shopping at Aldi & Lidl. Luxury food items were banned except when gifted by our respective families.
We also joined the Dublin Bikes scheme. 10Eur subscription fee and bike stations around Dublin city allowed quick and easy travel (weather permitting). Unfortunately cycling in Dublin city is not as enjoyable as the Belgian coast. Eight weeks before departure, Anne Marie sold her car in October and cycled to work, on rainy days a work colleague living close by gave us a lift. Selling the car freed up money spent on insurance, fuel, car tax as well as car loan repayments and we could increase money in our savings account.
You will have gathered that saving money requires lots of sacrifices. From the main monthly expenses (rent) to the smallest (our favourite daily coffee). But at the end of the day, the biggest was self-discipline. Focusing on the things we need and living day-by-day knowing that we have enough.
For more info on our budget, check out Detailed Budget.