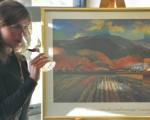 We were sad to leave Wanaka, and the farmers market on the warm winter evening, however we wanted to try cover some of the 400km distance to Franz Josef glacier on that day. Like us, Frank and Rachel were spending nights in Dept. Of Conservation campsites, plus the odd night at a paid site. We had spent the previous evening at the "Aspiring Motor Park" in Wanaka, absolute luxury….. A huge lounge with a real log fire, free unlimited wifi, heated bathrooms….and a spa and sauna, a real treat after a few nights roughing it. Alas, once we left Wanaka, it was back to basics and we camped in a valley where mist and fog quickly circled around us. We gathered some wood and tried valiantly to start a fire to no avail, and so an early night out of the chill. The following morning, we scrapped the frost from the windows, made a big pot of coffee and continued on our drive towards the glacier. Once the sun is up on the west coast, it became unseasonably warm and we took a long lunch break beside the lake before arriving at the glacier by early evening.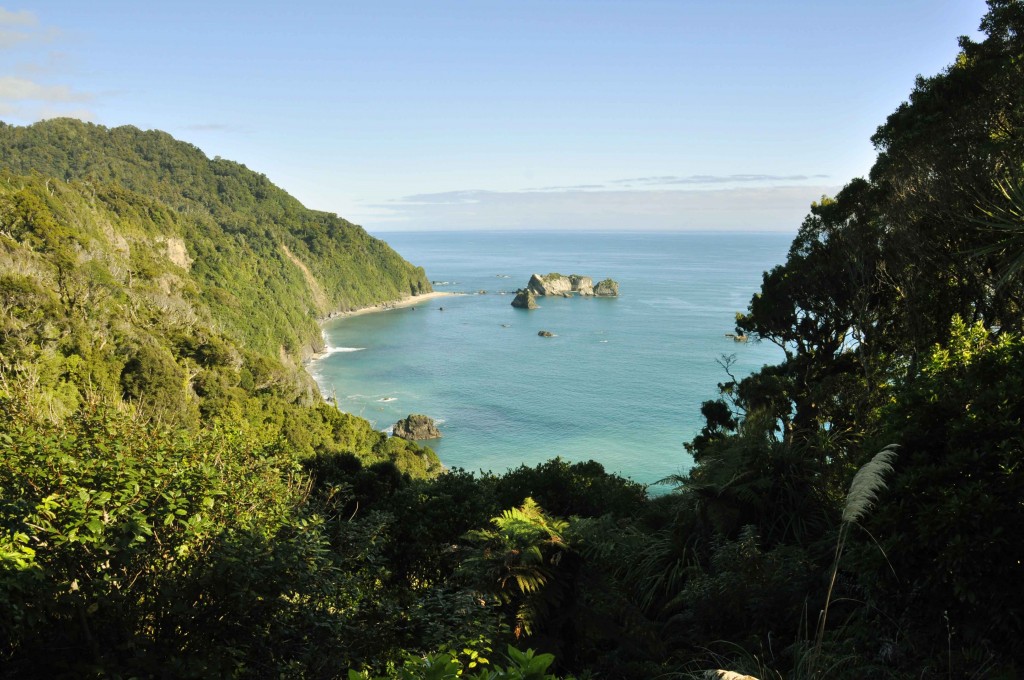 It is possible go get within 500 meters of the glacier, walking the designated path and without an official guide. The sky was darkening around us and we thought it best to attempt the 1.5 hour walk in early morning. Ice the size of a camper van can fall daily from the glacier, and honestly within 500m was close enough for us. Visitors can view the glacier from above via a helicopter flight or even venture inside with a qualified guide. There are many signs and warnings en route that tell the tales of tourists who had come all this way and "just wanted to touch the glacier", some of those unfortunates are still buried under the ice, having being caught unaware by the swift moving force of nature.
On the way to Marlborough, we reached 500,000 kilometres on the mileage clock. Time to swap over to the bicycles for the wine tasting!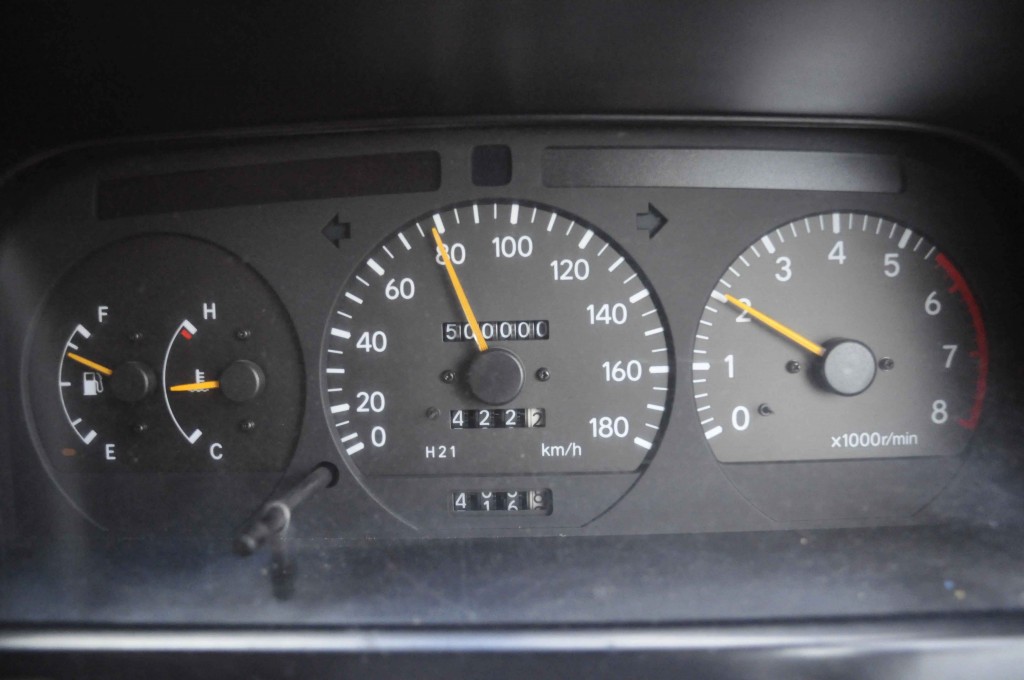 Yet more driving in our quest to reach the warmer climes of the wine groves saw us reach the small town of Reefton late that night. Frank and Rachel would take the ferry to the North island on Monday and we wished to spend our last day together visiting the wineries by bike, alas we did not reach Blenhim in the Marlborough region until Sunday lunch, just enough time to pick up some fresh bread, cheese and olives, and visit a couple of wineries for a tipple to celebrate. We spent our last evening together at White Sands Bay, between Blenhim and Picton (ferry departure) drinking a beautiful Villa Maria Clifford Bay Reserve sauvignon blanc, by candlelight well wrapped up from the chilly night time breeze.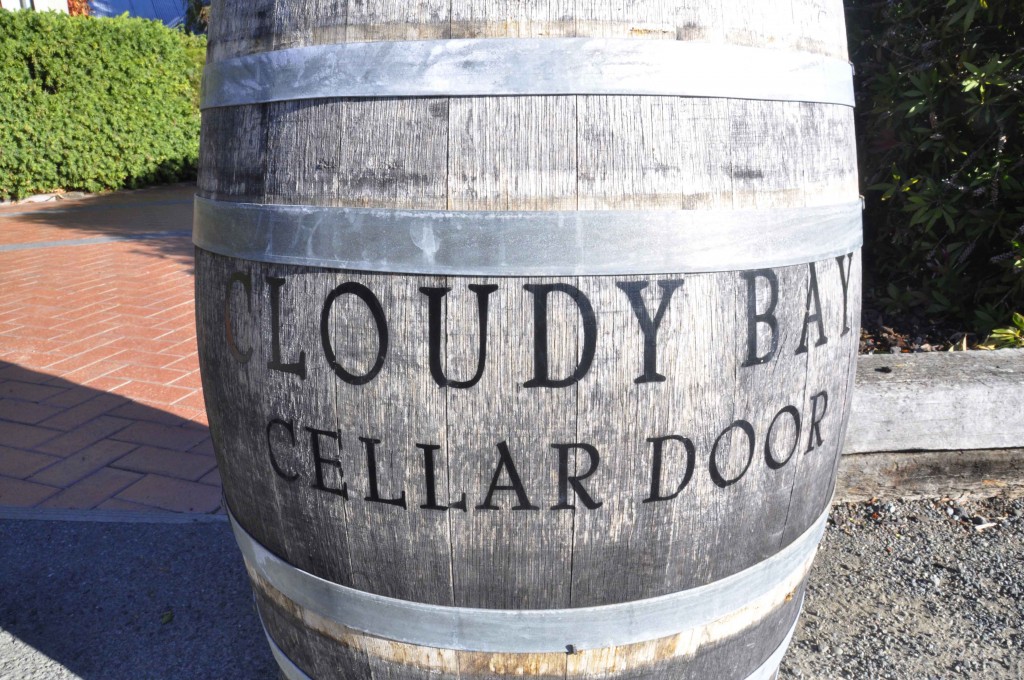 A very helpful lady at the Cloudy Bay winery advised that Watsons Way backpackers had space for a camper van, excellent news as they were also the cheapest bike rental and centrally located in Renwick, perfect for exploring the many wineries. We arrived early and set off by bike at 11am, with a detailed map of the wineries and whether they charged a tasting fee! We decided to concentrate on the smaller wineries by bicycle, having visited two of the larger ones (Cloudy Bay and Villa Maria) on Sunday with Frank and Rachel.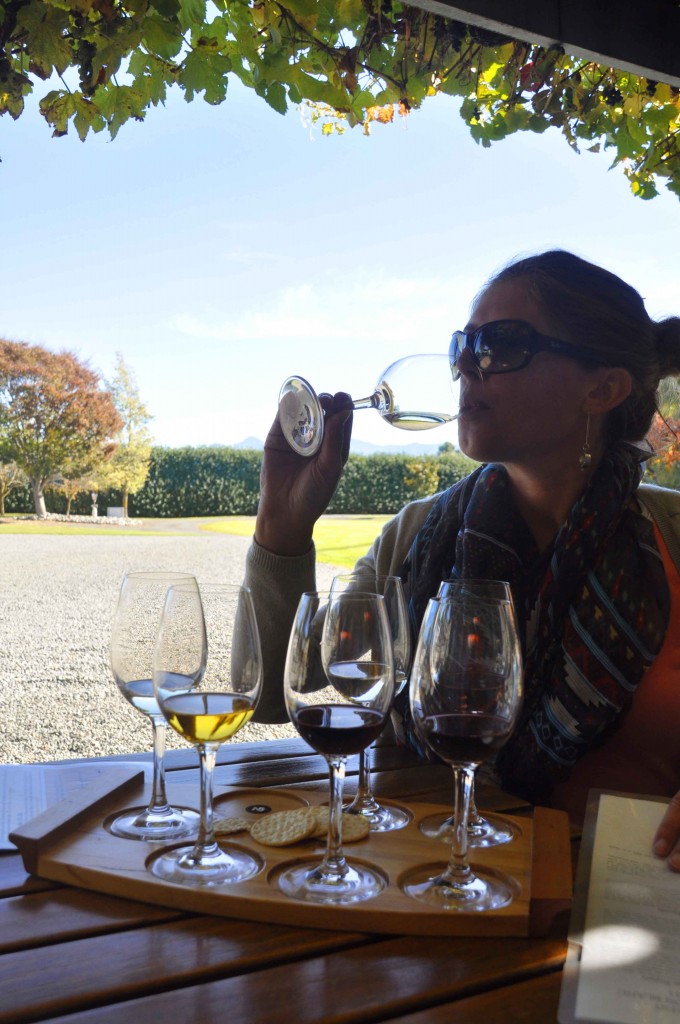 First stop was Forrest Wines, a small family run winery noted for it's "Doctors" range, it's run by a scientist and they make a selection of red and white. Carlos, their manager from Chile was onsite and generously provided 5 different samples to both of us from the 15 open for tasting. We took a further 7 samples to share for the small fee of $NZ 7 and sat in the sunny garden reading the tasting notes. We had plans to eat at a nearby winery, one of our only meals not prepared in the camper van!
Upon arrival at Wairua River, we enjoyed a tasting of selection of their wines, in order to choose what should accompany our lunch. Having reviewed their menu online, and the many accolades for their double baked blue cheese souffle, our choice was simple, their was no question of ordering two different dishes and sharing! The souffle was accompanied by a pear and almond salad and the recommended Pinot Gris (Pinot Grigio in Europe) was perfect. We sat the pretty garden, surrounded by wine groves, sipping our wine in the warm sun, delighted that we had included NZ on our trip. Our food arrived, wow…..perfection on a plate, after months in Asia, where they eat so little dairy, the cheesy, oozing souffle was a dream to eat. Milk and cheese is very expensive in NZ, 98% of dairy produce is exported, mostly to China in the form of milk solids for baby formula. We found a small vacherin style cheese in the supermarket which cost $22 NSD, so our cheese souffles were quite reasonably priced in comparison.
Back on our bikes in search of the perfect cheese board to complete our lunch, alas the recommended George Michel was closed although we did find some rillettes at No.1 Wines, a small boutique winery making NZ sparkling wine in the traditional champagne method. We bought a small tin, to accompany some sparkling wine that we will enjoy on the beach in Bora Bora!
Our final wine stop for the day was Giesen wines, run by 3 German brothers who emigrated here in the seventies. The company makes a huge variety of wines, and the free tasting was generous, all varieties were available for sample and top up's encouraged! We started our journey home at 5pm, it would be dark by 6pm and our bikes did not have lights. Cyclists must wear helmets by law in NZ, however people drive incredibly fast here: tail-gating seems to be the norm, we've been honked for driving at 47kph, in a 50 zone while passing a school! Plus we were looking forward to a good nights sleep, with our little heater plugged in after several days in the cold.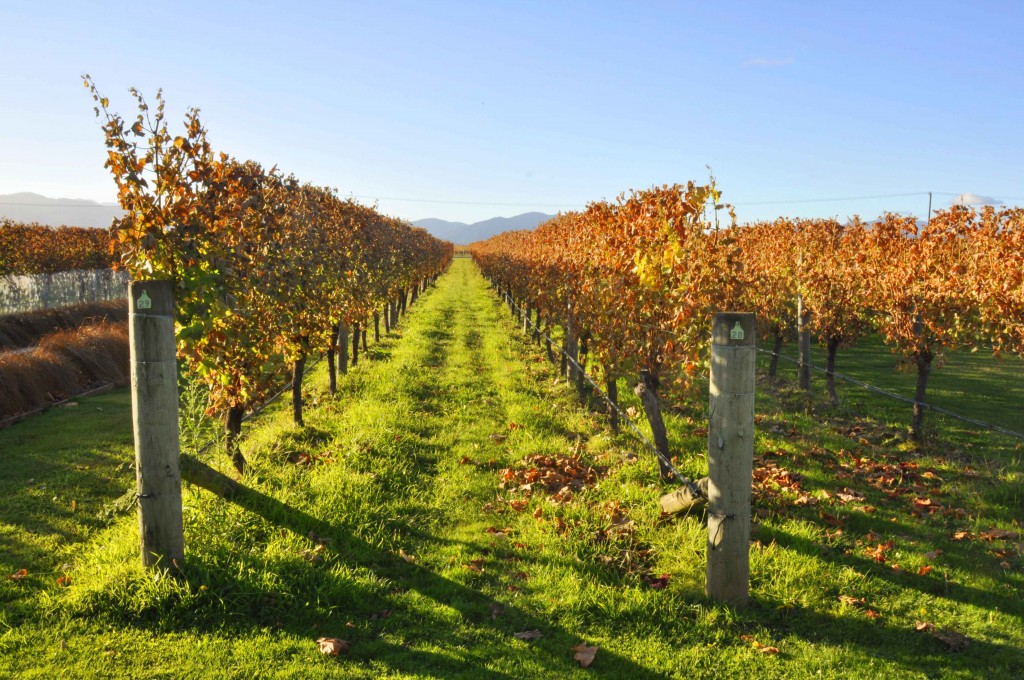 The following day we visited Seresin winery, a small boutique winery making organic wine and olive oil. The winery is owned by Michel Seresin who made the famous movie, Midnight Express. There was a $5 tasting charge for the five wines open, and to be honest this was our least favorite winery, we felt rushed and were hurried along, and certainly did not experience the warmth, friendliness and generosity of other Marlborough wineries. We continued our quest for a cheese board, thinking to enjoy one for lunch before continuing to Kaikora. Many wineries are closed for winter, and we chanced upon the Brancott Estate heritage centre, high in the hills. This is a very modern building, only recently open, a driver is dispatched to escort you up the hill from the carpark!
Upon entering, we were seated at a beautiful table, with views of the wines groves below and offered a glass of sparkling wine, such a welcome after our disappointment with Seresin. We decided to go a little crazy and stay for lunch, to treat ourselves after 3 weeks in the van! We were offered a free tasting of their heritage range, generous and varied to help us choose a wine for lunch. An amuse bouche of poached fig, serrano ham and local goats cheese arrived at our table. We really enjoyed their Sauvignon Gris, the only winery making the blend in NZ, though in the end chose their Estate Pinot Noir, the recommended choice for the cheese board. Our waitress Georgia was friendly, knowledgeable and patient while we took an age to sample their huge range of wines.
We enjoyed some champagne with our shared rillettes and sourdough toast starter, a delight, both to look at on the plate and eat. A shared tasting plate of goats cheese bruchetta, pumpkin ravioli and monkfish with samphire followed, this was a selection of some of the most popular dishes on the menu. Each dish was served separately, and the portions were large, even for two. This was a very well priced dish at $29. We were not used to portion size in NZ, having enjoyed most meals in the camper van and were glad we shared our dishes. The cheese board followed, all NZ made: a washed rind, a Camembert, an aged cheddar and a blue, all in perfect condition and accompanied with breads and two different chutneys. Our lunch and wine tasting was really enjoyable, a treat to round off our NZ adventure….we slept in the van for the afternoon before continuing our journey south.
We stopped at Kaikora, to visit the seal colony and enjoy lunch. Sadly the weather had turned quite Wintery, we really had been lucky for the beautiful weather during earlier part of our trip. We spent our final night at Amberly beach, a council run spot offering power sites for $10 just 40km from Christchurch. The following morning we bought a tent for our camping adventure in French Polynesia and set about re-packing our backpacks, and cleaning down our little van. Wendekreisen, our camper van company dropped us to the airport and so our journey continues, just one night in Auckland….too short, we wish we had more time and money to explore this beautiful country with it's amazing scenery and friendly people, hopefully we will have a chance to return again.