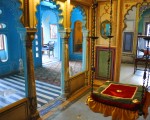 On our second day in Pushkar, Thomas tries to get in touch with his friend Pierre, a Frenchman whom he met two years earlier, almost to the day at a shop in Udaipur, and with whom he had spent more than two weeks, traveling from Varanasi to Darjeeling. It was a pleasure to meet again. The reason for Pierre's return visit to India was to make a video documentary on its inhabitants.
We make plans for the next days, including a beautiful sunrise climb to a temple overlooking the city. We left our guesthouse at 5am in the darkness, it takes us over an hour to climb one of the surrounding mountains, and the view was totally worth it.
Once at the top, we find a corner for ourselves and enjoy a chai (Indian tea) in the dark morning. The sun slowly loomed over the horizon behind the mountains, and the light gradually brightened over the valley and the Pushkar lake. The view was spectacular.
On our way back we stop at the tiny Honey Dew coffee for a great breakfast, special chapatti washed down with a true Italian coffee.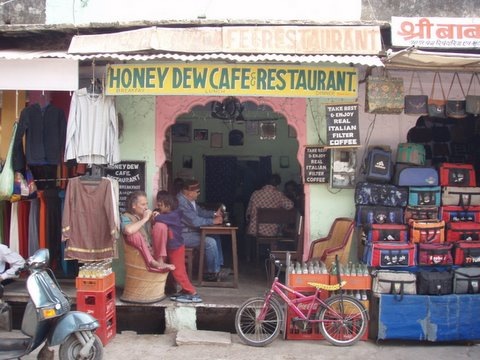 Thomas took advantage of the after-noon to go to get a haircut, beard trim and massage at a typical Indian barber.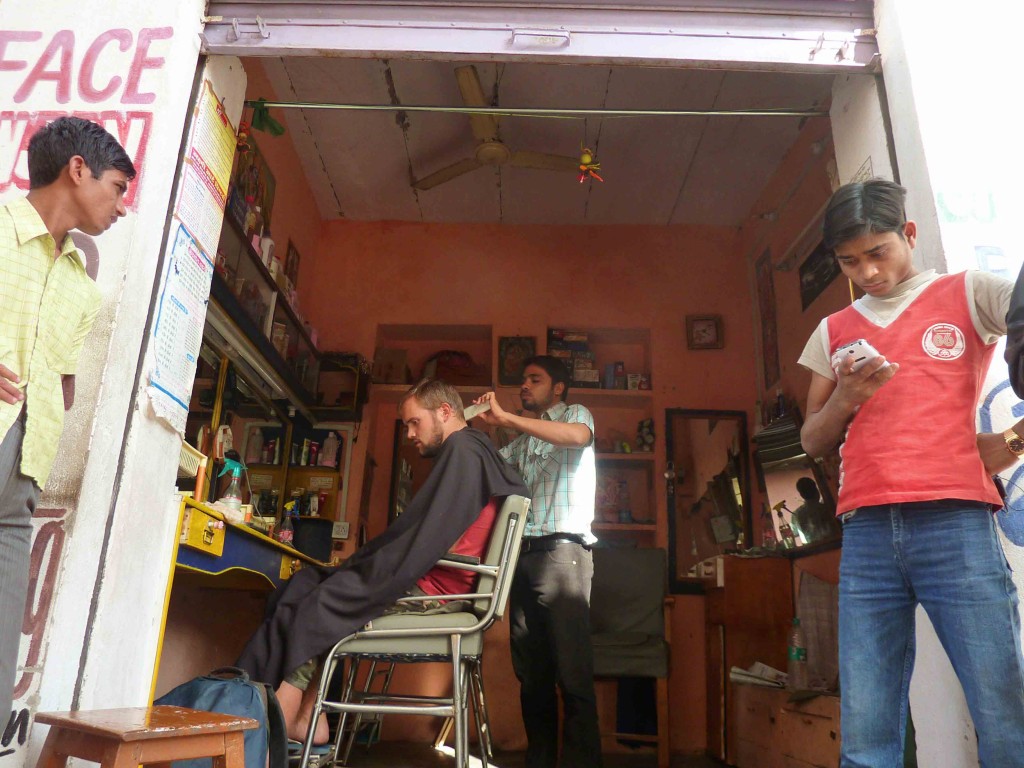 Our evenings were spent usually on the roof terrace of Cafe Baba, watching people come and go below. During our visit to Pushkar, many celebrations were held every evening. Dozens of worshipers descended on the streets following a car on which the figure of a Hindu god sat, adorned by flowers. There was music with singers and a marching band, dancing and a real festival spirit, even the streets were decorated with drawings in natural powder paint.
The days seemed to pass too quickly and soon it was time to say goodbye to Pierre who was traveling to Bundi, while we would go to Udaipur, this time by night bus in a bunk, 500km of pistes, no Tarmac, it was quite a bumpy ride and our backs were stiff and sore after the journey.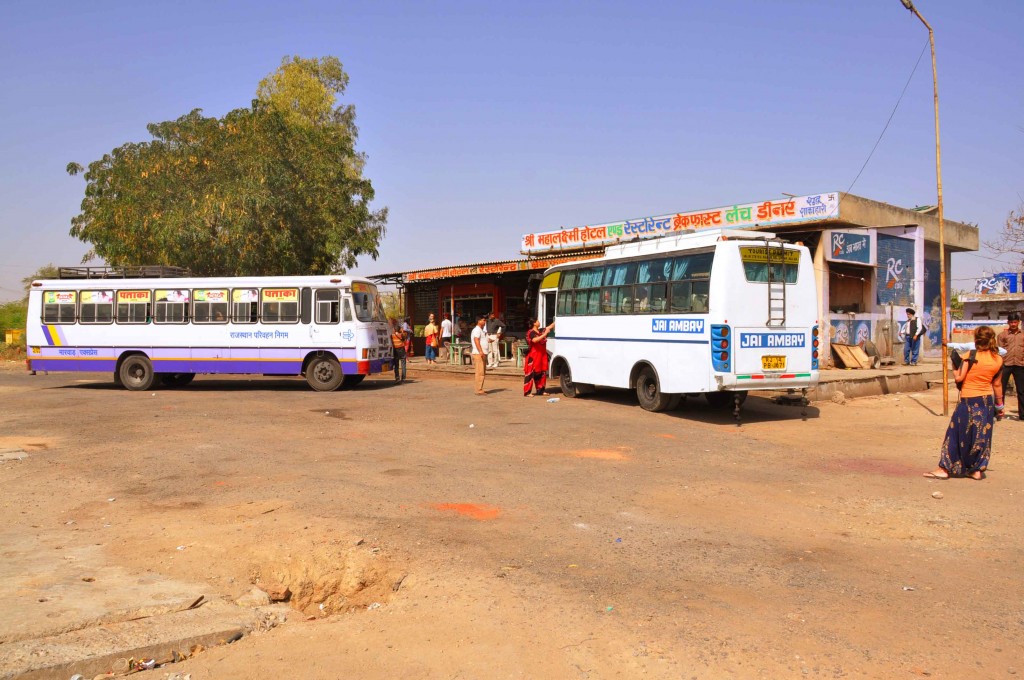 Upon arrival in Udaipur at 5am, we were greeted by Bapu, the owner of the guesthouse The Little Prince. For 400 rupees (about 6EUR) we are stayed in a beautiful room, with all modern comforts (hot water, string wifi and tv) yet sympathetic to the traditional Rajasthani style. Best of all was the very high rooftop terrace overlooking the city, Lake Pikhora and the City Palace.
Udaipur is a city of magnificent beauty, containing many riches. Many refer to it as "the romantic capital of India". On our first evening, we were totally amazed by the view from our rooftop restaurant, Masala, where we enjoyed a wonderful meal overlooking the lake, our surroundings twinkling by candlelight.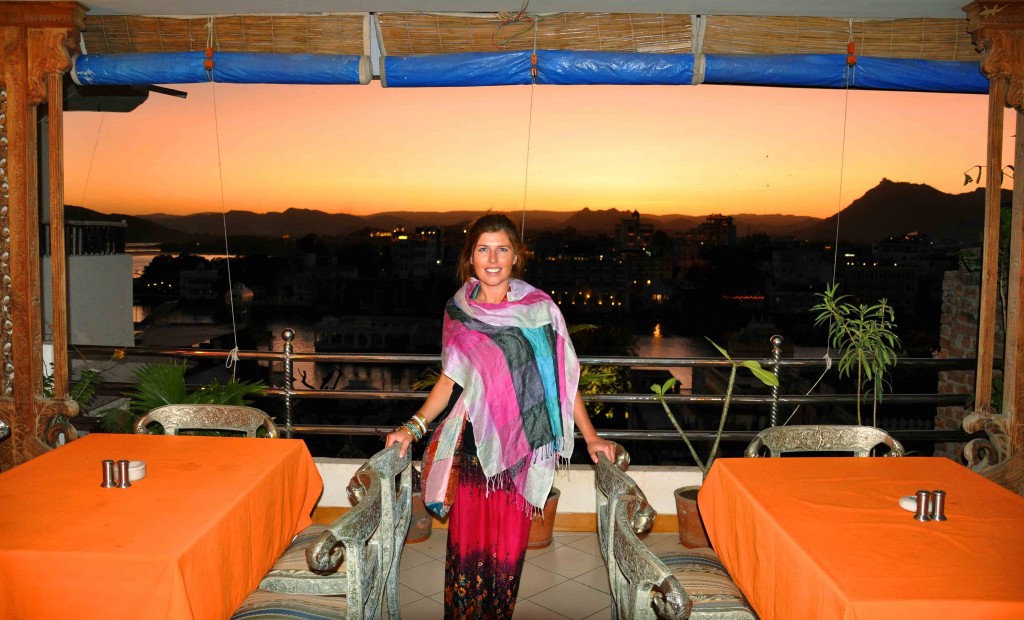 The air was hot and dry, it's quiet, and time seems to stand still.
One reason for our visit to Udaipur is to purchase of tailored clothing. Indeed, when Thomas was in Udaipur two years earlier, he had a three piece suit and several shirts of exceptional quality made for quite a reasonable price.
The tailor shop is named Sandouk – House of Fashion and is one of the most famous houses in the region for its expertise and quality of its fabrics. After been welcomed by the owner, Mukesh, we spend a couple of hours making our choices of style and fabric. Our measurements are taken by the head tailor: arms, chest, back, shoulders, waist, no detail is spared. We will return during next three days to make the necessary adjustments and fittings.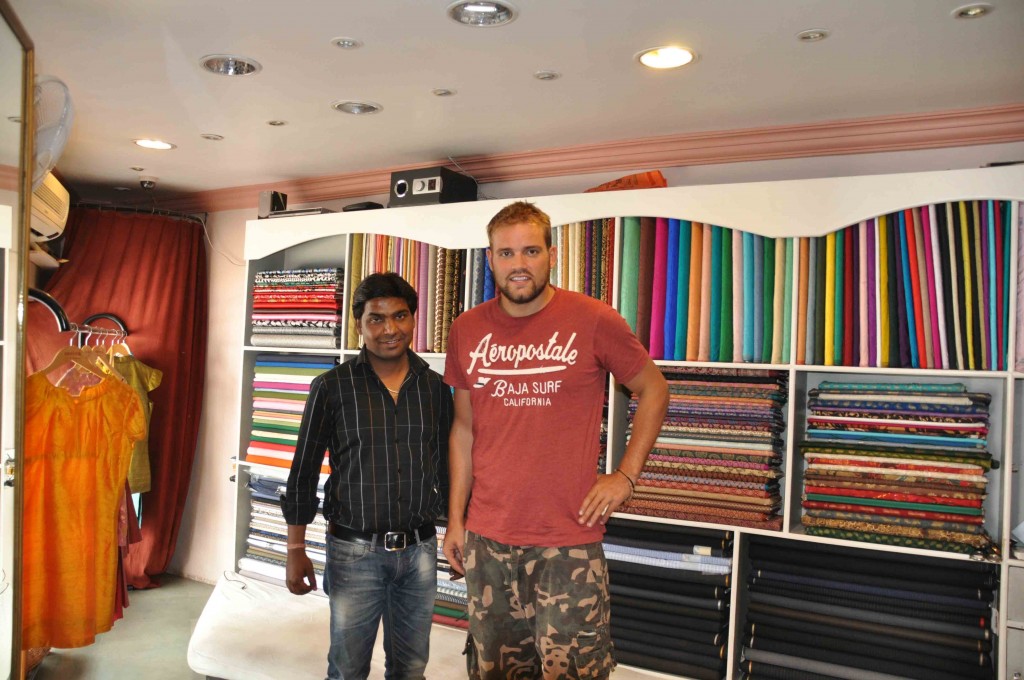 Anne-Marie has purchased a two-piece suit, four blouses, work trousers and a dress, and for Thomas, a three-piece suits and six shirts. The total price was just under 700eur, including transport costs to Europe. Custom made clothing comes at a price, for sure, but the fabric quality and work is really perfect. A similar choice in Europe would easily have cost more than three times the price. At the time of this writing this article, the package of nine kilos was already been received in Belgium.
During our 5 days in Udaipur, Anne-Marie unfortunately fell ill. Nothing serious, just food poisoning, forcing her to stay in bed for two days. We also visited the the City Palace during our stay. This vast palace is a mosaic of buildings dating from different periods, from 1559, but the bulk of building took place in the 17th century by Udai Singh after making peace with the invading Mughal.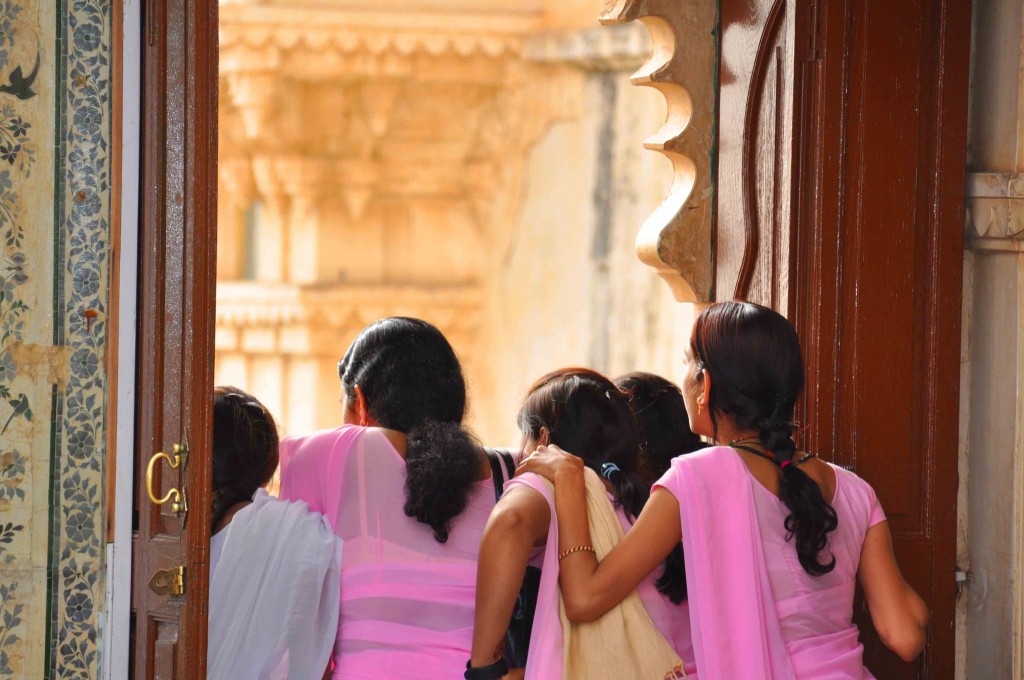 It takes hours to visit this beautiful place, a maze of courtyards, pavillions and stained glass windows, every turn reveals a beautiful photo opportunity. At the end of our visit, we even had the chance to admire the royal guard play traditional instruments, just for us, on the palace lawn. On leaving the palace, we met a score of men of Sikh religion, easily recognizable by their turbans. They insisted to have their picture taken with us which we accepted with pleasure. During the War of Independence of India, many Sikhs were hanged and the others had to face all kinds of brutality.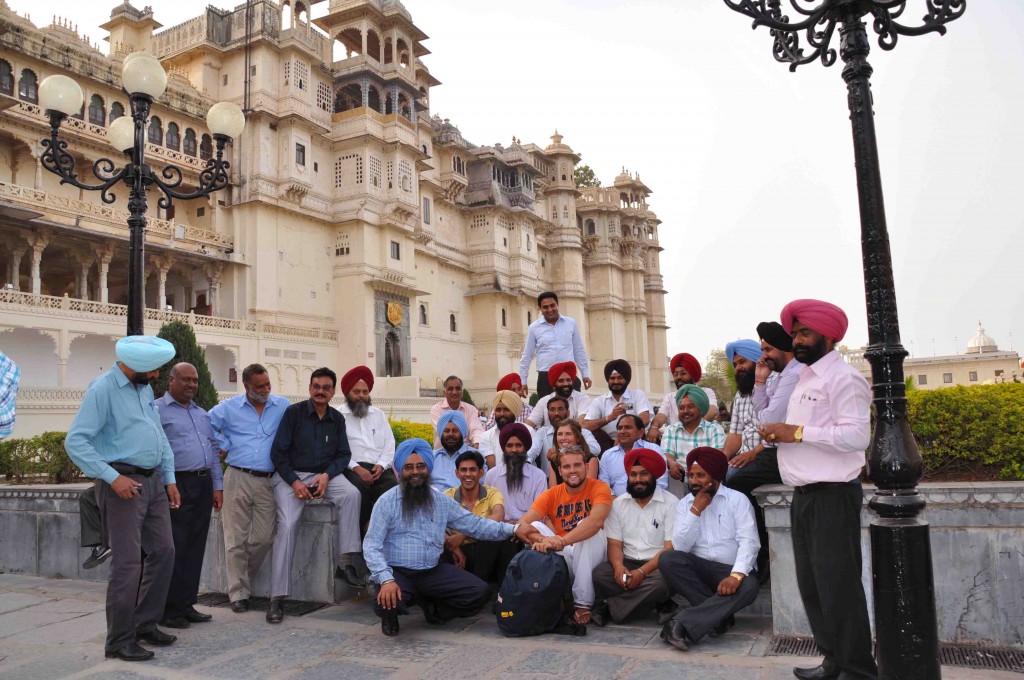 Although Sikhs represent only 20 million people (about 2% of the population of India), they nevertheless built a solid reputation in virtually all areas, such as the military, agriculture, sports, industry, education, medicine, engineering etc … through perseverance and dedicated hard work. Their sense of adventure and enterprise has led them to almost every country in the world, half of the Sikh population live outside India, particularly in Britain, the United States and Canada, Nepal and parts of Asia
We left the next day towards Ahmedabad, in the state of Gujurat in order to catch our flight to Kerala, south India. This time we traveled in comfort, by Volvo AC bus with an excellent company, Srinrath travel. We make a ahort stop overnight and travel to Trivandrum via Chennai to enjoy five days on the coast of the Arabian Sea, before leaving to discover the network of canals of Kerala by the ubiquitous houseboats and the famous tea plantations of the mountains.
More news next week!