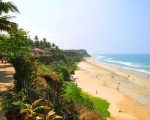 Our long trip to Kerala from Udaipur via Gujurat and Chennai took almost 30 hours, and we organized a private taxi from Trivandrum airport to Varkala so to lessen our burden, a pricy option though we traveled in style in a white Ambassador! The transfer, although only 48km took more than two hours, roads in Kerala are the best that we have encountered in India, however the Ambassador chugged along at 25km per hour.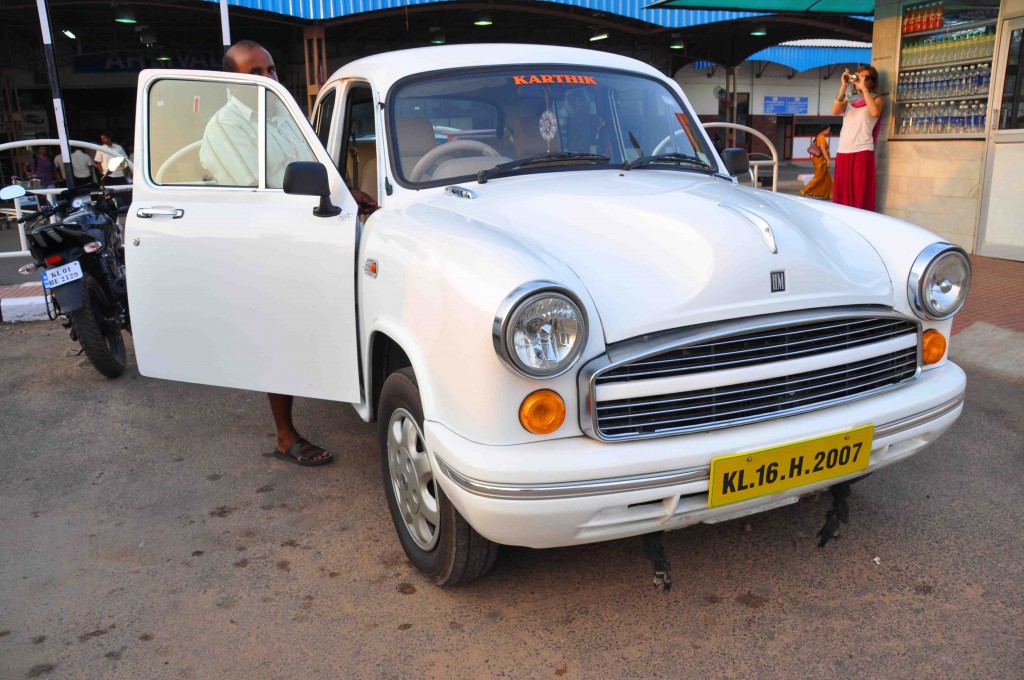 We arrived at our guesthouse, Keratheeram, took a refreshing cold shower (30 degrees at 8pm!) and hopped next door to the new Kerala cafe for some food, their free wifi and the fish barbecue (they even had blue marlin!)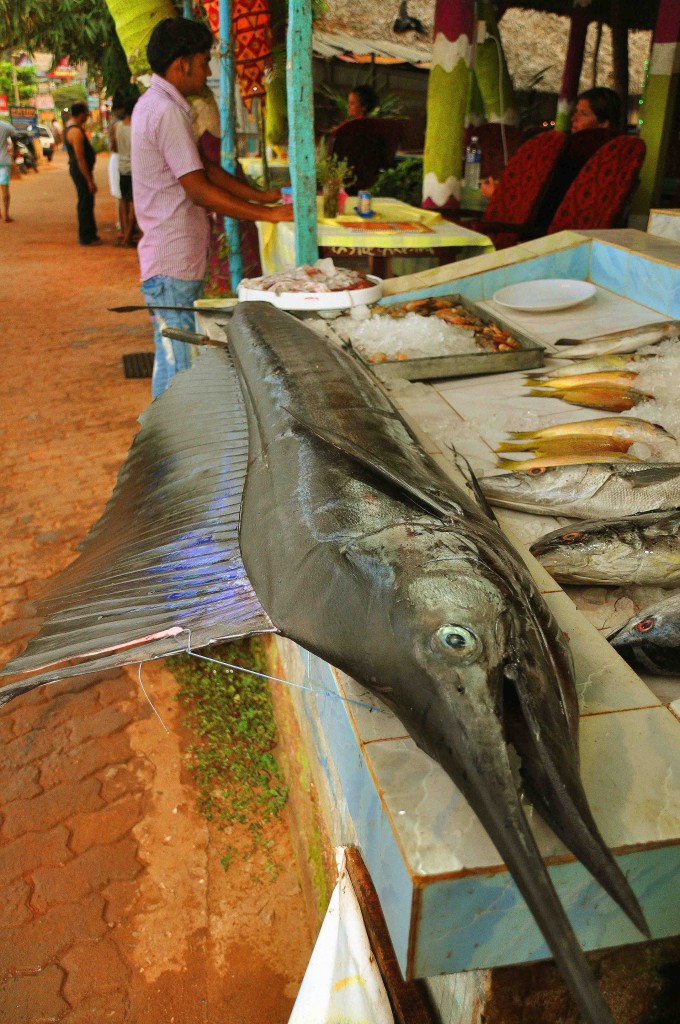 It's the end of March in Kerala, just approaching off season. Rooms were discounted by up to 75%, you really do find the best value by just turning up. We asked for, and received a 50% discount on the agreed rate at our place which was 20 meters from the cliff.
Ah, the beach, only one month since the azure blue Sipidan waters and we found ourselves at the seashore again, a welcome relief after the heady, crowded, dusty streets of North India. Varkala beach, also known as "Papanasam" (meaning to wash away sins) is the only cliff beach that fronts the warm Arabian sea, part of the Indian ocean. The cliff is reached by steep steps at the top of which are many restaurants, guesthouses and Tibetan jewelry shops.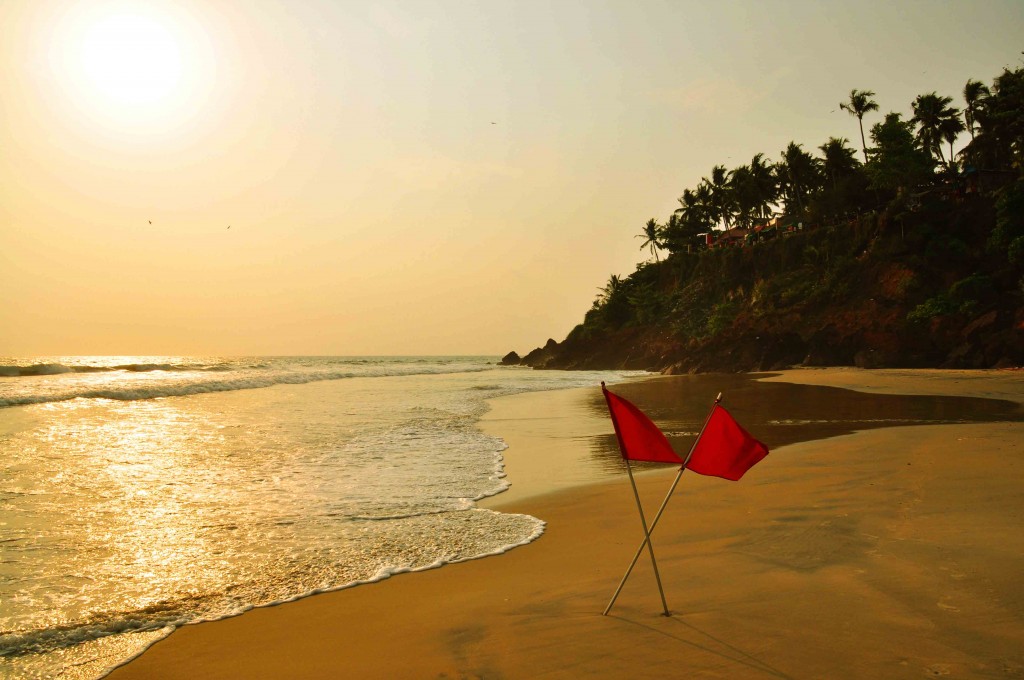 The water is warm, though the current is powerful and rip currents are strong on this small stretch of beach, indeed the currents are amongst the strongest in Southern India. It is not really a paddling beach, however lifeguards (easily identifiable in their blue uniform) patrol the beach and ensure people enjoy the water safely. These lifeguards, along with the police also move the groups of locals who perchance to gaze at the foreign ladies in their teeny bikinis!
Reducing the cost of our accommodation to €4 per night meant we could splash out and hire sun beds (again, with an off season and repeat customer discount) to laze in the sun. We spent our days playing frisbee on the beach and swimming in the warm water. As the waves crash and break and foam along the seashore, it felt as though we were in the worlds largest jacuzzi! As the waves return to see we could see fish swimming frantically and crabs scurrying along the sand.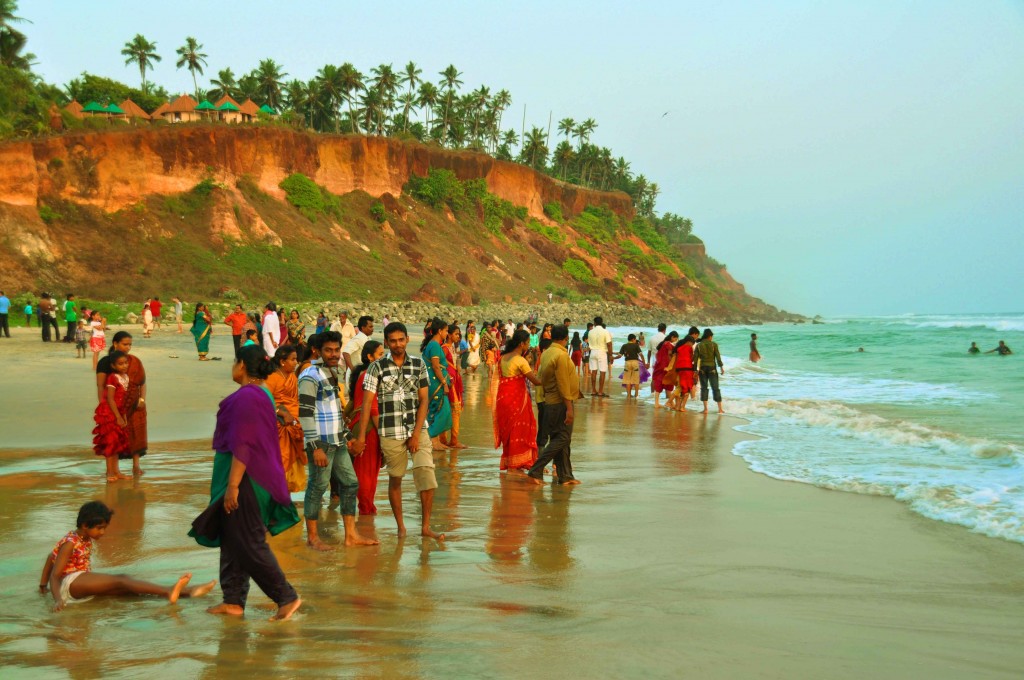 Being so close to the sea, fresh fish is in abundance and the restaurants lining the cliffs proudly display the catch each night. It's affordable and very tasty, we have spent many evenings enjoying grilled fresh fish, with delicious coconut rice (a delight that we can't wait to share with friends upon our return) amidst twinkling candlelights, listening to the waves crash against the cliffs. In our opinion, the best fish was at Gipsy Kings near the helipad.
There are many Ayurvedic medicines and treatment centres in Varkala. We didn't participate, however at Gipsy Kings we enjoyed many evenings with Douglas and Francine, a US/Belgian couple from Dinant who were on a 5 week tour of India; Francine took a week long Ayurvedic massage course at Hill Palace which she found informative and recommended.
Yoga originated 5,000 years ago in India and many classes are offered on the cliffs of varying styles and abilities. I took a yoga class at the Hill Top palace with Sunil Kumar, as recommend by our guesthouse neighbors Louisa and Barry, fellow travelers from Scotland. The class is held daily at 8am on the roof top, is in the Hatha yoga style and costs 250R (about €4) per person, yoga mats are supplied. Sunil is a learned and patient teacher with a melodic voice, one morning I was the only student, during my private lesson I attempted my first headstand under Sunil's guidance! In Ireland, I admit yoga is seen as a way to keep lithe, slim and supple, ashtanga and bikram are popular yoga forms. Hatha yoga is a gentle yoga style based on asanas and prayanama (breathing techniques). The class takes 90 minutes, Sunil is an excellent teacher and recommended. Even Thomas gave it try, that says a lot!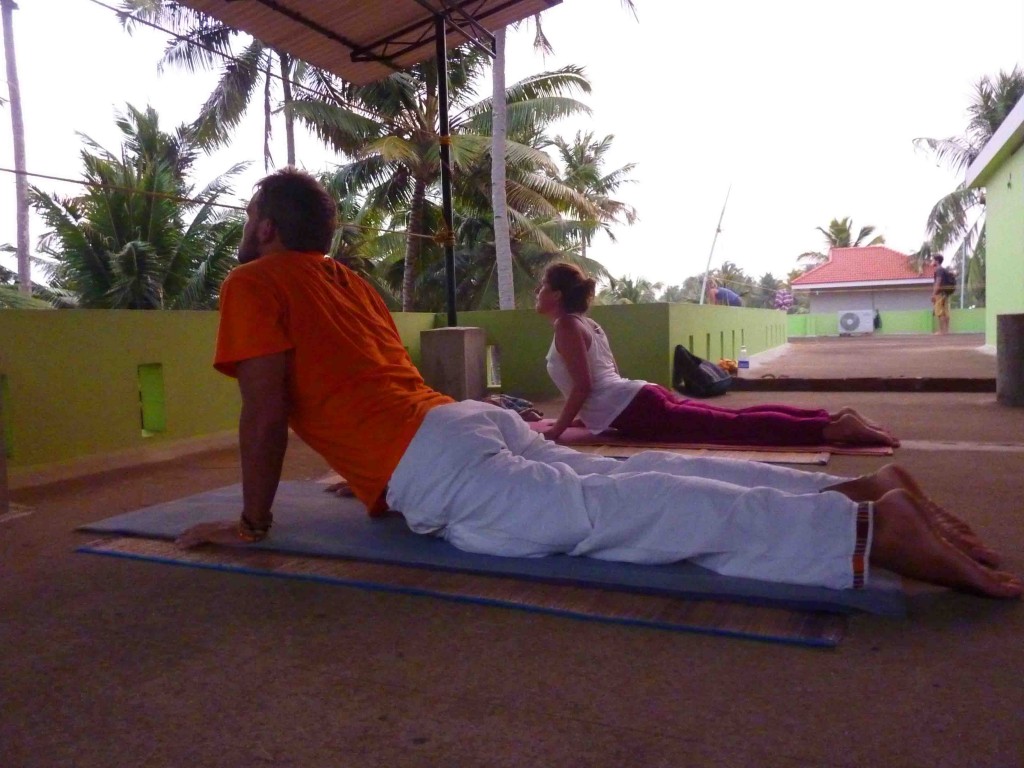 Our original plan was to spend five days in Varkala, however at the time of writing this article, we have been here for nine days already, it's just that kind of place – relaxed, friendly, small and affordable. We moved next-door to the Cliff House Beach Resort (there are many "resorts" on the cliff, though nothing remotely resort like about them) towards the end of our stay, we got a larger, more comfortable room for the same money. We also came upon the Rock and Roll bar, open 24 hours they have great food, friendly staff and strong drinks. After traveling in Indonesia and Malaysia where alcohol taxes can run to 300%, it was a joy to sit relaxing with a 650ml ice cold Kingfisher for €1.20. Kerala state has the highest alcohol consumption per capita in the whole of India. Most restaurants in Varkala don't include alcohol on their menus, though our beer was not served in teapots as in common place in other Indian states.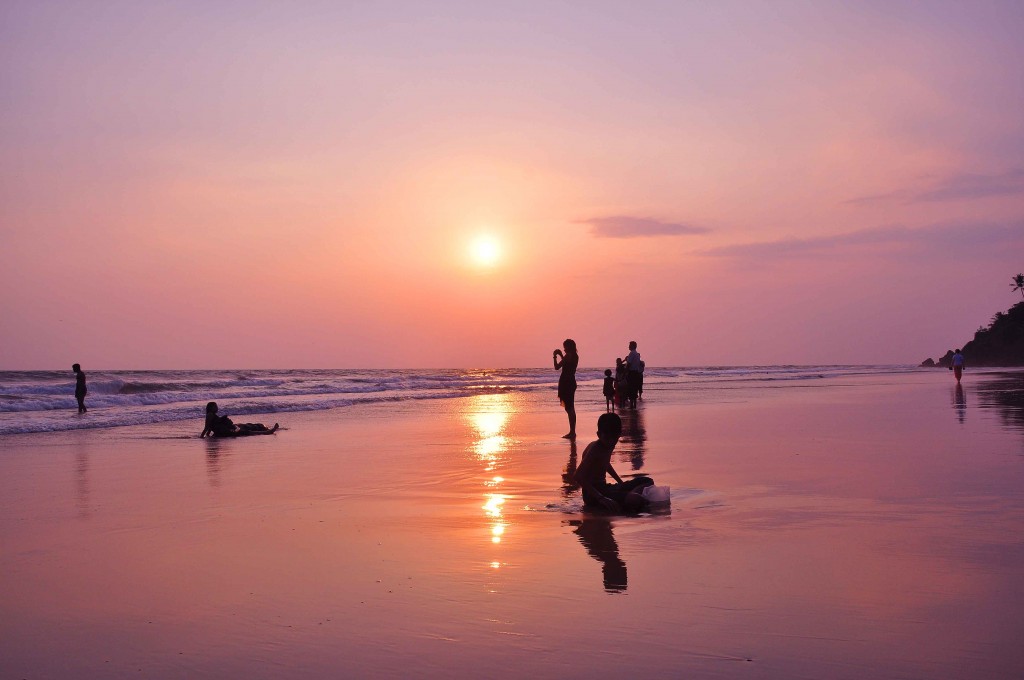 Umesh at the family owned and run Juice shack, a yummy spot where we enjoyed great breakfast/brunch greeted Anne Marie in Irish each morning, the "Galway Girl" and other Irish tunes (Chris De Burgh- hello 1986) blaring on the radio. He told us that the largest library In Southern India is named the "Connemara Public Library". We are feeling very happy and at home here in Varkala, perhaps we might leave tomorrow morning…… Next stop the infamous backwaters and Munnar tea plantations.