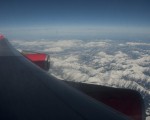 This is it, we're gone.  Saying goodbye to the family on Monday was heartbreaking but they are happy for us. We've had a wonderful final weekend with the family and enjoyed amazing food over the last few days: fondue vigneronne, great cheeses, foie gras, beautiful wines, etc…
I'd like to say a really big thank you to Mum & Dad for the organization of our leaving party, as well as all the family who were with us and contributed financially to our trip.  I am sure we'll be returning with great memories and lots of pictures of the fun we've had travelling.
So we left Paris on Tuesday the 20th of December at 10AM on an Air Asia flight. Our one-way ticket to Kuala Lumpur cost us about 250eur, which is pretty cheap to get from Europe to Asia on a 13hours direct flight. We had bought the hot seats which are pretty much the emergency seats, giving us extra leg room. We spent most of our time watching movies on the laptop and reading magazines/papers.
Immigration went very smoothly at KLCC Airport. We hopped on a bus and an hour later we were in KL Central, right beside the Petronas Towers. Prime location, really. In a small & cosy australian-owned guesthouse called The Nest. The temperature is 36°C, which means I am sweating a lot. Anne Marie is ok. Thank god we have aircon in the room! We already went to a big shopping mall to feel the christmas atmosphere. Huge christmas trees and beautiful decorations everywhere. Surprisingly, most shops seemed to be empty. Tonight we'll be heading to Chinatown to buy some flipflops, tshirts and god knows what else the haggers will manage to sell us.
More news coming soon…