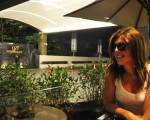 I arrived in Bangkok with a birds nest on my head……My hair was ravaged from the sun, sea and sand of Bali. Foregoing a traditional Thai massage, I went straight to the hair salon for a conditioning treatment and blow-dry. There is a hair salon on the 2nd floor of the MBK centre, beside Red Nails. While not exactly relaxing, the salon did a good job for 400 THB, about 10€. My hair is straight, shiny, conditioned and easy to keep this way in the air controlled shopping centers of Bangkok.
When I return from Koh Chang island, I will have a similar treatment at a fancy hair salon in Siam Paragon centre. It will probably be more expensive, though I'm happy for any opportunity to spend time beautifying. I'll update later with a comparison report.
Red Nails on the 2nd floor of the MBK centre is a very busy, conveyer belt style of nail salon. They offered a pedicure for 400 THB, with one OPI colour. French polish was an extra 300 THB. I decided on a neon orange to complement my slightly more tanned Irish skin-tone.
There are 10 massage pedicure chairs in the salon, which are in full view of the shoppers in MBK. There are several desks for gel/acrylic nail in the centre, and you can also have a manicure during your pedicure. The shop has many nail technicians, I counted at least 26 staff wearing uniforms and 2 further ladies with walkie talkies instructing staff to particular chairs. This was not a relaxing place. Still, I gave up pedicures while saving for this trip so I settled back into my massage chair and closed my eyes.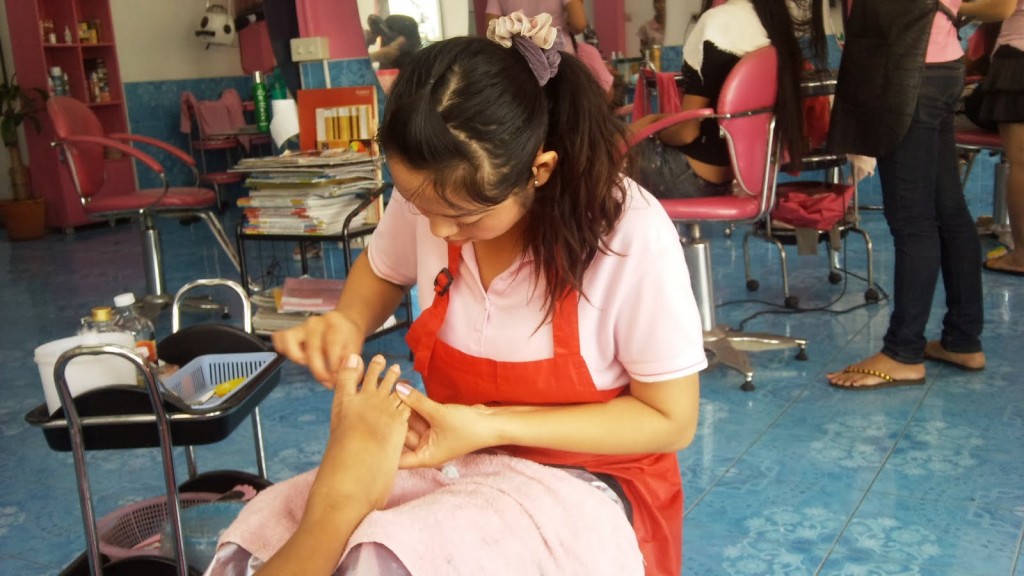 This was a very routine file, quick scrub, quick massage, 2 coats of paint and out. The nail technician did not speak during the treatment, even when I asked for her to cut my nails as they will scuff on the beach. I was only permitted one session on the massage chair, the controls are hidden behind the seat.
My nails were dry and I was out of the salon in 22 minutes, my pedicure chair immediately filled by the next client. So there you have it, the 10€ pedicure, more akin to beauty maintenance. The €40 treatments that I used to enjoy in Ireland are far more relaxing and thorough. I would rather do my my nails routinely and enjoy a luxury pedicure as a treat.