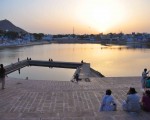 No news is good news!
Two weeks have passed since our last article and we have traveled from Rajasthan (North India) to Kerala (South) using rickshaws, auto rickshaws, taxis, local buses, trains and airplanes.
India is colossal, almost a continent in itself and moving from place to place requires time. We did not attempt to cover India in two weeks, this would mean flying every 2-3 days, and missing out on the fabulous encounters you experience when traveling more slowly, such as a night bus trip, chatting into the small hours with a retired couple or small lunch on a train with this family from Calcutta.
It takes at least a week to get used to noise, heat, dirt, odours, overcrowding, incessant questions from the locals and of course, poverty. India grows on you, yet you must give it time, Anne-Marie realized this during our second week.
Rajasthan, a glorious colorful and friendly state has lots to attract travelers. First step, Jaipur. After 6 hours on a rather comfortable government bus, we entered through the great doors of the pink city, capital of Rajasthan at great speed, by passing the slower moving camels and elephants.
During our 3 days in Jaipur, we were fortunate to stay in a guesthouse where the food was excellent: Moon Light Palace. It was a delight, after a day walking the dusty, busy streets of the city, we could retire to the roof terrace, amid the twinkling lights, enjoying the view, while being served ice cold beer and delicious aubergine and paneer curries in traditional Rajasthani ambience.
We spent our days sightseeing and shopping trips amongst the many small markets. The people of Jaipur are very friendly and extremely proud of their city.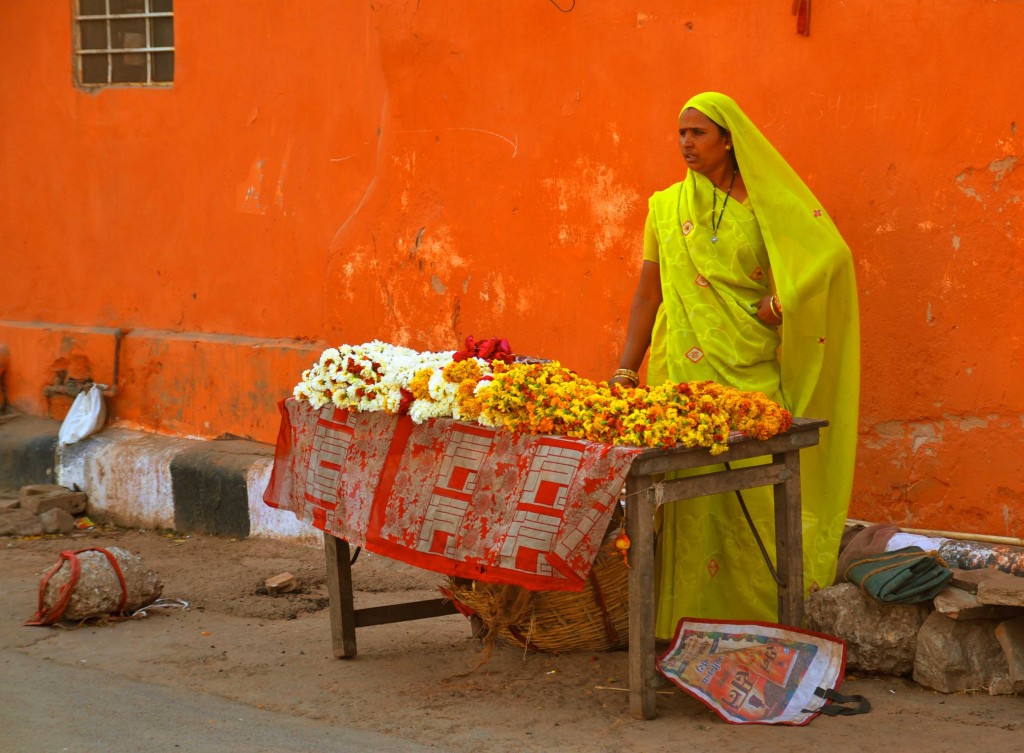 Anne-Marie wanted to visit a renowned astrologer. It seems that he could read the palm of your hand. Thomas was doubtful. Unfortunately his popularity and fame ensured rates were sky high. Upon leaving, Vikesh, a rickshaw driver, saw his opportunity and offered to take us to see his friend, also an astrologer. We were pretty wise to the tricks of rickshaw drivers in some tourist areas of the city, agreeing to take us somewhere albeit stopping halfway to visit a friend's uncle's sister, who sells scarves, shirts and other items. We politely decline the invitation. Vikesh is insistent and persuasive, he offers the journey in good faith, and we agree on a price of 10 rupees (0.15 euro) for the return.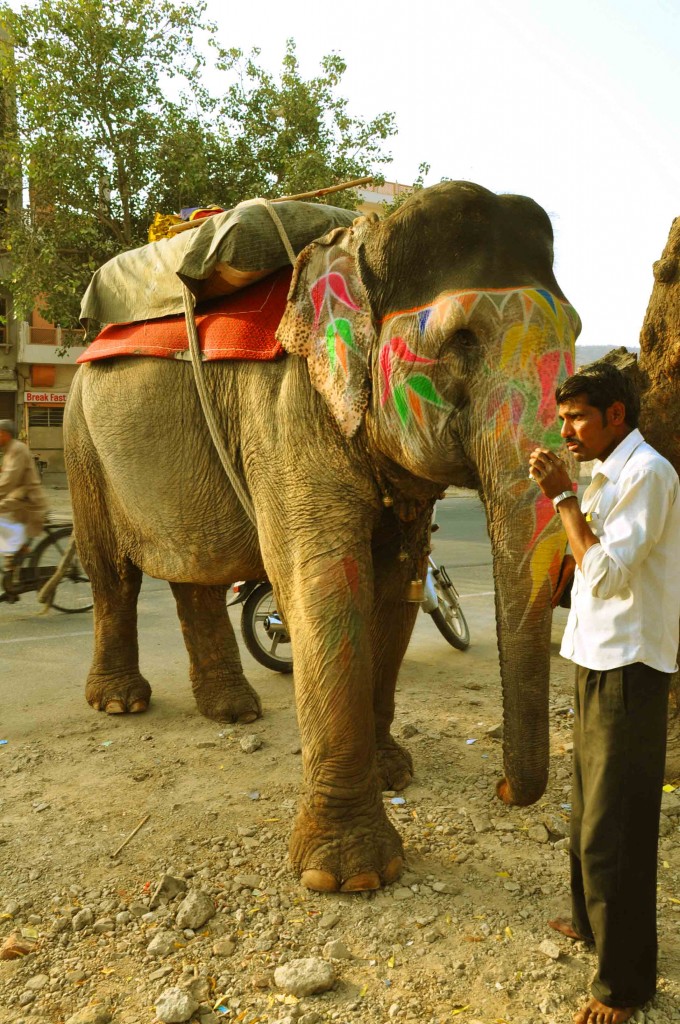 Quite some distance from the city palace, he drops us off outside a shop of jewelry and gemstones. This does not seem right. Anne-Marie enters and is welcomed by a very nice man, who speaks perfect English. It turns out that in addition to his jewelry, the man offers his services as an astrologer. He is visited by many people who wish to to improve their chances with love, luck or career. Depending on their astrological chart, he can advise particular precious stones to improve the persons chakra. Unfortunately, it requires the exact birth time of Anne-Marie, to ensure the accuracy of his reading. Hindi people create a chart from birth, and the charts of two people are compared when proposing an arranged marriage, if the stars are not favorable the match will not go ahead. Anne-Marie does not know her exact birth time so we leave empty handed. On our way home we stop at Vikesh Moghul market, which is not a tourist market, it offers better quality and prices.
This is where we will buy many pashminas and shawls in silk and cashmere for our respective families and friends. The quality is exceptional and prices reasonable. We spend two hours comparing the different fabrics and styles, before having taking photographs at sunset at the symbol of Jaipur, Hawa Mahal or Palace of Winds.
The next day we visit one of the institutions of the city: Lassiwala. Since 1944, this little shop of nothing sells lassis, this traditional Indian drink made from buffalo milk yogurt and curd. A victim of its own popularity, two more lassi has set up next door. And as is commonplace in India, two shops have exactly the same name. Unthinkable in Europe. We followed the queue of locals, so we think we got the right one! The lassi was excellent, one of the best of our stay. Creamy, thick and sweet,just right served in an terra-cotta clay cup which we smashed in the bin after drinking.
The last night we decided to go to the cinema. Not just any, but the Raj Mandir, the pride of the nation. This cinema, the largest and most sumptuous of India, is almost like a Broadway theater for its size and the thousands of lights that illuminate the facade.
Going to the cinema in India is comparable to what one could sense in Europe during the 50's, when going to the cinema was as a treat, a great night of entertainment. Bollywood, the mecca of Indian cinema based in Bombay is the largest film producer in the world (over 800 films a year) for more than one billion viewers.A curious anecdote considering the total ignorance of Indian cinema in Europe.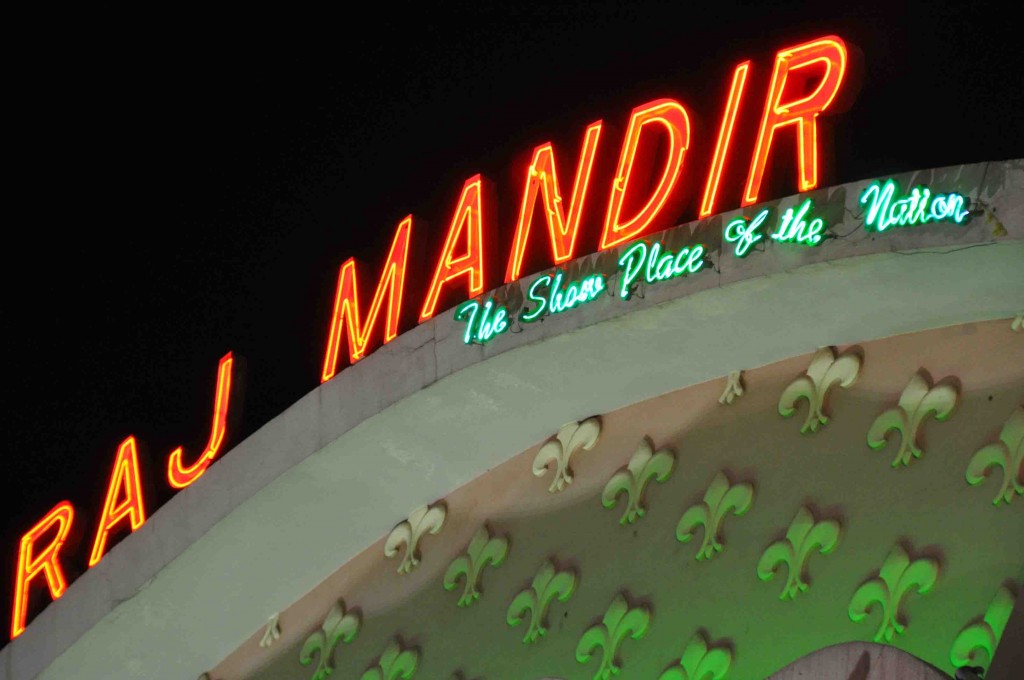 The film was entirely in Hindi which we could not understand, but that was part of the experience. Everything is written on the faces of actors, its "over-acting" though very entertaining. The action takes place on the screen but also in the theatre. People are agitated and cry at the slightest cascade or the least kiss exchanged. The actors can break into a song and dance at any stage during the movie. The audience took the opportunity to get up, clap hands and imitate the choreography. It is extremely lively and funny, a real show for 3 hours!
The next day we leave for Pushkar. The bus is tiny and Thomas cannot sit properly as the seats are so narrow. Six hours later we arrive in this holy Hindu city where the consumption of meat, eggs and alcohol is prohibited. It's hot, very hot, more than 35 degrees. We find a small guesthouse "Atithi" where, for 300 rupees (4EUR) we have a decent room, double bed, a fan and a bathroom. This will allow us more budget "food & activities", hurray! The view from the roof of the guesthouse overlooks the city, lake and surrounding mountains.
The city has attracted for many years the hippies around the world. They are still present in numbers, walking barefoot through the small streets, mixing with the Indians who come on pilgrimage to the temple of Brahma. The ambience of Pushkar is quiet and very hippie. The narrow streets contain a thousand and one wonders.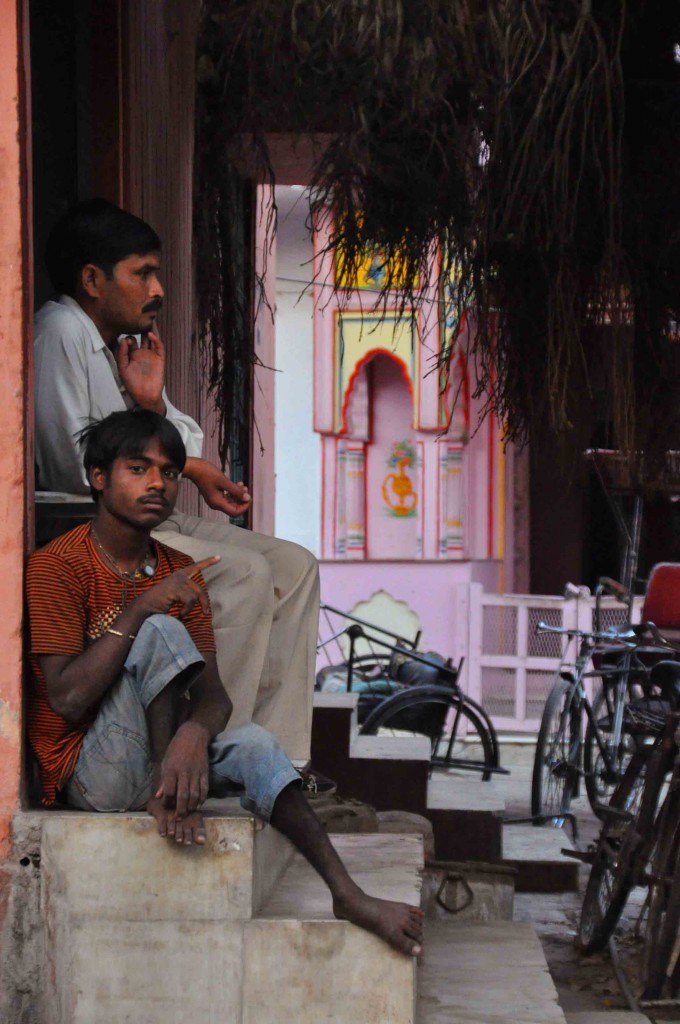 We promise ourselves to return in a few years to buy some decorations and items for our home. Our backpacks are limited to 20kg weight when flying, however Anne-Marie finds room for a new pair of hareem pants and a small writing book.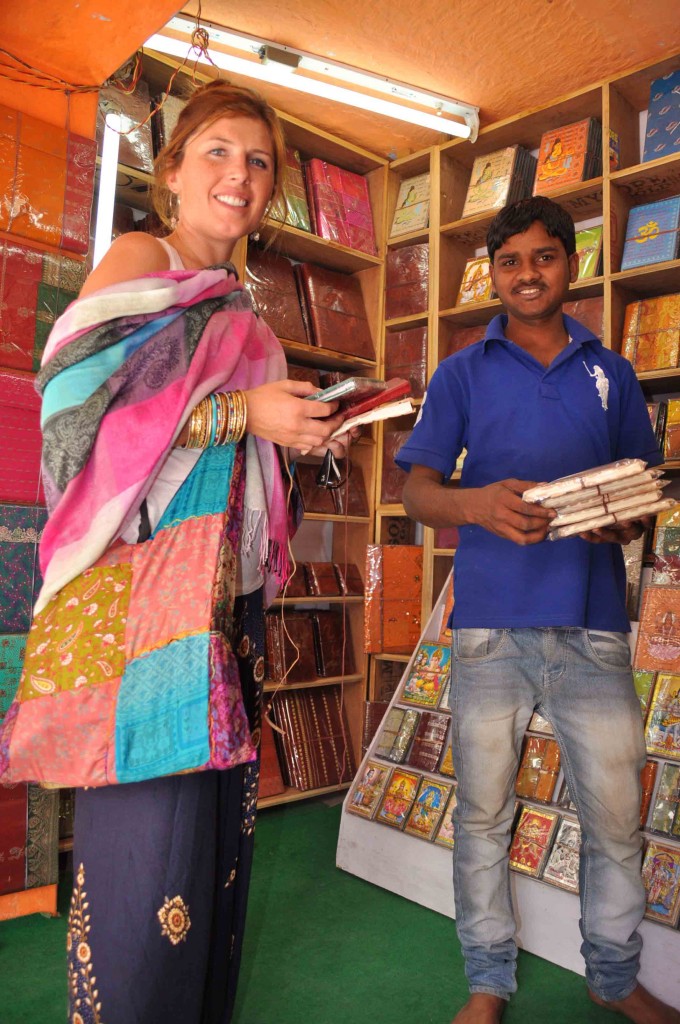 The heat is quite tiring, and we enjoyed sipping fresh juices and lemonana, a fresh mint and lime drink with crushed ice and sugar, it is similar to a non-alcoholic mojito, the best is at Baba restaurant in the main square. We spend the end of the first day near the ghats, a very peaceful place where people come to bathe and meditate, and admire the sunset.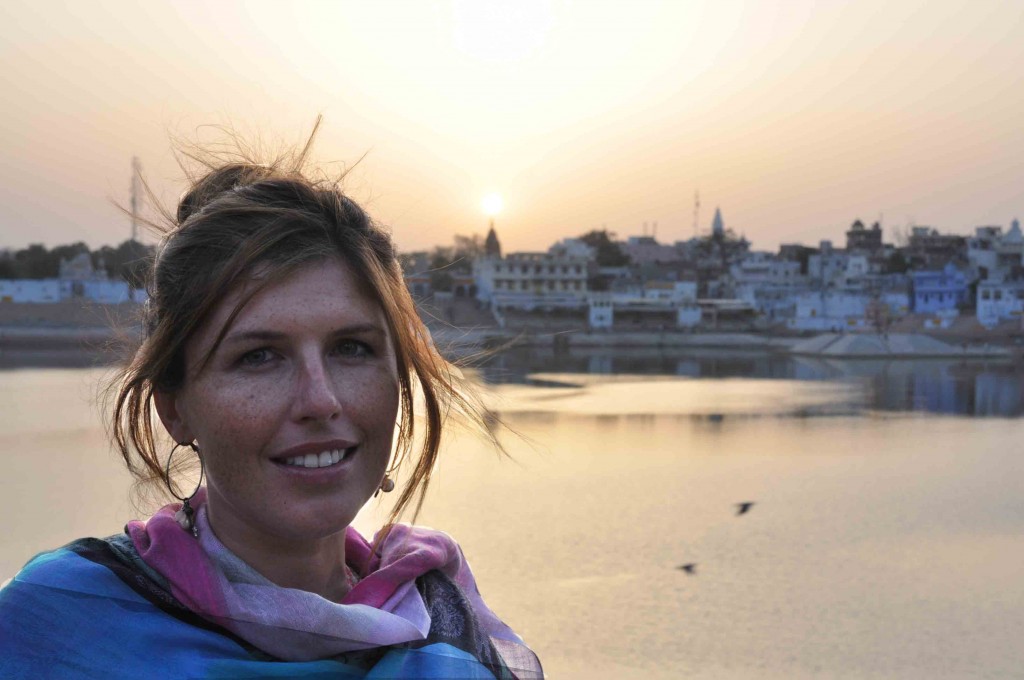 Life is good in Pushkar, relaxed and friendly and we decide to stay a little longer than originally planned. Click here for the second part of our Rajasthani trip