From Varkala, we sailed north via the backwaters of Kerala, a network of canals linking the marshes of stagnant water, fringed with coconut palms and rice paddies, and spanning thousands of kilometers . These waterways were used for transporting goods, and to this day help connect land and isolated villages lost in the vast Indian countryside.
We left Varkala by train at 10:20 towards Alleppey (Alappuzha), taking our first sleeper class (the lowest class) carriage, the 2.5 hour journey cost €1 each. Although it was low season, we were not alone in wanting to discover the beautiful area, traffic hummed with locals and tourists alike. Upon arrival in Alleppey, you must take a rickshaw to the pier. On site, touts tried to sell us one of their famous "house boats" (old boats converted into floating house with air conditioning, for tourists who find it very authentic), but we choose, as always, the same path as the locals. So we took the government ferry that travels several times per day between Alleppey and Kottayam, all for a ridiculously low price (20 rupees or 35 cents for two).
We are once again the only westerners on the boat. The engine makes the most horrendous noise, it's deafening and we must shout at each other over the noise. The first part of our journey is not so interesting, the bodies of water are enormous, and we pass hundreds of "house boats" on which tourists bask in the front while the staff ("rented" for the day) are cooking, cleaning, etc. .. at the rear. Apparently it is very romantic, and it's nice to sip cool beers under the shade of the hot Indian sun.
The second part of the journey was fortunately much more interesting. We entered slowly in inland and pass through small villages where local life is proceeding normally. Children play cricket along the canals, women do their washing in water and men talk to each other, either sitting on the canal banks or taking a dip in the murky waters. We pass many children who wave us, obviously unaccustomed to seeing Westerners venturing so far on the public ferry.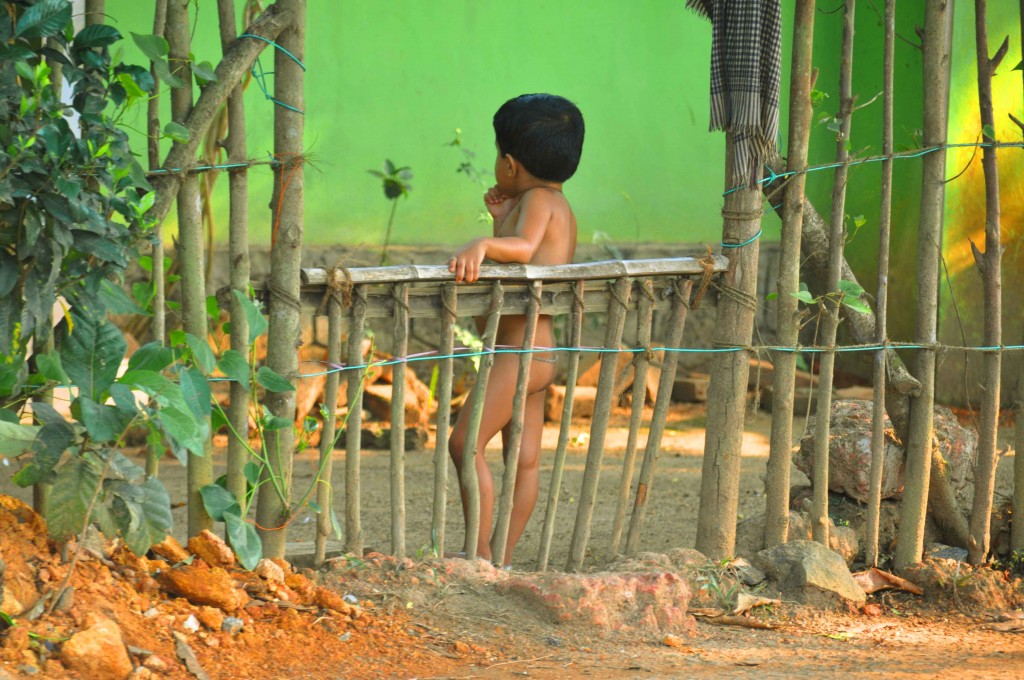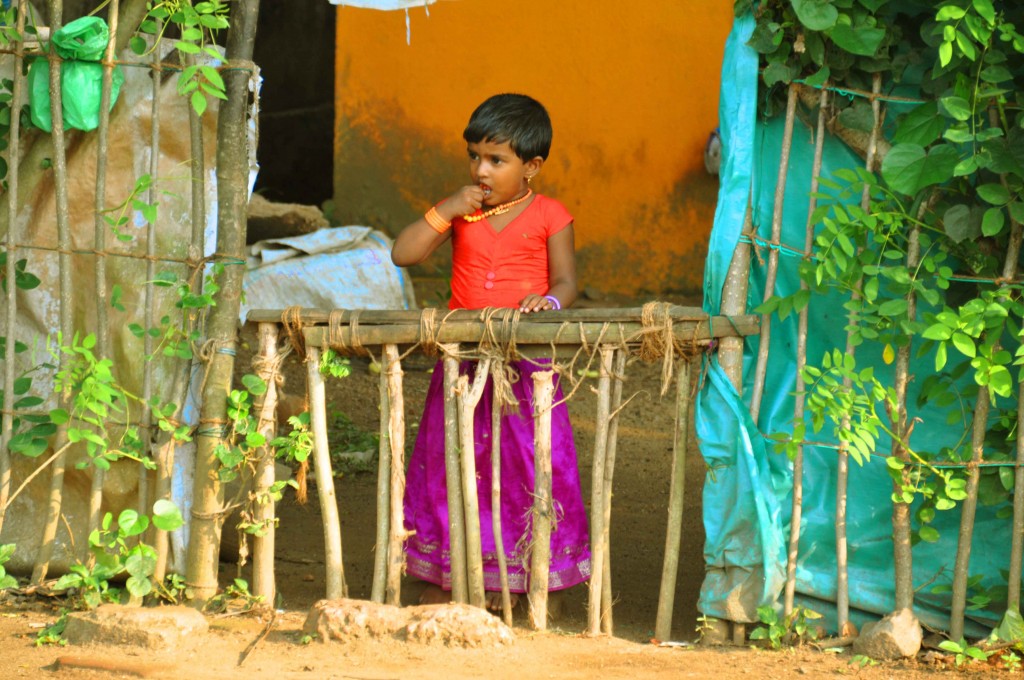 We arrived at Kottayam at 17.10. Ten minutes too late for the last bus to Munnar. It's Friday today and buses are very irregular in the largest Christian majority state all over India (former Portuguese trading posts).
We decided to spend the night there. It's Easter Saturday and Anne-Marie is delighted to find handmade chocolate eggs, at exorbitant prices in a small bakery. Far from Belgian chocolate, though it reminds us once again of the delicacies awaiting our return to Europe!
We drive to Munnar with the bus 6:15 the next morning by government bus, again the only westerners. Five hours away, all uphill, through the mountains some reaching over 2000 meters.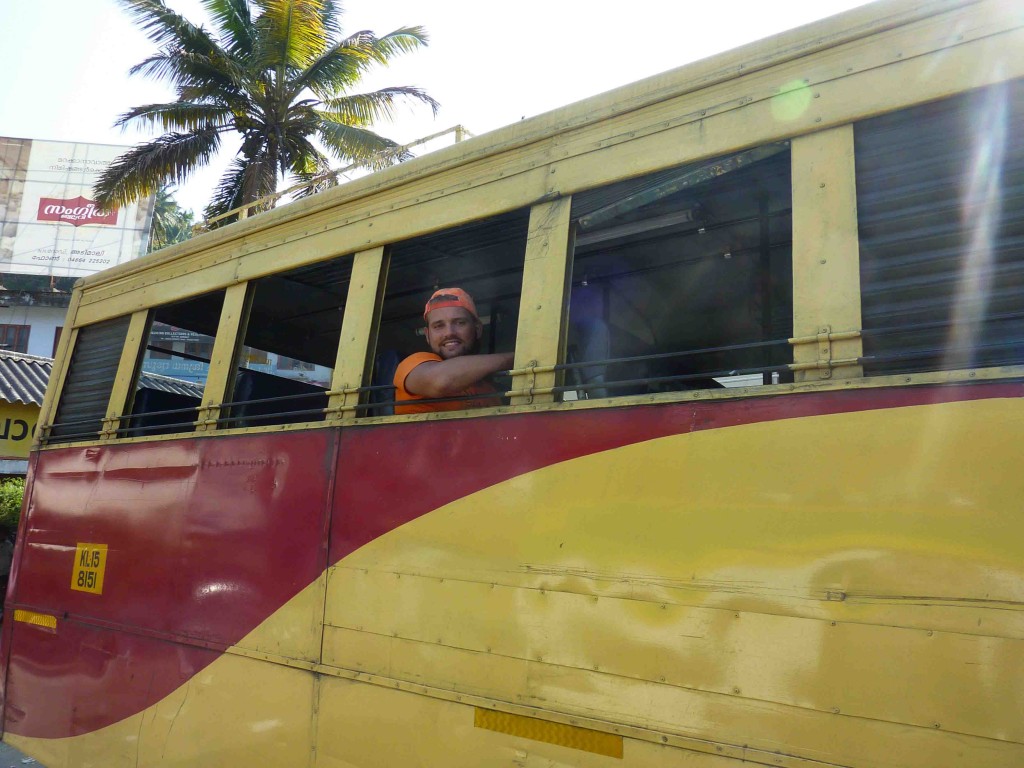 Once there, we are surrounded by tea plantations, it is luscious and green with crisp, clean air. We took our luggage to SMM Guesthouse, 2km from the town centre. The change in temperature is very noticeable. It was 25 degrees at dawn when we departed from Kottayam, 10 degrees were lost on the way, forcing us to don sweaters and pants.
We met Selva, a friendly rickshaw driver who advised us of the best local restaurant in the city, known for its Masala Dosa, a classic south Indian speciality. This is a long crepe made from a mixture of rice flour and lentil flour. It is usually stuffed with potatoes, onions and curry leaves and served with various spicy sauces. A delight, it's extremely simple, tasty and inexpensive: 35 rupees (just over 50 euro cents!)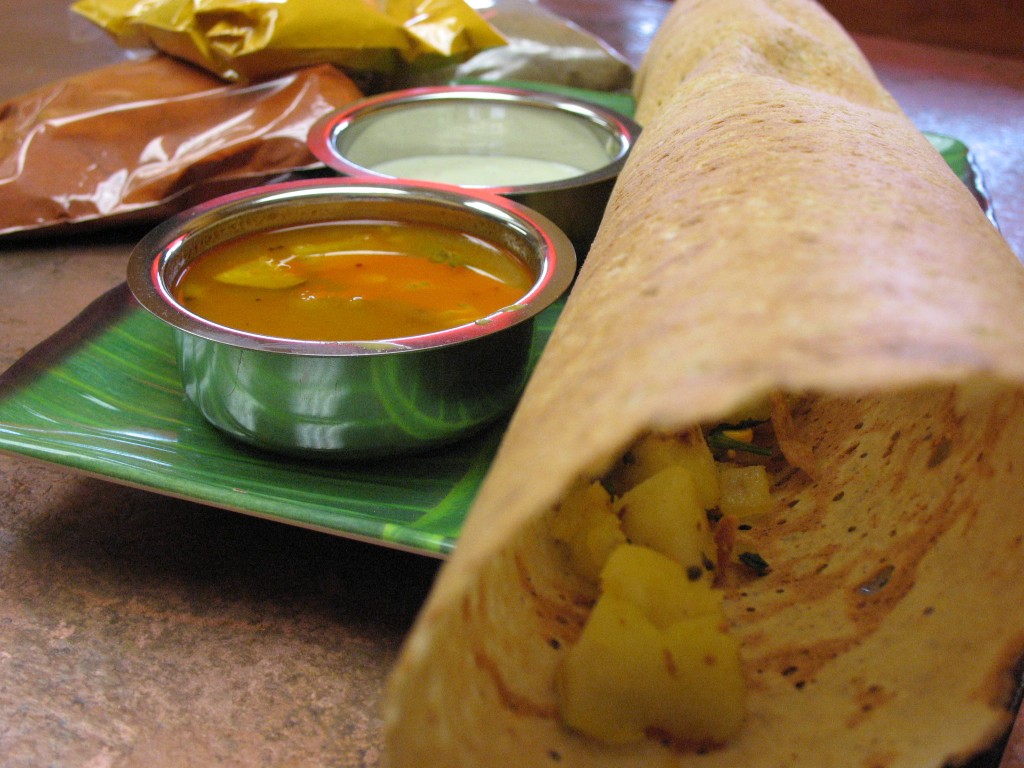 After our meal, we met Selva at the exit of the restaurant. He proposed to go for a 4-hour trek in the mountains the next morning at sunrise, we agreed to meet at 6:00. After a good night under thick blankets, we woke up at 5am and put on our hiking boots and some warm clothes for the early morning chill. Selva already waiting for us downstairs.
We start walking straight away, we ascended very quickly and although it is less than 10 degrees, it was getting pretty hot as we climbed. The sun began to rise over the mountains, the view is spectacular. The fog is still present in the valley, we took the opportunity to take some pictures. We are moving from one mountain to another, Selva walking briskly though we manage to keep the pace.
Once at the top of the highest mountain, the view is stunning. Selva opens his backpack and starts to prepare our breakfast. Bread, jam, bananas and boiled eggs. It was just us at the top of the mountain, there was no better place to break our fast!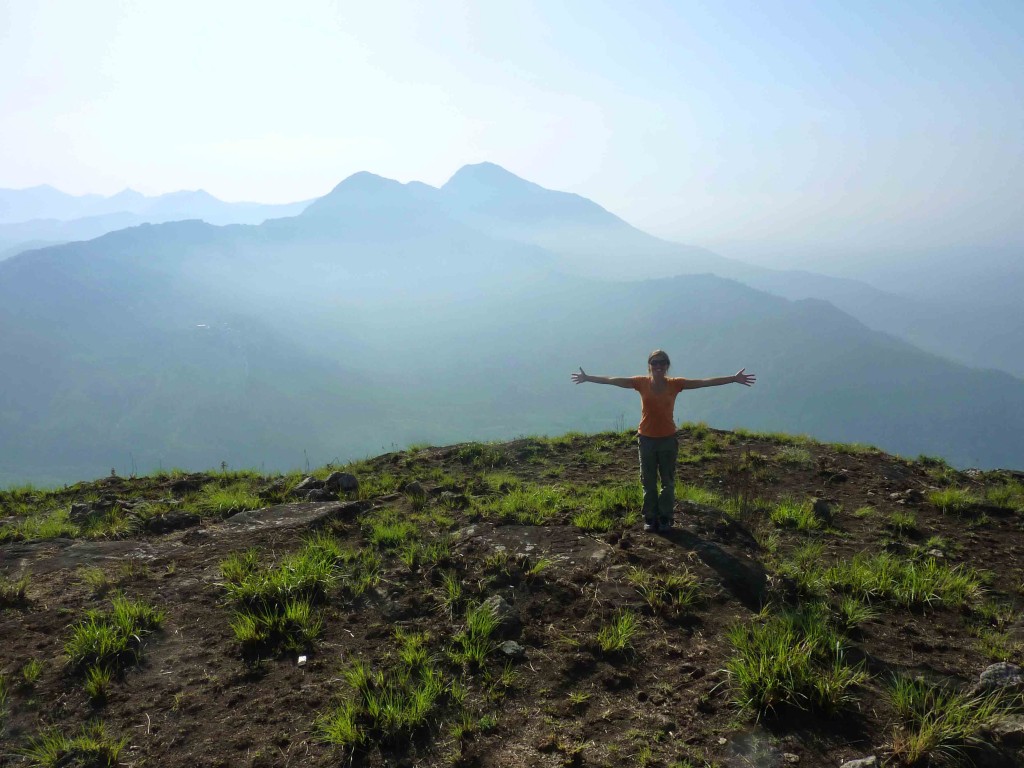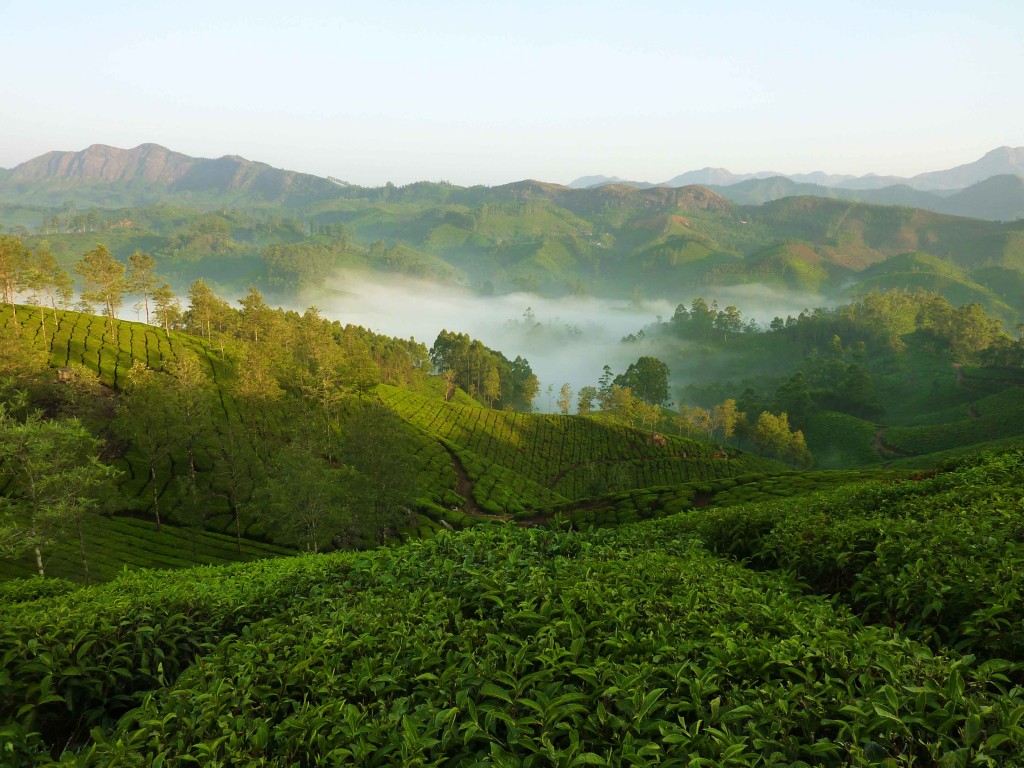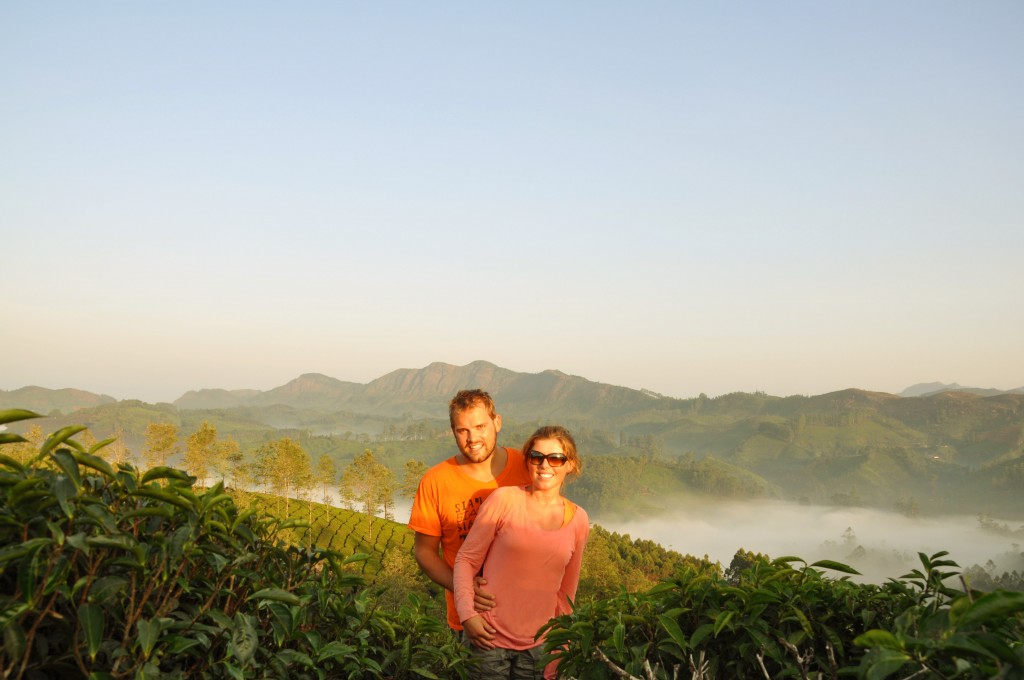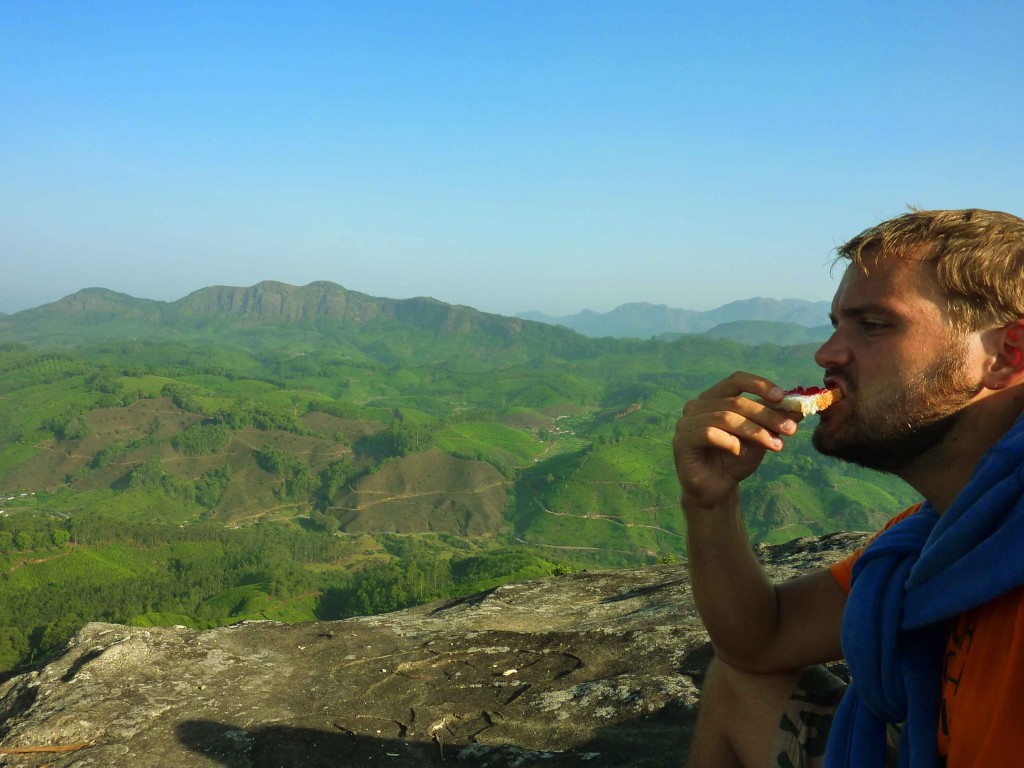 En route we stop several times to observe the mountains and the life that follows hums below. Selva explains that all the plantations are owned by the Tata Group, 99,000 acres on the mountain side employing 43,000 people. Selva's wife and mother both work in the plant, a long day in the scorching sun from 8am to 5pm, six days per week. Each worker will earn 150R (about €2.20) per day, though only if they pick at least 20kg of tea leaves, that's the weight of our back packs which we struggle to carry for a long period of time. Tata is best known for making personal and commercial vehicles rather than the cultivation of tea (for the record, Tata is the manufacturer of the Tata Nano car launched ultra Economic in 2008, priced at 2000EUR, intended initially to Indian market).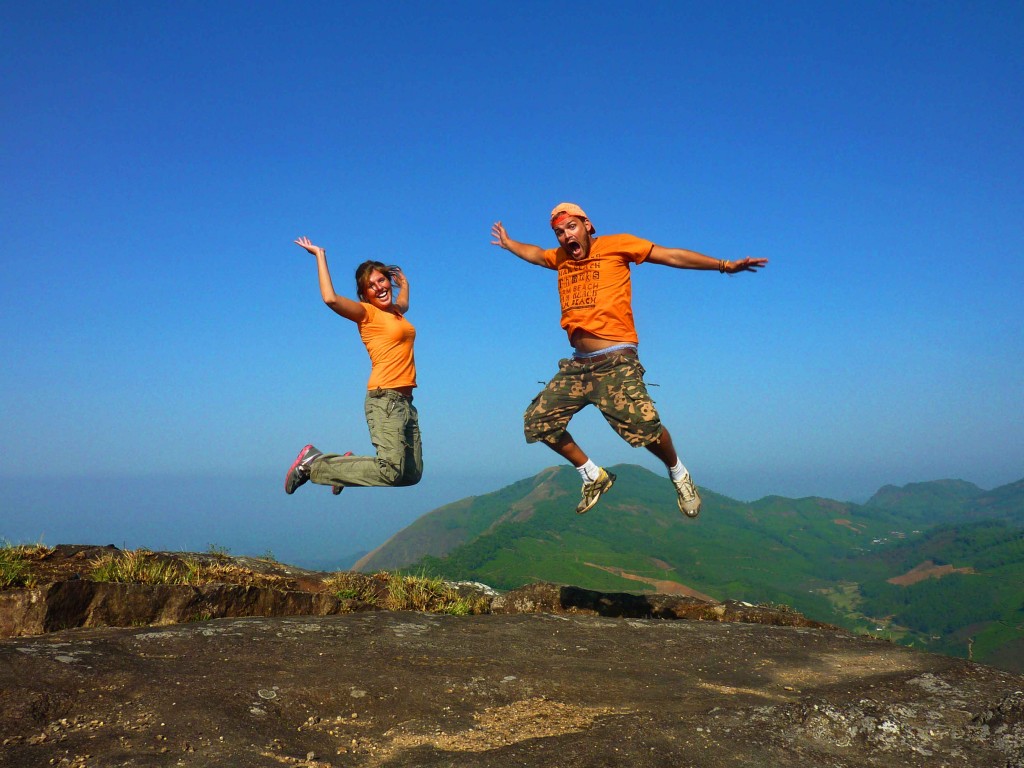 Coming back down the mountain, we pass through the plantations. This is a holiday today and unfortunately we do not see workers in the fields.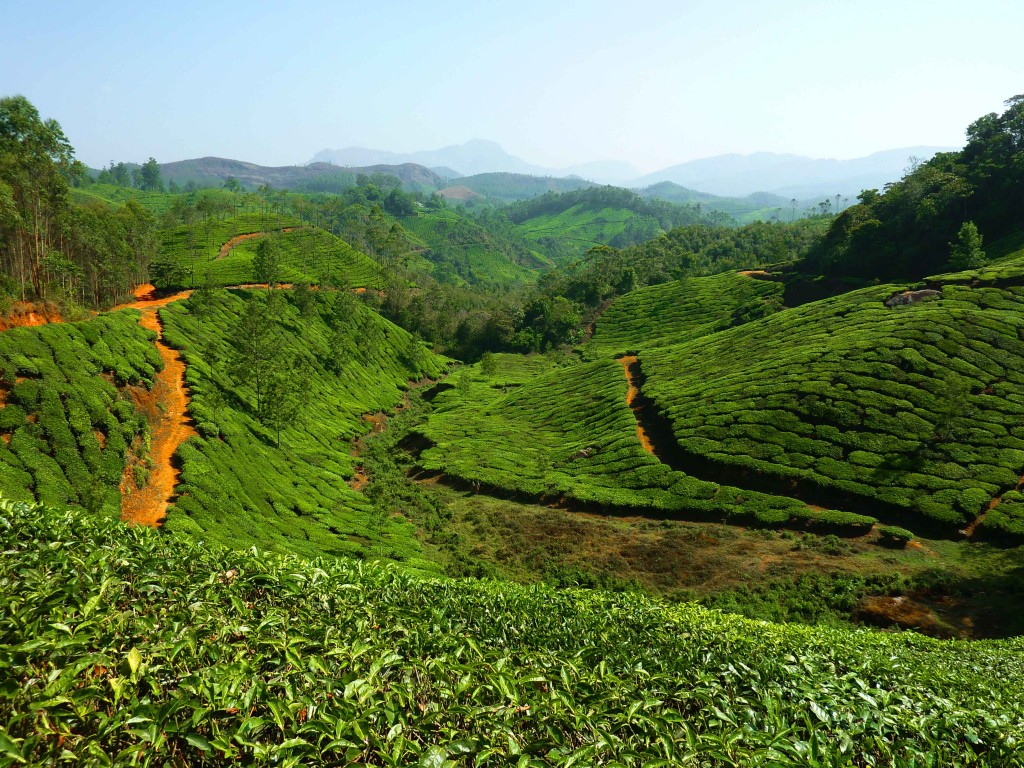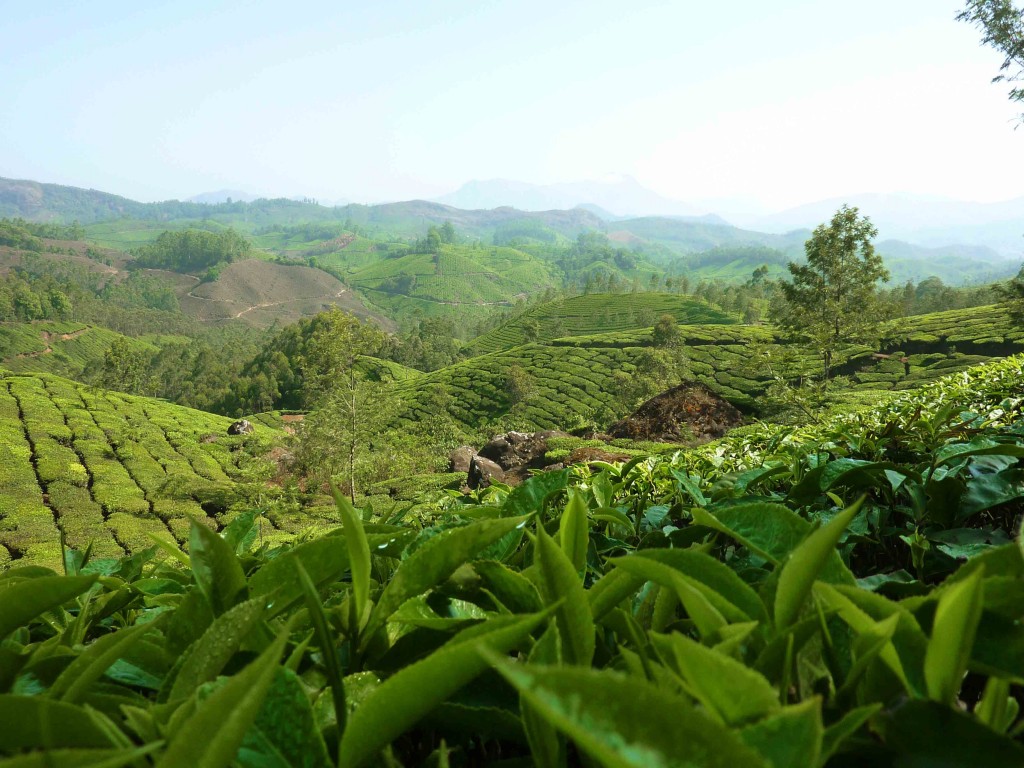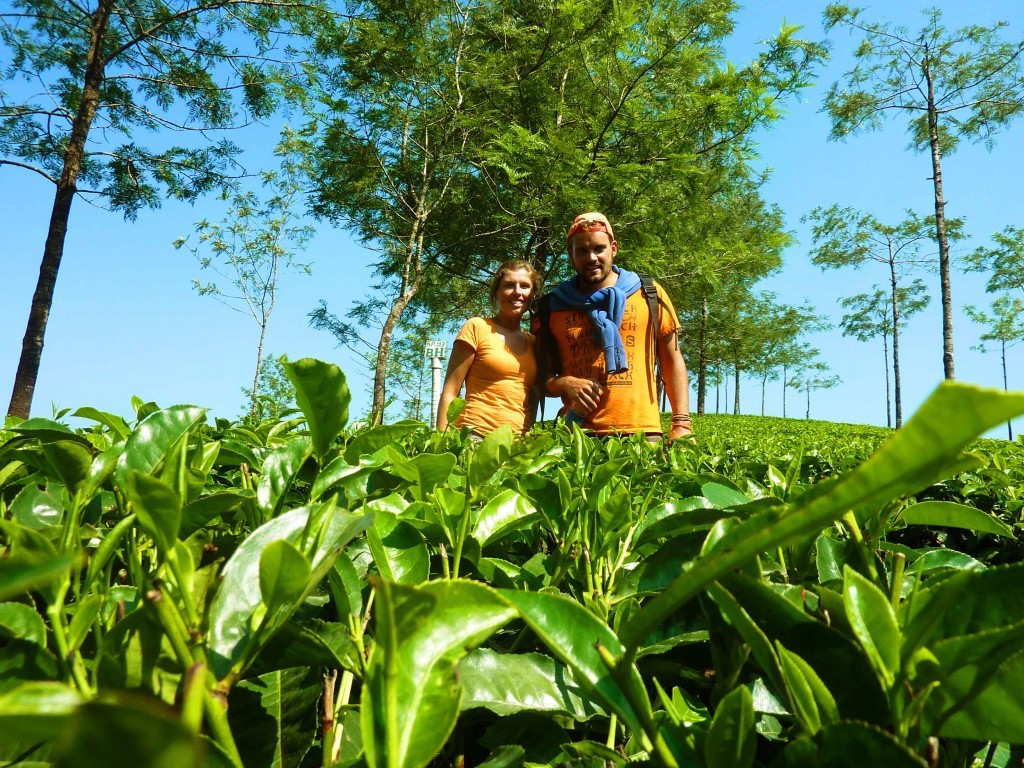 The mountains are deserted, with the exception one other solo tourist and a few local people along the way. We strongly recommend Selva to guide a great trek for 700 rupees (just over 10eur) for two people, he is a registered tour guide. Here is his email if you want to contact: muthamunnar@gmail.com, he speaks good English and is extremely friendly and helpful.
We spent the afternoon at the crowded bazaar in search of Munnar tea and spices.Finally we came upon a small market stall which was packed with locals, always a good sign. With some recommendations from the friendly and helpful locals, we chose a particular tea, ten sticks of vanilla, a few grams of saffron, cumin, cinnamon sticks, star anise and the cloves. All produced near Munnar for less than €10!
The next day we returned to Kochi, via another hair-raising bus ride, to catch our flight to Malaysia. We took this opportunity to send the tea and spices by mail.
It's already the end of our journey in India which has seen us travel through more than 3,000 km in just under six weeks. India has captured our hearts. We will definitely return, to enjoy its colors, smells and friendliness of its people. After the initial discomforts, Anne-Marie admits that it is sad to leave this enchanting country. We return to Southeast Asia for a final time, to relax for 10 days on the Perhentian island paradise (Malaysia) before leaving to explore New Zealand south island in campervan. Hugs to you all.