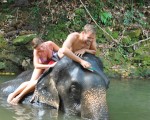 It's been 3 days since we arrived on the islands of southern Thailand. Koh Chang to start with, for five nights. Koh Chang is the largest island in the Gulf of Thailand, and the second in the country after Phuket. Chang means "elephant" in Thai, due to the shape that the island possesses. For the first time on our trip, Anne Marie was in charge of finding our accommodation. Up to now, Thomas had found our lodgings; our needs are hot water, wireless internet connection and less 12eur/day. With regards to Koh Chang, Anne Marie found a beautiful bungalow for us.
First, let's recap from the beginning. We had several options to connect Bangkok to Koh Chang: The most expensive air option to Trat, about 80EUR per person for 45 minutes of flight, followed by a taxi to the port and a speedboat up the island. Option 2, the economic, environmental 14eur was to take a local bus at 6:30am, again to the port of Trat, followed by a ferry to Koh Chang.Finally we choose the midrange option. For about 22eur per person, a minivan with ten passengers got us from Bangkok Airport to Trat within 4 hours (very scary driving, I'll admit). The price also includes ferry and transport to the accommodation of your choice on the island. A good compromise, then.More info on their site: http://www.bussuvarnabhumikohchang.com
Arriving on Koh Chang, Anne-Marie gives directions to the driver of minibus: Little Eden Bungalows on Lonely Beach. Great location, up a slight hill off Lonely Beach, so sheltered from the noise of the bars, while staying relatively close to the main road and its small traditional restaurants. Nature is everywhere around us: banana trees, rubber trees, palm and coconut trees. The bungalows are very scenic. The bed is comfortable and equipped with a mosquito net, and the best pillows we have encountered since leaving Europe. A safe is available to us for our passports and other personal items, which is always a plus. The bathroom is open -air and the balcony is equipped with a hammock and a small bench, perfect for relaxing in the evening and reading a book or listening to some music. Unlike our previous guesthouses, there is not too many farmyard animals to rouse up awake.
Our first two days at the beach are a change from Bali. The weather was beautiful, except for a few clouds here and there, and we enjoyed beautiful sunsets. The beach, though relatively full in the afternoon, is picture postcard perfect: about one kilometer long and composed of fine white sand (although a little rocky down south). The water is very clear and warm (30 ° C). We bought a frisbee, it's been passing the time because Thomas is not necessarily the type to laze in the sun all day, but it's no problem for Anne-Marie.
We are trying to keep costs to a minimum after our follies in Bangkok, and decided not to rent a bike. This will also save some money for the boat that will take us up to Koh Kood. We will stay five nights on Koh Chang and 4 nights on Koh Kood.
The atmosphere of Koh Chang is very cool, lots of couples and families and a lot of young single/group backpackers, as the big festivals like Full Moon party are not very common on this side of the island. These parties are found more towards the north (white sand beach). That said, there are still the entertainment and happy hours bar promotions. Yesterday morning a Thai rastafarian distributed flyers for a beach party next Tuesday to be held near us. Fortunately, we will have left for Koh Kood.
Our evenings are usually spent at Little Eden. The common room that serves as reception and dining area has been beautifully built by David, an Englishman of fifty years who moved two years ago to settle here after spending 29 years in Germany. He is really friendly and nothing is too much for customer satisfaction. Tables and chairs in wood, polished and varnished floors, armchairs and cushions in abundance. We also liked the principle of the self-service bar. Every time we have taken a beer from the fridge or you order food, your choice is indicated in a small notebook. This honesty system places much trust in the customer. I truly believe that it is not abused. This would probably not work in Western society.
The food is excellent. Anne-Marie's choices vary every day, for Thomas it is Massaman Curry every night without exception. It is a Thai curry from India. A spicy, satisfying dish. It is available with any meat you wish: beef, chicken and even duck and includes potatoes and peanuts. A real treat, especially when it is very spicy. Apparently it is best to accompany a glass of wine but this is beyond our means, we are content with a cold beer.
This morning we got up early, at 7:15. On the program: walk and swim with the elephants, and we had a great time. A pickup was waiting in front of the guesthouse at 8am. Thirty minutes later, we enter a corner of the island in the middle of the jungle. From a distance you can see the first mammals. These are all females and a baby of 3 years (which must still weigh in 300kilos). They are very well cared for and live in a protected environment surrounded by various trees and shrubs. (one adult elephant eats between 200 and 400 kilos of fruit / vegetables per day). We noted repeatedly that the staff are very attentive and kind with the elephants. This is not the case everywhere (including in another part of the island and in the north).The center is called Ban Kwan Chang.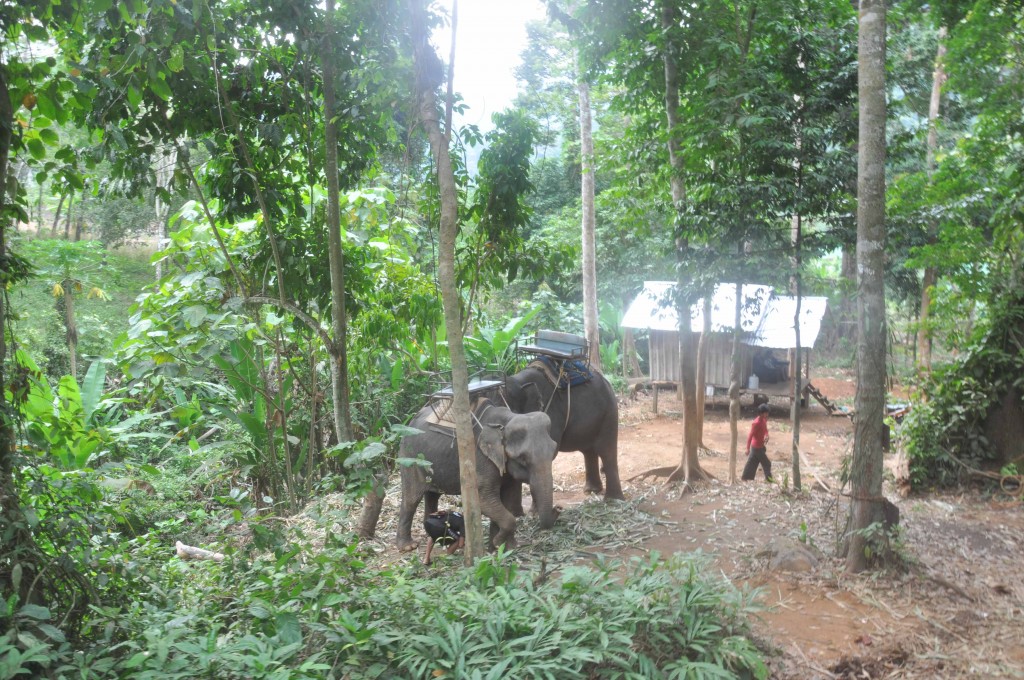 After being welcomed with fruit and a bottle of water, we went directly to the river. Our group is small, only seven people, including a Belgian (with whom I have a friend in common, it's a small world!) and two unfriendly German couples. Two elephants lead the way, and we sink deeper into the jungle. Arriving at the river, the elephants enter the water. They first go down on one knee, and then sit down. Half of their body is submerged. They love to suck water through their trunks and spray on their backs or on their mahout or even directly at us. One member of staff handed Thomas a brush in exchange for his camera. He will take pictures while Thomas will bathe the elephant. The skin is hard, thick and rough. We must brush quite vigorously anywhere on the body, head and behind the ears (I did not venture inside the ears!) It was really a unique experience. When Thomas stroked the trunk, the elephant was drawing water with his trunk to spray us directly. Guaranteed laughs for all.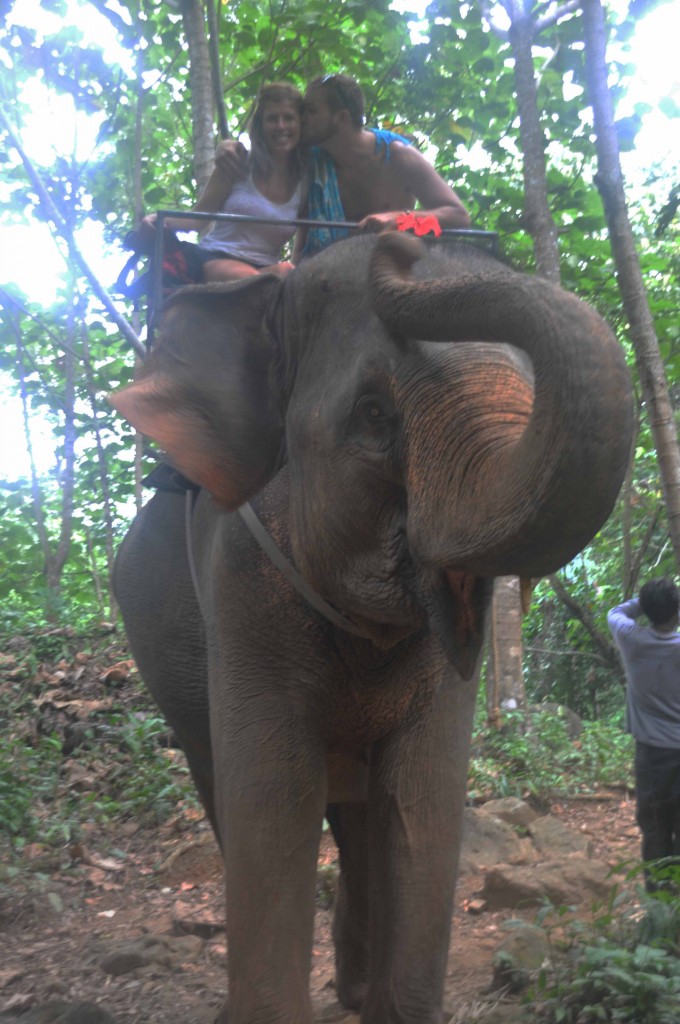 After swimming, we sat on the elephant to go for a walk in the jungle. This part of the tour is very well organised but we would have liked to receive more explanations about the operation of the foundation, the lives of elephants, etc. .. Unfortunately most of the staff members speak little or no English, however it was a great experience and worth the 22€/person fee and we recommend this experience to all.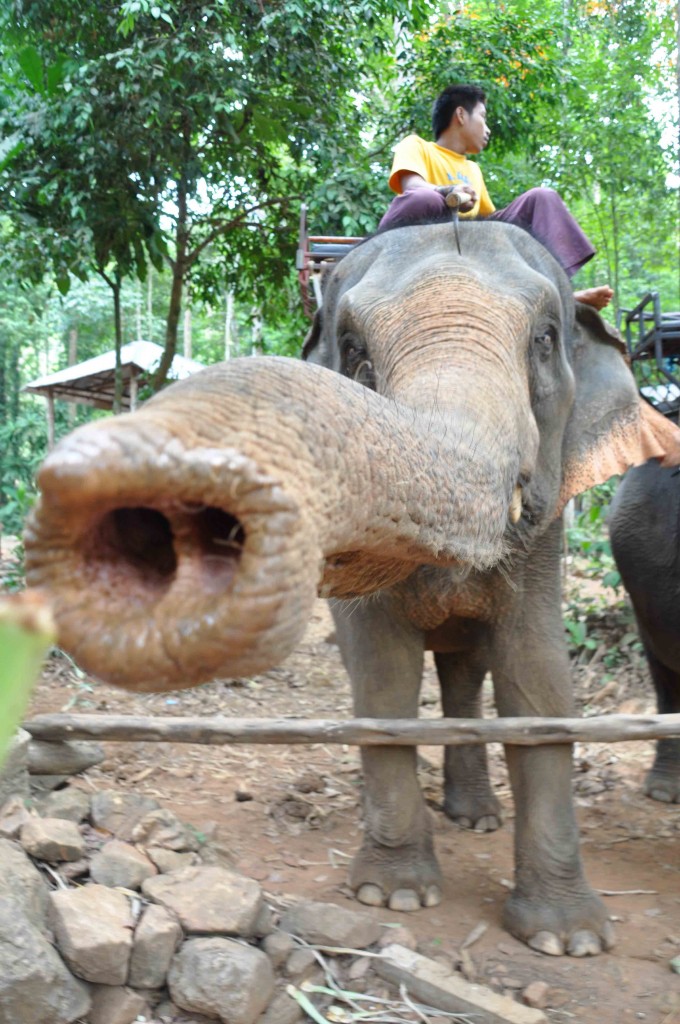 Tomorrow we will spend our last day on Koh Chang. Time flies. We take a slow boat on Tuesday morning for Koh Mak where we stop for two hours, before joining Koh Kood. This afternoon made inquires at several places to find accommodation within our budget. The accommodation owners do not speak much English and the connection is very bad for Skype, hopefully we will not be sleeping on the beach on our first night.
To be continued …